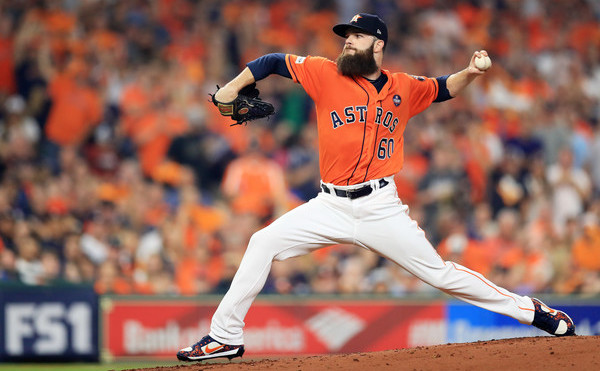 Once again, the Yankees have battled back from down 2-0 in a postseason series to knot things up 2-2. They did it against the Indians in the ALDS and now they've done it against the Astros in the ALCS. Their reward: Dallas Keuchel in Game Five and Justin Verlander in Game Six. That's no fun. Then again, no one thought facing Corey Kluber in Game Five of the ALDS would be fun, and we know how that went.
Keuchel, as you know, shut the Yankees down in his team's Game One win. Seven scoreless innings, four hits, one run, ten strikeouts. He was dominant. And he's been dominant against the Yankees pretty much his entire career. The players change but Keuchel's dominance against the laundry has remained the same.
In theory, seeing Keuchel for the second time in the span of a week should help. The Yankees are more familiar with him now, right? Ben Lindbergh's research suggests otherwise. During the wildcard era, pitchers who made two starts in a single postseason series showed no significant change in performance in the second start, as long as they were on normal rest, like Keuchel will be in Game Five.

Keep in mind that is a big picture look at things. That's the average of 211 pitchers making multiple starts in one postseason series. In one individual game, anything can happen. The Yankees could benefit from seeing Keuchel for the second time in the series even though the research suggests it doesn't really matter. And this works both ways. The Astros could benefit from seeing Masahiro Tanaka for the second time in Game Five too.
When Keuchel dominated the Yankees in Game One, he did it primarily with his sinker and slider. He threw 109 total pitches in the game and 57 were sinkers. Another 28 were sliders. That's 52.8% sinkers and 25.8% sliders. His regular season averages: 50.8% sinkers and 18.7% sliders. Furthermore, Keuchel threw one (1) changeup in Game One. That's all. He said Tuesday the pitch wasn't working, so he had to lean on his slider instead.
"It mainly was a feel. I'm usually throwing 10-15, maybe 20% percent changeups, especially to this group being such good fastball hitters" said Keuchel yesterday when asked about not using his changeup in Game One. "And it was just the fact that I had some really late movement on my two-seam and my slider was really good, the cutter was decent. So I didn't feel the need to change speeds with the changeup."
That is sorta scary! Keuchel pitched so well in Game One despite not using his changeup, which is widely regarded as his best secondary pitch. He didn't have a feel for the pitch, so he had to lean on the slider — and also the cutter, which he threw 19 times, way more than usual — and he still pitched effectively. Chances are Keuchel won't eschew his changeup in Game Five. At least not if it's working.
"Hopefully that comes into play tomorrow where they only saw one changeup," added Keuchel." It might come in handy … The changeup usually is the second to third best pitch. And for me to not use it hopefully will come into play for me tomorrow."
On one hand, this sounds bad. Keuchel pitched well last time out and he did it without his best secondary pitch, and now he figures to break it out in Game Five. On the other hand, Keuchel has thrown only one changeup in the past 12 days. Including his ALDS start against the Red Sox, he's thrown only seven changeups in the last 23 days. The changeup is a feel pitch, and if you don't throw it much, it can be easy to lose that feel.
Even though the fastball-slider approach worked in Game One, my hunch is Keuchel will look to use his changeup more often in Game Five today, as long as the pitch is behaving properly. That means a new look for the Yankees, who didn't see the pitch in Game One. With any luck, Keuchel will hang a few of those changeups and the Yankees will take advantage, or he's miss out of the zone and put them in favorable counts. That's where a potential lack of feel can come into play.
Either way, changeup or no changeup, I feel the key to beating Keuchel remains the same: wait him out. Houston's middle relief is sketchy as hell right now — even Ken Giles, as good as he is, has allowed a run in all four postseason appearances so far — and the more bullpen the Yankees see, the better their chances of winning. Keuchel is awfully tough and he can frustrate opposing hitters and fans alike. The sooner the Yankees get him out of the game, the better.