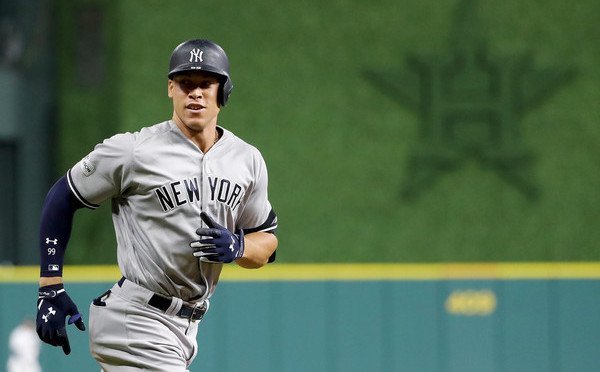 For the fifth time in the last 18 days, the Yankees will play with their season on the line tonight. They are a perfect 4-0 in elimination games this postseason, and tonight's Game Seven with the Astros will determine who moves on to face the Dodgers in the World Series. I am weirdly not nervous. I'm sure I'll want to puke during the game, but I'm excited more than anything. Anyway, let's get to some thoughts.
1. I thought Justin Verlander did a real nice job changing the game plan in Game Six. I mentioned yesterday he threw a ton of first pitch fastballs in Game Two, so it would make sense for the Yankees to hunt them in certain spots. In Game Six Verlander threw a first pitch fastball to 18 of the 27 batters he faced, so that's nine who got a non-fastball. In Game Two he faced 32 batters and threw only six non-fastballs on the first pitch. A few Yankees took ugly hacks against first pitch breaking balls and changeups last night. Also, Verlander broke out his curveball and slider earlier in Game Six than he did in Game Two. Last night he came out of the gate firing everything. In Game Two he held back a bit on the curveball and changeup. Verlander had eight strikeouts last night: three on fastballs, two on sliders, two on changeups, one on a curveball. He was getting outs with everything. Verlander is tough as it gets. When he comes out with a different game plan than the first time you saw him in the series, he's even tougher.
2. I said this in the recap last night and it bears repeating: I really did not like letting Luis Severino face Jose Altuve in the fifth inning. I didn't even want Severino facing Josh Reddick, the previous batter, but Reddick popped out, so no big deal. Except that quick pop-up — Reddick popped up on the third pitch — is probably the reason Joe Girardi let Severino face Altuve. Had Reddick put together a longer at-bat and given Severino a chance to fall behind in the count (again), he might've been out of the game after that, even if Reddick eventually popped up anyway. There were plenty of indications Severino was losing it. I mean, three walks in the inning should set off alarm bells, right? Anyway, I'm harping on this because I thought it was a bad mistake. Aside from the non-challenge against the Indians, I think Girardi has had a great postseason overall. I've liked his bullpen usage and his lineup decisions. That decision last night, letting a fading Severino face Altuve for the third time with the bases loaded in a one-run game, stands out as a bad one. Probably Girardi's worst move (or non-move) in the postseason behind the non-challenge. At that point Severino was not the best man to get that very important out. Chad Green, who was hot in the bullpen, was. Alas.
3. David Robertson really didn't look good last night. His stuff was flat and the four Astros hitters he faced were on everything. The exit velocities on the four hits he allowed, in order: 93.3 mph, 107.2 mph, 102.2 mph, 98.4 mph. The Altuve homer had the lowest exit velocity. Go figure. Robertson just looked worn down to me, which is understandable, I think. Going into Game Six he'd throw eleven postseason innings — all intense high-leverage innings — in eleven games spanning 17 days. That's an awful lot work. Robertson has thrown 79.1 total innings this season, easily the most of his big league career. It's easy to understand why he'd look as worn down as he did last night. Of course, that isn't good news for the Yankees, who figure to need their bullpen tonight since CC Sabathia rarely pitches deep into the game. I wonder if Tommy Kahnle, not Robertson, will be Girardi's go-to setup option tonight given how run down Robertson looked last night. We'll see. I suspect Kahnle will be the first guy out of the bullpen to put out any Sabathia created fire. Figure the rest out after that.
4. It goes without saying Game Seven is an all hands on deck game. It would not surprise me at all to see Dallas Keuchel come out of the bullpen at some point for the Astros. I'm pretty sure Lance McCullers Jr. will be the first guy out of the bullpen for Houston. For the Yankees, this means what? Sonny Gray in relief? Maybe Masahiro Tanaka? The Yankees always play it extremely safe with Tanaka, but two things. One, it's a win or go home game! And two, tomorrow might be his final game as a Yankee. As callous as it sounds, Tanaka's long-term health might not be the club's biggest concern if they're planning to let him walk once he triggers his opt-out. In a perfect world, the Yankees score a zillion runs and go Sabathia to Kahnle to Chapman tonight. Things rarely go according to plan though. My guess is we'll see Robertson be asked to get some big outs (again), even after a tough outing last night. I don't think we'll see Gray or Tanaka unless Sabathia gets knocked out early or the game goes into extras.
5. Since the LCS became a best-of-seven in 1985, 15 teams have won Game Six when trailing 3-2 in the series, thus forcing a Game Seven. Of those 15 teams, 13 (!) went on to win the series. That is pretty crazy. History is not on the Yankees side tonight. Then again, if you've been reading RAB long enough, you know I'm not big on using history as a predictive tool. What happened in the past, those 13 teams that went on win the series after trailing 3-2, has no bearing on the 2017 Yankees. Besides, this Yankees team has been defying the odds all season. Why can't they do it again? If nothing else, these Yankees have shown they are very resilient. They get knocked down — and there were a lot of knockdowns this season, plenty of bad losses to go around — and they get right back up and keep fighting. I expect more of the same in Game Seven tonight. The Yankees may lose and their season could end tonight. But I do not expect them go down without a fight. It's not in their DNA.