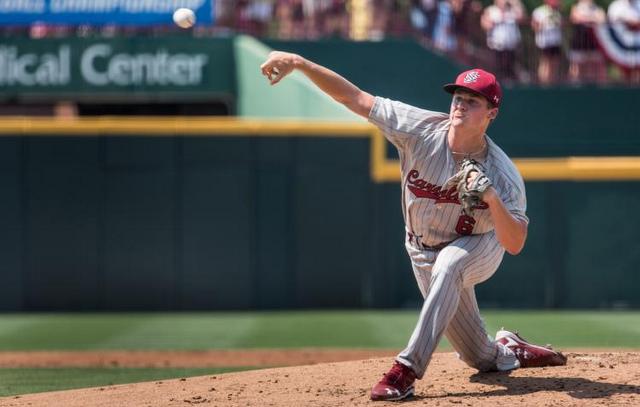 Clarke Schmidt | LHP
Background
Schmidt, 21, grew up in the Atlanta suburb of Acworth, and he was one of the top pitchers in the state during his time at Allatoona High School. He struck out 100 batters and posted a 0.72 ERA in 55 innings as a senior, which earned him regional Pitcher of the Year honors. Schmidt's older brother Clate played four years at Clemson and is currently a Tigers farmhand.
Despite his success at Allatoona, Baseball America did not rank Schmidt as one of the top 500 prospects for the 2014 draft, or as one of the top 43 draft prospects in Georgia. He went undrafted out of high school and followed through on his commitment to South Carolina, where he was teammates with current Yankees prospects Taylor Widener and Dom Thompson-Williams. Schmidt missed being Jordan Montgomery's teammate by one year.
As a freshman Schmidt threw 58 innings with a 4.81 ERA and a 55/20 K/BB across ten starts and eight relief appearances. Life in the SEC can be rough for a freshman hurler. After the season Schmidt played summer ball in the Coastal Plains League, where he made three starts and allowed 13 runs (eight earned) in 8.2 innings for the Florence RedWolves. Ouch.
The 2015 season was Schmidt's breakout year. He threw 111.1 innings with a 3.40 ERA and a 129/27 K/BB as a sophomore and emerged as South Carolina's ace. His first postseason start did not go well (4 IP, 6 H, 5 R, 5 ER, 3 BB, 8 K vs. Rhode Island) but the second was better (6 IP, 6 H, 3 R, 3 ER, 0 BB, 6 K vs. Oklahoma State). The Gamecocks lost both starts. The second ended their season.
Schmidt's junior year was outstanding. He threw 60.1 innings with a 1.34 ERA and a 70/18 K/BB while pitching through a minor oblique issue, and was as good as any college pitcher in his country. Schmidt was so good he was named to the Golden Spikes Award Midseason Watch List, which is essentially a candidates list for the Golden Spikes Award, the baseball equivalent of the Heisman Trophy.
Unfortunately for Schmidt, he left his April 20th outing against Florida with forearm tightness after throwing 84 pitches in 5.1 innings. Tests revealed a torn ulnar collateral ligament. He had Tommy John surgery a week later — Mets team doctor Dr. David Altcheck performed the procedure — ending his college career. Schmidt went 15-9 with a 3.21 ERA and 254/65 K/BB in 229.2 innings at South Carolina.
Considered a likely first round pick before blowing out his elbow, Schmidt was ranked as the 32nd best prospect in the 2017 draft by Baseball America, and the 49th best prospect by MLB.com. The Yankees selected Schmidt with their first round pick, the 16th overall selection. He signed a few weeks later for an $2,184,300 bonus, well below the $3,458,600 slot value.
Pro Debut
Schmidt has not yet made his pro debut because of the whole Tommy John surgery thing. The last rehab update came in mid-September, when Schmidt told Brendan Kuty everything is going well. "Everything's been great so far. I'm just excited to take the next step and to keep working," he said. Schmidt told Kuty he started throwing three weeks prior to their conversation, so his rehab is right on schedule. (There haven't been any updates on his rehab since, though that's not unusual at all.)
Scouting Report
After sitting in the mid-to-upper-80s in high school, Schmidt gradually added velocity in college as he matured physically, and was comfortably sitting 91-93 mph and touching 96 mph before blowing out his elbow this year. His fastball is more of a running two-seamer than a four-seamer.
A hard mid-80s slider is Schmidt's bread and butter and the reason he was drafted so high despite Tommy John surgery. He can vary the break on the slider — he can sweep it side-to-side or have it drop down out of the zone — so much so that it'll sometimes look like a curveball. The slider was considered a big league out pitch before the elbow injury. Schmidt also throws a promising mid-80s changeup that was above-average on its best days.
There were two concerns about Schmidt heading into the 2017 draft. One, his delivery can be a little stiff and that will cause his command to waver at times. And two, he's not the biggest guy at 6-foot-1 and 200 lbs., so there were questions about his durability. The Tommy John surgery means those questions will persist going forward.
Teams aren't scared away by Tommy John surgery these days and one of the reasons the Yankees felt comfortable taking Schmidt is his makeup. He's an absolute bulldog on the mound, and he's drawn rave reviews for his work ethic and makeup for years. (He skipped summer ball in 2015 to be with his family after his brother was diagnosed with cancer.) The Yankees always target great makeup guys and Schmidt is no different. They were confident he'd work hard during his rehab.
2018 Outlook
These days teams give pitchers — especially young pitchers and prospects — closer to 14-16 months to rehab following Tommy John surgery. The days of a 12-month rehab are long gone. Given the timing of Schmidt's surgery, it's unlikely he'll take the mound in an official minor league game until the various short season leagues begin in late-June. The Yankees will bring him along slowly in Extended Spring Training until then. The 2018 season will effectively be a rehab year for Schmidt. Get healthy, shake off the rust, and prepare to turn it loose in 2019.
My Take
I have trouble separating my opinion of Schmidt as a prospect with my opinion of the decision to use the 16th overall selection on an injured pitcher. Schmidt is a quality prospect, at least when healthy. I always worry about short-ish pitchers being home run prone, but otherwise he has a good fastball and a great slider, and the makings of a very good changeup. Add in his makeup and competitiveness and you've got a quality pitching prospect. No doubt.
I just didn't love the decision to select an injured pitcher that high in the draft though, not with other perfectly healthy and equally talented college starters still on the board. (Florida righty Alex Faedo and Oregon lefty David Peterson were selected not long after Schmidt.) Based on various post-draft interviews with scouting director Damon Oppenheimer, it seems Schmidt was Plan B. The Yankees were originally targeting players who came off the board before their pick, and when they weren't available, they went with Schmidt because they knew they could sign him below slot and spread the savings around.
I know Tommy John surgery has a very high success rate, and I know Schmidt's rehab is going well so far, but elbow reconstruction is a significant risk. There can be complications or setbacks, his pre-surgery stuff might not fully return, all sorts of stuff can happen. The pre-surgery version of Schmidt was a very good prospect. Will he be the same guy after he completes his rehab? The Yankees believe so. I think it was too big of a risk at that point in the draft. It's not like Schmidt was a consensus top five draft prospect they were able to steal. They took him about where he was expected to go when he was healthy, except he wasn't healthy.