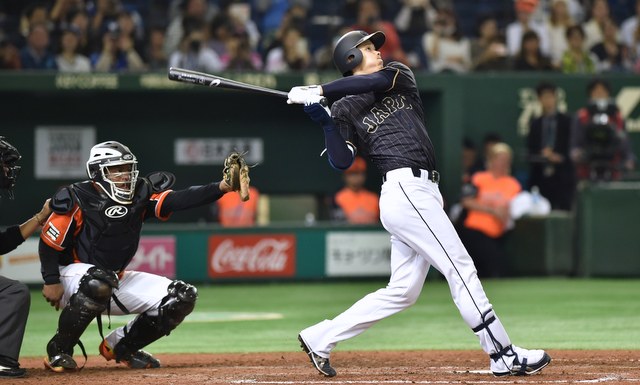 At some point soon, likely by the end of the weekend, the Nippon Ham Fighters will post ace-slash-slugger Shohei Ohtani for the 30 MLB clubs. He'll have 21 days — not the usual 30 days — to select a new team because the MLBPA doesn't want him holding up the free agent market. The fact Ohtani won't have to negotiate a contract will help expedite things. The Collective Bargaining Agreement limits him to a minor league deal.
Although Ohtani has not yet been posted, he and his representatives started the courting process by giving the 30 MLB teams homework. According to Ronald Blum, last week Ohtani and his agent Nez Balelo asked teams for written reports explaining why he should sign with them. Unusual! But whatever. Here are the details, from Blum:
Balelo's memo asks for a team to evaluate Ohtani's talent as a pitcher and as a hitter; to explain its player development, medical training and player performance philosophies and facilities; to describe its minor league and spring training facilities; to detail resources for Ohtani's cultural assimilation into the team's city; to demonstrate a vision for how Ohtani could integrate into the team's organization; and to tell Ohtani why the team is a desirable place to play.

Each team was asked to provide its answers in both languages as soon as possible. Clubs were told not to include any financial terms of a possible contract.
I assume Ohtani and Balelo will use the reports to whittle down their list of potential destinations before meeting with clubs face-to-face, possibly at the Winter Meetings in Orlando in two weeks. If Ohtani is indeed posted this weekend, he'll have a week to receive and review the written reports, a week to meet with teams face-to-face, and a week to make his decision. That's the rough timetable.
The Yankees are expected to pursue Ohtani aggressively, at least as aggressively as this format allows, so of course they're going to submit a written report. So, with that in mind, how about we take a crack at building what amounts to the team's recruiting letter? Let's go item by item.
Evaluation As A Pitcher
Ace caliber. High-end velocity — Ohtani has broken his own record for the fastest pitch in Japanese baseball history several times, reportedly topping out at 102 mph in 2016 — combined with two legitimate put-away secondary pitches (splitter and slider) point to top of the rotation ability. Ohtani has multiple weapons to miss bats and miss the sweet spot of the bat, so in addition to strikeouts, we expect lots of soft contact too.
Furthermore, given the differences in the way the game is played in MLB and NPB, we expect Ohtani's strikeout rate to improve going forward. Hitters in Japan are more contact-oriented than they are over here. The league average strikeout rate in Japan was 19.3% this season. It was 21.6% in MLB. Hitters swing and miss more often here, which will inevitably improve Ohtani's strikeout rate and overall performance. Consider Masahiro Tanaka:
2013 in Japan: 22.3% strikeouts
2014 in MLB: 26.0% strikeouts
An immediate uptick. The hitters are more aggressive, plus pitching coach Larry Rothschild has a history of improving strikeout and walk rates.
Speaking of walks, this past season Ohtani walked 19 of the 105 batters he faced (18.1%), which we attribute more to the nagging ankle and quad problems than a deficiency in control. Ohtani's walk rate during his stellar 2016 campaign was 8.2%, roughly league average. Because he's so athletic and able to repeat his delivery, his control and command will improve as Ohtani gains experience. The walks will come down.
There are very few pitchers like Ohtani in the world and the best comp we can come up with is Stephen Strasburg. Both have an upper-90s fastball and two wipeout secondary pitches. Strasburg throws a curveball and changeup whereas Ohtani throws a slider and splitter, but the quality of those pitches is similar. They're bonafide out pitches. Strasburg was immediately successful in MLB and has never not been excellent when healthy. Based on his ability, Ohtani can do the same. This is a rare talent ready to be a true frontline pitcher immediately.
Evaluation As A Hitter
The numbers are great. We know that much. Ohtani really came into his own has a hitter in 2016, once he quit playing the outfield and focused on his offense as a DH. In the two years since, he's hit .326/.411/.570 with 30 home runs in 613 plate appearances, roughly a full season's worth. Consider Ohtani relative the league averages:
AVG: .326 (.255 average)
OBP: .411 (.317 average)
SLG: .570 (.381 average)
My quick calculation gives Ohtani a 198 OPS+ over the last two seasons. That's great! As for the evaluation, we have three points to make about Ohtani's potential as a hitter.
1. His swing is pretty sweet. Why is it we only say a left-handed batter has a sweet swing? We never say a righty has a sweet swing. Weird. Anyway, here's a side view look at Ohtani's swing:
Shohei Otani's swing is beautiful. pic.twitter.com/QxESBhTa9B

— Max Wildstein (@MaxWildstein) November 15, 2017
There is some Bryce Harper-esque violence in that swing. Not bad violence like he's all over the place and herky jerky. Violence against the baseball violence. Ohtani does get his front foot down a little early, and there is some length to his swing, which are two reasons some folks question whether he'll be able to handle premium velocity. Personally, we think that the front foot issue is fixable — or adjustable, since it's not actually broken — which will allow him to better handle hard stuff. To us, that swing does not look like the swing of a part-time player. That looks like the swing of a legitimate power threat.
2. He'll love hitting in Yankee Stadium. According to the (outdated?) park factors at Yakyu Baka, the Sapporo Dome suppresses home runs more than all but one other park in Japan, making Ohtani's power output that much more impressive. Yankee Stadium, meanwhile, is one of the most extreme home run ballparks in MLB, especially for left-handed hitters. Ohtani has shown the ability to hit the ball out of the park to all fields …
… but going from the Sapporo Dome to Yankee Stadium is going to lead to a considerable uptick in power for Ohtani. The Sapporo Dome is 328 feet down the right field line with a 19 foot wall while Yankee Stadium is 314 feet down the line with an eight-foot wall. Balls that are routine fly outs elsewhere falls into the first or second or third row at Yankee Stadium. Ohtani will love it.
3. He's probably going to strike out a lot. As pretty as Ohtani's swing may be, he did strike out in 26.3% of his plate appearances from 2016-17, and that's in a league with an average 19.3% strikeout rate. Relative to the rest of the league, Ohtani struck out about as often as Aaron Judge. And hey, that's okay! Judge struck out a lot and he was still a monster, so much so that he was runner-up for the AL MVP award. Others like Khris Davis (128 wRC+) and Domingo Santana (126 wRC+) struck out at similar rates relative to the league average this year and were very productive.
The fact of the matter is Ohtani has a tendency to swing and miss, and he'll face a higher caliber of pitching in MLB than he did in NPB. There is so much more velocity on this side of the pond, especially in the bullpen where every team seems to have three or four guys who run it up to 97-98 mph. Also, Ohtani gets pitched around a lot in Japan and reportedly has a tendency to get frustrated and expand the zone when that happens. Such is the life of a young hitter. We think he'll grow out of that.
The honest evaluation: Ohtani has significant power potential, especially in Yankee Stadium, but the swing-and-miss issues are real. We're willing to live with the strikeouts in exchange for the power and everything else that comes with the package. The Yankees are not looking to overhaul Ohtani in order to cut down on the strikeouts. In the short-term, we envision him as a sixth or seventh place hitter who complements the big bats in the middle of the lineup. Long-term, we believe Ohtani has a chance to be a three-four-five type of hitter.
Player Development, Etc.
The Yankees' recent player development track record speaks for itself. Within the last three years the farm system has produced the 2017 AL MVP runner-up and unanimous 2017 AL Rookie of the Year (Judge), the third place finisher in the 2017 AL Cy Young voting (Luis Severino), the 2016 AL Rookie of the Year runner-up (Gary Sanchez), the best rookie starter in baseball in 2017 (Jordan Montgomery), and a player who has hit 23 homers in 107 big league games (Greg Bird). Consider the production from homegrown players, via The Baseball Gauge:
Since Opening Day 2017: +12.9 WAR (1st in MLB)
Since Opening Day 2016: +21.8 WAR (1st in MLB)
Since Opening Day 2015: +27.1 WAR (7th in MLB)
Since Opening Day 2014: +42.8 WAR (9th in MLB)
The Yankees produce both stars and complementary players, and we have a knack for getting players to exceed their perceived ceiling. Was Judge expected to be a .284/.422/.627 hitter? Were people counting on Severino to be the first Yankees starter with a sub-3.00 ERA in two decades? How many had Chad Green becoming a top ten reliever?
In terms of philosophy, the Yankees are obsessed with power and athleticism. Power on the mound and power at the plate. At the same time, the philosophy has been to let players be themselves. No one is trying to turn Tyler Wade into a power hitter, you know? Emphasize strengths, build comradery (Captain's Camp, etc.), and set high standards. The goal is to win everywhere. It's not a coincidence the farm system had seven playoff teams and the highest combined winning percentage in the minors.
Now, the obvious elephant in the room is the recent defection of farm system head Gary Denbo. He left to join old buddy Derek Jeter in Miami. Kevin Reese, who has worked in the front office since 2008, took over as the senior director of player development and we trust he will not only continue to lead a productive farm system, but even improve on it. The farm system has produced a lot of talent lately and there is more on the way.
Minor League & Spring Facilities
State of the art. Both George M. Steinbrenner Field and the Himes minor league complex in Tampa (yeah, yeah, we know) were renovated within the last two years. New fields, new workout rooms and weightlifting equipment, new video rooms, new training rooms, new cafeterias, new dorms for prospects, the works. The Spring Training and minor league complex are as modern as you'll find.
Furthermore, PNC Field, home of Triple-A Scranton, was basically torn down and rebuilt in 2012. The Yankees do not anticipate Ohtani spending any time in the minors for developmental purposes, but if he's down there for injury rehab, he can rest assured the ballpark is newly renovated and as close to big league caliber as it gets. Also, Arm & Hammer Park (Double-A Trenton) and Richmond Country Bank Ballpark (Staten Island Yankees) are among the most popular parks in the minors, and Calfee Park (Pulaski Yankees) underwent $9M in renovations less than three years ago.
Cultural Assimilation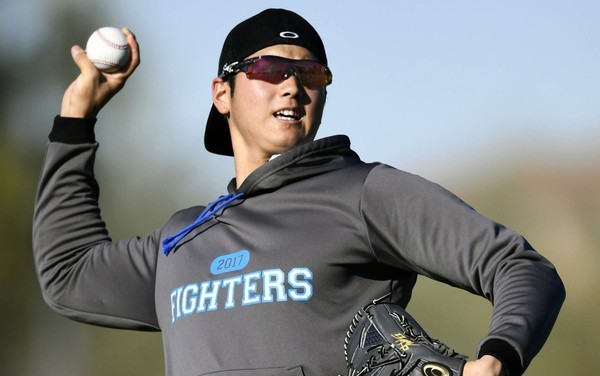 The Yankees are no strangers to helping players transition from Japan to the United States. There's been at least one Japanese-born player on the roster every season since 2003 aside from 2010-11. The Yankees helped Hideki Matsui and Tanaka transition to the United States and thrive on the field immediately. Hiroki Kuroda and Ichiro Suzuki also spent time in New York. Dealing with a Japanese-born superstar is nothing new.
Now, that said, everyone is different, and we know moving to a new country can be very overwhelming, especially in a city like New York. The good news is the five boroughs are home to the largest Japanese community on the East Coast, and there's something for everyone here. Many young players live in the city, but if that's not your thing, there are nearby suburbs in New Jersey and Westchester.
The cultural transition will be the most difficult part of coming to MLB. Not throwing a fastball or hitting a slider. It is important for Ohtani to be comfortable at home in order for him to be comfortable on the field, and the Yankees have as much experience helping a star Japanese player transition to life in the United States as any team in the league. Tanaka likes it here so much he declined to use his opt-out rather than pursue a larger deal elsewhere.
Integration Into The Organization
A few years back Ohtani would have been joining an aging Yankees roster that was trying to hang on more than take a step forward. Now, thanks to recent player development, we had the eighth youngest pitching staff (27.8 years) in baseball this season, and were middle of the pack in position player age (28.6). This was an older roster a few years ago that is now getting younger.
While we view Ohtani as a potential star and transcendent two-way player who could change the way teams build rosters and develop players, the Yankees wouldn't be asking him to step into the lineup/rotation and be The Man from day one. That's a lot of pressure to put on someone new to the league and new to the country. Instead, Ohtani can slide in and be part of the youth movement, not the youth movement.
Make no mistake, attention on Ohtani will be massive when Spring Training rolls around, not matter where he signs. That is unavoidable. The Yankees have some other great players who will draw attention away from Ohtani, namely Judge and Sanchez and Severino and Gleyber Torres, which will help. There is very much a "team first" mentality in the clubhouse and Ohtani will be viewed as one of the guys, not as bigger than everyone else.
We understand there may be some apprehension about joining the Yankees given the current managerial situation. (We don't have one.) Players like to know who they'll be playing for. Right now, we can't tell you who that will be. All we can say is we're looking for a manager who will take our collection of young players to the next level. Given the players we have, I reckon no other clubhouse in baseball is as prepared to welcome and help a star making the jump from Japan to MLB as the Yankees.
Why Play For The Yankees?
Well, this is the easy part. First of all, the Yankees are the most storied franchise in baseball. The history is everywhere you look. You'll get to rub elbows with Reggie Jackson and Whitey Ford and Mariano Rivera on the regular. Secondly, Yankee Stadium is brand new and one of the most modern and state of the art ballparks in baseball. Older ballparks have a certain charm, for sure, but you can't beat modern amenities.
Third, this Yankees team is a rapidly rising team that just blew past all projections to get to within one game of the World Series. Judge, Sanchez, Severino, and Bird are only the start. Torres is arguably the best prospect in baseball and Estevan Florial might be the best prospect in baseball 12 months from now. Just about every scouting publication ranks the farm system as one of the best and deepest in baseball.
Fourth, there is no better place to be a star athlete than New York. Judge just signed a big endorsement deal with Pepsi. Tanaka has millions in endorsement deals. Derek Jeter banked over $100M in endorsements. New York is basically the center of the universe. Succeed here and you will be rewarded handsomely, and not only in player contracts. New York sports stars become legends. You'll have a chance to be remembered forever in Monument Park.
No other team in baseball can offer Ohtani the chance to pitch and hit regularly, the chance to win right away, the chance to play with a young roster (with more young players on the way), and the chance to enjoy all the other great things that come with being a star New York athlete. Players come here and they never want to leave, and many don't. Many stay in the area after they retire as players. Matsui still lives in the Tri-State Area, in fact.
Playing in New York and for the Yankees is not for the faint of heart. Expectations are high here and the media can be a real pain in the ass. There is no better place to win though. Succeed here and you'll be a legend. You'll be beloved. The Yankees are the most recognizable brand in sports and baseball's preeminent franchise. We believe Ohtani can change the game by being an impact player on both sides of the ball. What better way to reinvent the game than in pinstripes?