We've got seven questions in the mailbag this week. I took it easy during the holiday week, and besides, the inbox wasn't nearly as full as usual. The question-askers took it easy this week too. RABmailbag (at) gmail (dot) com is the mailbag email address. Fire away.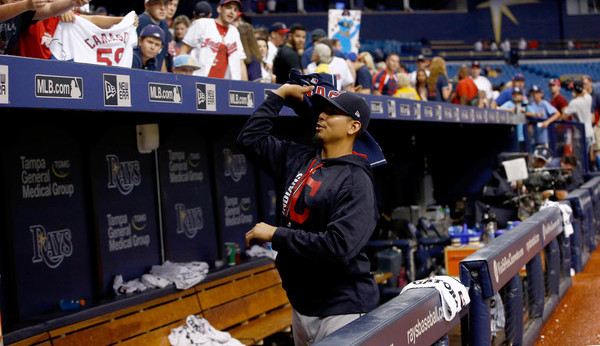 Sal asks: If a Gerrit Cole Trade isn't completed and the need/want for another SP continues, what do you think about going to the Indians and offering Clint Frazier back for Carlos Carrasco? This might fall under "my trade proposal sucks" category but he's under control for 3 more years with I think $24-25 million or so.. I know he's 30 years old but he's cheap and has multi year control. What do you think?
It'll take a lot more than Frazier, I imagine. Carrasco is better than Cole and he's under control for the extra year. That's huge. Their head-to-head 2015-17 performances:

Cole is nearly four years younger than Carrasco and that's significant. That, in theory, means he is more likely to maintain (or improve!) his performance the next few years than Carrasco, who is more at risk of age-related decline. Then again, if we compare their 2016-17 seasons, it's advantage Carrasco big time (and he did it in the DH league), so maybe we shouldn't harp on age too much. Carrasco has been much better than Cole better recently. And he has video game stuff. He can get swings and misses with his fastball, slider, and changeup. He's filthy.
I've seen some speculation the Indians could make Carrasco available in an effort to add younger pieces who will help keep their window open a little longer, because right now, it looks like it's a year or two away from closing. Frazier, Chance Adams, Miguel Andujar, and Tyler Wade have all been mentioned in the Cole rumors. Those four for Carrasco? I'd hate to give up Andujar
and
Wade. Do that and suddenly the infield depth is gone. Then again, adding Carrasco would improve the Yankees' World Series chances considerably.
And who knows, maybe the Indians don't want Frazier back. Maybe they decided he's not as good as advertised and the Andrew Miller trade was their way of selling high on him. I'd rather the Yankees take whatever they're willing to trade for Cole and send it to the Indians for Carrasco, yes. I'm just not sure that'll be enough to get Carrasco. He's been better the last two years and he has the extra year of control.
Michael asks: Hey Mike, what would you say are the 5 worst contracts in baseball right now?
As bad as Jacoby Ellsbury's contract is, it's not the worst in baseball. He is more or less an average player who produces most of his value on defense rather than offense. Keeping him around as the fourth outfielder wouldn't be bad, necessarily. The Yankees just have a lot of outfielders and could better use Ellsbury's salary — or part of Ellsbury's salary — on other players given the luxury tax plan. Anyway, the five worst contracts in baseball, per me:
Albert Pujols ($114M from 2018-21)
Miguel Cabrera ($184M from 2018-23)
Jordan Zimmermann ($74M from 2018-20)
Jason Heyward ($134M from 2018-23)
Shin-Soo Choo ($62M from 2018-20)
Also considered: Matt Kemp, Homer Bailey, Pablo Sandoval, David Wright, Robinson Cano, and Ellsbury. Pujols gets the top spot over Miggy because I think there's at least a chance Cabrera bounces back to have a few more productive seasons with good health. Pujols? He's done. Zero redeeming qualities. Can't hit, can't defend, can't run the bases, nothing.
Noel asks: Are all the retired numbers retired throughout the whole system? Could someone on the Tampa Yankees (Tarpons) wear #2 for example? Or are they all retired for all levels?
The numbers are not retired throughout the system. Estevan Florial wore No. 8 (Yogi Berra and Bill Dickey) with Low-A Charleston and No. 10 (Phil Rizzuto) with Double-A Trenton this season, for example. In fact, Low-A Charleston issued every single-digit number this season, and they've all been retired by the big league Yankees.
Minor league teams are their own entities with their own histories, and they have their own retired numbers too. No. 42 is retired throughout baseball for Jackie Robinson. Even in the minors. Here are the other retired numbers for the minor league affiliates:
Triple-A Scranton: No. 11 (Dave Miley), No. 14 (Greg Legg)
Double-A Trenton: No. 2 (David Eckstein), No. 5 (Nomar Garciaparra), No. 33 (Tony Clark)
High-A Tampa: none
Low-A Charleston: none
Short Season Staten Island: No. 6 (Brett Gardner), No. 17 (Cano), No. 19 (Jason Anderson), No. 41 (Chien-Ming Wang)
Rookie Pulaski: none
Before hooking on with the Yankees, the Trenton Thunder were a minor league affiliate for the Tigers (1986-94) and Red Sox (1995-2002), hence the retired numbers for Eckstein, Nomar, and Clark. Most of the time minor league teams retire a number because the player went on to have big league success. They don't retire the number because of what the player did in the minors, necessarily. (I'm surprised the Scranton franchise hasn't retired numbers for Jimmy Rollins and Chase Utley yet.) In Anderson's case, his number was retired because he was the first Staten Island alumni to play for the big league Yankees.
Art asks: I've always been curious on how much a player makes off of licensing with the MLBPA; as in video games, jerseys and such. I know the stars make all the money but how about someone like Torreyes, who makes the minimum, he'll get playoff shares (assuming their team is in the playoffs) but any idea on how much someone like him makes off of licensing out his name and likeness? I imagine players on the covers make more but didn't know the breakdown.
It's less than I expected! Back in 2014, Liz Mullen and Eric Fisher provided some information on licensing money. Here's a snippet of their report:
MLB players early last year received a distribution of 2012 licensing funds totaling $33.87 million. The amounts, based on each player's service time, were as high as $28,307 a player. The distributions were similar to the $28,041 licensing checks each veteran player received in early 2008, a comparable point in baseball's collective-bargaining cycle.
For many players, that $28,000 in licensing money is a drop in the bucket. CC Sabathia probably doesn't think twice about it. But for someone like Ronald Torreyes, a bench guy who spent the entire season on the big league roster, that's a nice little bonus on top of the league minimum salary. Baseball careers usually don't last very long. Get as much as you can while you can.
Sean asks: Given Manny Machado's comments about wanting to move back to short next season, if the Yankees are able to make a deal, do you think they would consider moving Didi to 2nd or 3rd, or keep him at short and Manny at 3rd?
I think the Machado at shortstop ship has sailed. Asking him to move side-to-side that much after surgery on both knees probably isn't a great idea at this point, even at his age. Machado is going to get paid either way, shortstop or third base, and it's not like his defense is going to waste at the hot corner. Didi Gregorius at short and Machado at third is the best defensive alignment to me. And I think Machado is going to take the biggest offer regardless of position. I can't see him turning down more money just to play short.
Chuck asks: What are your thoughts on what Todd Frazier will sign for? He's not going to be an all star next year but he hasn't made a whole heck of a lot of money yet so there's basically no way he would take a 1 for 8-10m deal at this point, right? That said, who's going to give him the Headley-type deal of 4 for 50 something?
I really have no idea what Frazier will end up with. The market is so screwed up right now. Taking a one-year deal means having to go back out into free agency next winter, when you're competing with Machado for third base work. Then again, Machado is a special case because he's going to get huge dollars. In that case Frazier would be the best non-Machado third baseman, and hey, that could be a good situation. (Update: I forgot about Josh Donaldson. He'll be a free agent next offseason too.)
My guess is Frazier will take the largest multi-year contract he is offered this winter. He's banked a little more than $25M in his career to date, and he'll be 32 in February, and that's a dangerous age to start playing the whole "I'll take a pillow contract and try against next winter" game. Howie Kendrick got two years and $20M two years ago, when he was 32. I think Frazier can find a similar offer this winter. The Twins, Rays, Mets, Braves, and Cardinals all stand out as potential destinations. And the Yankees, of course.
Julian asks: What about trading for Yolmer Sanchez from the White Sox? Even with Torres in the wings, it seems having a relatively known (and cheap) commodity at the keystone would be an asset. What would it take to get him. And is it worth it?
The infielder formerly known as Carlos Sanchez hit .267/.319/.413 (94 wRC+) with 12 homers this past season, which is okay. He's only 25 and he's under control through 2021, and the defensive stats say he's very good at second and third bases, but not so much at shortstop. A switch-hitter who could be maybe league average at the plate while playing good defense seems like a worthwhile addition to me. I hate the "what would it take" questions because I never know the answer. Could the Yankees get Yolmer for, say, Domingo Acevedo? Or Cody Carroll? A secondary arm like that? He's an interesting little player. Could be a sneaky good under-the-radar pickup.