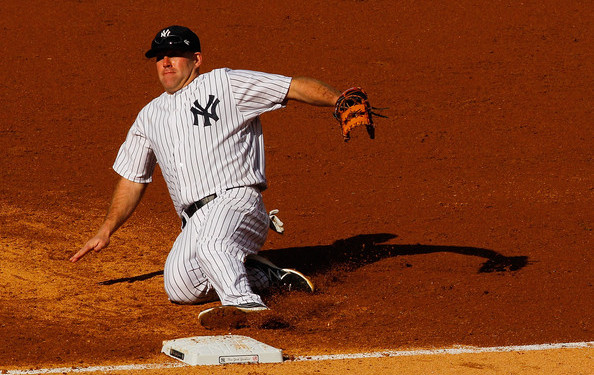 By time the 2012 Winter Meetings rolled around, the Yankees had already handled most of their offseason business. They re-signed Andy Pettitte, Hiroki Kuroda, and Mariano Rivera before the calendar flipped over to December. The Yankees still needed to replace Russell Martin behind the plate and Nick Swisher in right field, plus find a DH. And of course deal with any unexpected offseason curveballs.
Now that we're in a new month, it's time to continue out MLB Trade Rumors archives series. The Yankees went 95-67 in 2012 and were swept by the Tigers in the ALCS, and they were very much in hang on mode. The roster was getting old and the farm system didn't offer much help, plus the Yankees were aiming to get under the $189M luxury tax threshold in 2014, which limited their spending. It was a bit of a scary offseason. Time to dive into the December 2012 rumor mill.
December 2nd, 2012: Olney: Winter Meetings Preview
Nate Schierholtz received calls from nine teams within the first 12 hours of being non-tendered with the Yankees in the mix and the Rays also a good fit (Twitter links).
I was a Schierholtz guy. Wrote a Scouting The Market post on him and everything. I was hoping the Yankees would trade for him at the 2012 deadline, and when that didn't happen, I wanted them to sign him as a free again once the Phillies non-tendered him. Didn't happen either. Schierholtz signed with the Cubs, hit .251/.301/.470 (109 wRC+) with 21 home runs in 2013, then was so bad in 2014 he was playing in Japan in 2015. The post-Swisher era brought some crazy right field ideas, I tell you what.
December 2nd, 2012: Bowden On The Winter Meetings, Dickey, Drew
The Drew infatuation started long before he actually became a Yankee. Drew hit .223/.309/.348 (80 wRC+) in 79 games with the Diamondbacks and Athletics in 2012, then signed a one-year deal with the Red Sox and hit .253/.333/.443 (108 wRC+) with 13 homers in 2013. The friggin' 2013 Red Sox, man. Everything went right for that team. Anyway, the Yankees had their eyes on Drew for years prior to actually acquiring him.
December 3rd, 2012: A-Rod To Undergo Surgery, Miss Part Of 2013
12:31pm: The Yankees have announced in a press release that A-Rod will undergo "a left hip arthroscopy to repair a torn labrum, bone impingement and the correction of a cyst." The team pegs Rodriguez's recovery time at four to six months.
I remember waking up one morning and reading about Alex Rodriguez's hit surgery as I scrolled through my phone while still in bed. That was quite the bombshell, and it was the start of all the injuries that sabotaged the 2013 Yankees, a team that might not have been good enough to contend even when healthy. Just like that, the Yankees had lost their starting third baseman for however many months, and chances are Rodriguez would never be able to play the hot corner regularly again. In fact, A-Rod played only 31 games at third base the rest of his career following this hip surgery (209 at DH). The beginning of the end, this was.
December 3rd, 2012: AL East Notes: Swisher, A-Rod, Yankees, Reynolds
Joel Sherman of the New York Post tweets that the Yankees continue to be in on Scott Hairston, but it will likely take a two-year deal to lock him up, and New York would rather avoid adding 2014 salary.
In 2012, Hairston hit .263/.299/.504 (119 wRC+) with the Mets, including .286/.317/.550 (136 wRC+) against left-handers. In 2013, after signing a two-year deal worth $5M with the Cubs, Hairston hit .191/.237/.414 (73 wRC+) and was pretty much out of baseball the following season. Bench players, man. Very rarely are they worth real money, especially coming off the proverbial One Good Year.
December 3rd, 2012: NL West Rumors: Scutaro, Rockies, Ohtani, Minor
Troy Renck of the Denver Post notes (via Twitter) that the Yankees had some interest in Chris Nelson last season, and wonders if their interest in the Rockies' infielder could be renewed now that Alex Rodriguez is undergoing hip surgery.
I think my favorite thing about these MLBTR Archives posts is seeing how many players the Yankees show interest in, only to acquire them months or even years later. The Yankees have some interest in Chris Nelson? You'd be hard pressed to find a more forgettable rumor. And yet, in May 2013, the Yankees claimed Nelson on waivers. It wasn't a spur of the moment decision. They had some level of interest in Nelson for a while.
December 4th, 2012: Yankees Willing To Listen To Offer For Granderson
The Yankees are open to trade scenarios involving Curtis Granderson, according to ESPN's Buster Olney (Twitter link). Olney notes that moving Granderson's $15MM salary would give general manager Brian Cashman more flexibility this offseason.
A vague rumor — every team is "open to trade scenarios" involving any player — but in this case, the player being floated was a year away from free agency and coming off back-to-back 40+ homer seasons. With A-Rod hurt and both Swisher and Martin becoming free agents, the Yankees already lost a lot of offense during the 2012-13 offseason. Trading away the Grandyman too? Eek. It didn't happen, which made me happy. Two bad those two hit-by-pitch injuries ruined his 2013 season.
December 4th, 2012: Yunel Escobar Rumors: Tuesday
The A's, Yankees, and Rays are the most likely teams for Escobar, reports Danny Knobler of CBS Sports.  Talks with the A's have centered around Brad Peacock or Grant Green, while talks with the other clubs involve younger minor leaguers. 
Escobar hit .253/.300/.344 (73 wRC+) with the Blue Jays in 2012, which was pretty terrible, but the Yankees needed third base help in the wake of A-Rod's injury, and Escobar was very much available. Toronto traded him to the Marlins a few weeks prior to this rumor in the big Jose Reyes/Mark Buehrle/Josh Johnson trade, and Miami had no interest in keeping him. Escobar eventually went to the Rays and hit .258/.324/.340 (93 wRC+) in 2013. Maybe the Yankees should've pushed a little harder? Eh, hard to get upset about this one.
December 5th, 2012: Yankees Have Very Strong Interest In Keppinger
Wednesday: The Yankees "really want" Keppinger, according to Danny Knobler of CBS Sports, who reports that Keppinger could get three years and at least $13MM or more (Twitter link).
Good ol' Jeff Keppinger. The Yankees seemed to be connected to the guy every offseason and every trade deadline. He inexplicably hit .325/.367/.439 (128 wRC+) with the Rays in 2012, and as soon as A-Rod had his surgery, I figured it was only a matter of time until the Yankees sign Keppinger. Felt inevitable. Instead, the White Sox swooped in, gave him three years and $12M, and Keppinger hit .253/.283/.317 (62 wRC+) in 451 plate appearances before being released. Woof. Bullet dodged.
December 5th, 2012: Yankees, Indians Met With Mark Reynolds' Agent
The Yankees met with the agent for free agent corner infielder Mark Reynolds today, tweets MLB.com's Bryan Hoch.  Hoch says Reynolds is aiming for a salary similar to the $7.5MM he made in 2012.  The Indians also met with Reynolds' agent, tweets MLB.com's Jordan Bastian.
Reynolds was my pick for third base after the A-Rod injury. He hit .221/.335/.429 (109 wRC+) with 23 homers for the Orioles in 2012, and while he stunk defensively, I though the Yankees could live with the bad glovework until A-Rod returned, then slide Reynolds into a third base/first base/DH rotation. Reynolds signed a one-year deal worth $6M with the Indians, hit .215/.307/.373 (90 wRC+) in 99 games, then got released at midseason. The Yankees signed him after that. Know what I remember most about Reynolds' time in pinstripes? He started a game at second base (!) in Toronto, after Robinson Cano took a pitch to the hand a day earlier. He even made the pivot to turn a game-ending double play:
The 2013 Yankees were a trip, man.
December 6th, 2012: R.A. Dickey Rumors: Wednesday
The Mets talked to the Yankees and Nationals (prior to their Dan Haren signing) this week about Dickey, tweets Andy Martino, but the Yankees don't have the pieces and GM Sandy Alderson wouldn't trade within the division.
Dickey was coming off his Cy Young award this offseason. The Mets trading the reigning Cy Young winner to the Yankees was never going to happen. And it's a good thing it didn't. Dickey went to the Blue Jays, so he was pitching in the AL East, and he had 4.21 ERA (4.58 FIP) in 224.2 innings in 2013, the final guaranteed year on his contract. That's fine. It's fine. There is something to be said for eating a ton of innings at a league average rate, but the Blue Jays gave up a Cy Young package (Noah Syndergaard and Travis d'Arnaud) for Dickey and did not get Cy Young production. As good as he was in 2012, paying big to bring Dickey to Yankee Stadium did not excite me.
December 7th, 2012: Yankees, Brett Gardner Avoid Arbitration
2:22pm: It's a $2.85MM contract, the Associated Press reports (via the Boston Herald). The deal also includes $150K in performance bonuses. 
There's a story behind this signing. Gardner missed basically the entire 2012 season with an elbow injury. Remember that? He hurt himself sliding for a ball in April and eventually needed surgery. Gardner played 16 games that season, plus five more in the postseason. His 2012 salary: $2.8M. His 2013 salary: $2.85M. Considering how arbitration salaries build on each other over the years, that 2013 injury cost Gardner quite a bit.
December 8th, 2012: Cano Will Not Give Yankees A Hometown Discount
Robinson Cano is due to hit free agency after next season, and Mark Feinsand and Christian Red of The New York Daily News hear the second baseman will not give the Yankees a hometown discount. One source said Cano could seek a contract in line with Alex Rodriguez's.

"He's not giving them a hometown discount, and they seem to be more interested in keeping their payroll down than winning," said one source while another added: "He knows he's the best player on the Yankees … There's no reason for him not to be paid that way."
Why do they call it a hometown discount when the player rarely grew up in the city he plays in? Joe Mauer is a true hometown player. He grew up in the Twin Cities. Cano did not grow up in New York. He was not a hometown player. Weird.
Anyway, I remember this report being met with shock and surprise, which made no sense to me. Why would anyone expect Cano to take a discount (again)? He already took a discount when he signed his below market extension in 2008. The 2013-14 offseason was Robbie's chance to get super paid and he had every right to take advantage.
December 8th, 2012: East Notes: Phillies, Yankees, Youkilis, Pierzynski
The Yankees are hesitating on A.J. Pierzynski because they only view him as an average defender, Heyman tweets.  The catcher is coming off of a big year but the market for him remains a mystery.  General Manager Brian Cashman confirmed earlier this week that he has checked in with Pierzynski's representatives.
Oh geez. Pierzynski was 36 at the time, and he hit .278/.326/.501 (119 wRC+) with a career high 27 home runs in 2012. His previous career high? Eighteen back in 2015. The Yankees did not sign him. The Rangers re-signed him. Pierzynski then hit .272/.297/.425 (90 wRC+) with 17 homers in 2013. I wanted no part of Pierzynski and I'm glad the Yankees did not sign him not matter the reason.
December 9th, 2012: Heyman On Hamilton, Yankees, Youkilis, Dodgers
The Yankees aren't involved with Josh Hamilton at this stage and would only consider it if he fell into their laps at a low number, Heyman tweets.  In short, Heyman says it's not happening.  The Yankees reportedly had people other than GM Brian Cashman running background checks on Hamilton.
You never know, the Yankees could surprise everyone and sign Josh Hamilton. They didn't sign Hamilton though and thank goodness for that. His five-year, $125M deal with the Angels will go down as one of the worst free agent contracts in history. The Angels paid $125M — well, they paid $121M and the Rangers kicked in $4M after he was traded back to Texas — for +2.9 WAR. Yeesh. Hamilton hit the open market at 32 and there were already signs of decline in his game. Considering everything he put his body through before making his comeback, it wasn't difficult to predict that contract not having a happy ending.
December 14th, 2012: Yankees Sign Kevin Youkilis
The Yankees announced that they have signed infielder Kevin Youkilis on a one-year contract.  The Pro Star Management, Inc. client obtains $12MM, according to Ken Rosenthal of FOX Sports, who first reported the agreement (via Twitter).  Youkilis drew interest from a number of clubs this offseason, including the Indians and newly-minted skipper Terry Francona. 
Barf. I hated the Youkilis signing. It might be my least favorite free agent signing ever. I know the Yankees were backed into a corner after A-Rod went down with his hip surgery, but gosh, Youkilis was coming off a .235/.336/.409 (103 wRC+) batting line in 2012, and he had a long history of back problems. Sure enough, the 34-year-old Youkilis hit .219/.305/.343 (79 wRC+) in 28 games with the Yankees in 2013 and missed a bunch of time with back problems. If only there had been some warning signs. Youkilis has been out of baseball since his ill-fated stint in pinstripes.
December 15th, 2012: Yankees, Angels Discussed Vernon Wells
The Angels have a few too many outfielders after signing Josh Hamilton, though they prefer to trade Kendrys Morales or Vernon Wells rather than Peter Bourjos or Mark Trumbo according to Ken Rosenthal of FOX Sports. The Yankees discussed Wells with Anaheim at the Winter Meetings.
"Hah, Vernon Wells is terrible. There's no way the Yankees would trade for him," said a very confident Mike Axisa after seeing this rumor, about three months before the Yankees traded for Vernon Wells. That trade was pure desperation. Granderson got hurt in Spring Training and the Yankees were short a bat, and Wells was basically free. Maybe they could get a dead cat bounce out of him? Alas.
December 15th, 2012: Troy Glaus Contact Yankees About Comeback
Soon after the announcement of Alex Rodriguez's left hip injury, Troy Glaus contacted the Yankees and expressed an interest in returning to baseball according to WFAN's Sweeny Murti. Cody Ransom, who filled in at third base during A-Rod's first hip surgery in 2009, also contacted the team.
Hah. I forgot about this rumor. Glaus had not played since 2010, and when he did last play, he hit .250/.344/.400 (104 wRC+) with 16 home runs and terrible defense. Glaus was pretty excellent in his prime — 37+ homers four times from 2000-06! — but yeah, going into the 2013 season, signing him did not sound very appealing. No one signed him that winter. He was on the Hall of Fame ballot two years ago and received zero votes. Womp womp.
December 19th, 2012: Yankees Re-Sign Ichiro Suzuki
The Yankees have officially re-signed Ichiro Suzuki, the team announced. It's a two-year contract worth $13MM.  Agent Tony Attanasio represents Ichiro.
Another deal I didn't like. I didn't hate it as much as I hated the Youkilis signing, but yeah, re-signing Ichiro was not my cup of tea. Ichiro hit .271/.308/.341 (79 wRC+) in over 900 plate appearances from 2013-14, but it's okay, it's not like right field is a position with a high offensive bar or anything. (The Yankees ranked 30th in right field wRC+ and 28th in right field fWAR from 2013-14. Cool cool.)
(To be fair, Ichiro's value transcends what he does on the field. He is iconic and one of the most recognizable players in the world, and there were a ton of Ichiro shirts and jerseys at Yankee Stadium from 2013-14. Still are, really.)
December 26th, 2012: Yankees To Sign Matt Diaz
5:05pm: The Yankees have agreed to terms with Matt Diaz on a minor league deal with an invite to big league camp, according to Mark Feinsand of the New York Daily News (on Twitter).  Feinsand tipped the signing earlier this week when he noted that the outfielder would be a potential fit for the Bombers.
The Yankees really wanted a right-handed hitting outfielder to complement their all-lefty outfield, hence the Vernon Wells talk, and that led them to Diaz. He hit .222/.280/.333 (65 wRC+) with the Braves in 2012, including .269/.329/.410 (100 wRC+) against righties. Diaz didn't make it through Spring Training. The Yankees released him before the end of camp. In fact, they realized him after Granderson got hurt and before the Wells trade, which tells you how unimpressed they were. Diaz hooked on with the Marlins and hit .167/.211/.222 (17 wRC+) in 2013. Exciting times during the winter of 2012-13.