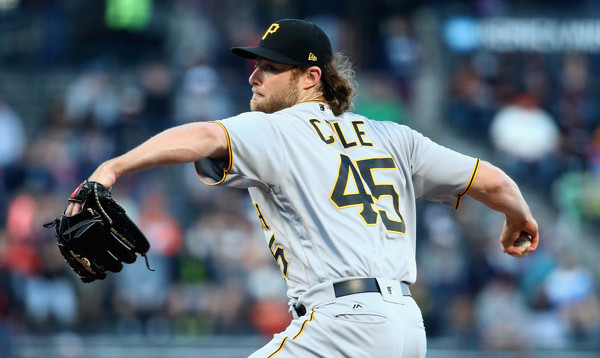 Even after re-signing CC Sabathia over the weekend, the Yankees reportedly remain in the hunt for another starting pitcher. Sabathia joins Luis Severino, Masahiro Tanaka, Sonny Gray, and Jordan Montgomery in the rotation, so the Yankees have five starters, but there's no such thing as too much pitching depth. Another arm wouldn't hurt. Anyway, I have some thoughts on the hot stove state of affairs, so let's get to 'em.
1. My guess is the Yankees were hoping to sign Shohei Ohtani in addition to re-signing Sabathia, allowing them to go to a full-time six-man rotation. Ohtani's ability to hit and pitch solves the whole "three-man bench or six-man bullpen?" problem that makes a six-man rotation difficult. It would've meant more rest for all the starters, plus made for an easier transition for Ohtani, who pitched once a week in Japan. A six-man rotation is tougher to do with a normal non-Ohtani starter because that sixth starter can't hit between starts and solve that whole "three-man bench or six-man bullpen" thing. Of course it would be a three-man bench. No way the Yankees go with a six-man bullpen. If the Yankees do add another starter, I think they'll have Montgomery start the season in Triple-A and come up for fairly regular spot starts. And chances are he'll end up making 25+ starts next year anyway. That's just the way it goes. I am 100% cool with adding another starter, though I would be surprised if it leads to a full-time six-man rotation.
2. I'm having a hard time getting on board with Gerrit Cole. I know all about his pedigree and what he did in 2015, all of that, but I can't get over his league-average-ness the last two seasons. Sixty-seven pitchers threw 300+ innings from 2016-17. Cole's ranks:
ERA: 4.12 (43rd)
ERA-: 98 (47th)
FIP: 3.81 (26th)
FIP-: 91 (28th)
K%: 21.7% (31st)
BB%: 6.7% (25th)
GB%: 4.57 (31st)
xwOBA: .337 (26th among 53 pitchers with 400 at-bats from 2016-17)
Consistently middle of the pack. Cole's fastball velocity is elite — only Carlos Martinez (96.8 mph) has a higher average velocity than Cole (96.2 mph) among those 67 pitchers with 300+ innings from 2016-17 — but his 2,172 rpm average fastball spin rate is close to average (2,261 rpm), and that's not where you want to be. You want either a high spin rate (swings and misses) or a low spin rate (ground balls), not something in the middle. This all isn't to say Cole is bad. There's definitely value in being a league average workhorse if that's what he is now. I just don't love the idea of giving up a Clint Frazier-led package for a guy you have to hope bounces back. Pirates pitching coach Ray Searage is supposed to be the pitcher whisperer, right? Then why has Cole gone backwards the last two years?
3. Among the rumored pitching targets, I rank them Michael Fulmer (gap) Patrick Corbin (gap) Chris Archer, Danny Duffy, Gerrit Cole. Fulmer is excellent and under control another five years. Corbin is a one-year rental and I'd rather give up a smaller package to get him than a bigger package to get the guys behind him on my list. And here's the other thing: how confident are you Archer or Duffy or Cole will outpitch Corbin in 2018? Their 2017 numbers quick:
Duffy: 86 ERA- and .304 xwOBA in 146.1 innings
Corbin: 88 ERA- and .314 xwOBA in 189.2 innings
Archer: 96 ERA- and .292 xwOBA in 201 innings
Cole: 100 ERA- and .310 xwOBA in 203 innings
Fulmer is my top target. If the Yankees are unable to pry him loose, Corbin is next on my list because I think he's the next best combination of expected production and price. (Not that I know what the Diamondbacks are asking in return, of course.) Archer, Duffy, and Cole are all very good, and yet there seems to be a disconnect between the reality of them as pitchers (they're aces!) and the perception of them as pitchers (they're kinda average!).
4. The other thing we have to consider as the Yankees look for another starter is the luxury tax. Our estimates put the luxury tax payroll at $172.5M right now, though that's based on arbitration projections and other estimates. The Yankees probably have something like $15M in wiggle room now once you factor in the money they must set aside for midseason call-ups and whatnot. Now look at the 2018 luxury tax hits for the rumored pitching targets:
Fitting Cole or Corbin or especially Duffy into the payroll next season wouldn't be so easy. Fulmer would ideal in that regard. I know we all have our fingers crossed hoping for a Jacoby Ellsbury trade, though the Yankees may end up having to trade a reliever (Dellin Betances? Adam Warren?) to clear payroll space for a young starter. So maybe that means they'll just scour the free agent market for a cheap depth arm? Maybe someone like R.A. Dickey on a $3M deal? He could bounce between the rotation and bullpen to make those occasional sixth starter spot starts, and he can pitch basically every day. I dunno, just spitballing. Fitting another starter under the luxury tax threshold might not be easy.
5. Last week we heard the Yankees were one of several teams to make an offer for Manny Machado, though the details of the offer are unknown, as is the seriousness of their pursuit. Machado is great and of course the Yankees should make an effort to get him. You never know when you'll get Giancarlo Stanton for Starlin Castro. I see two obstacles to a trade, however. One, Peter Angelos. The Orioles owner hates the Yankees and I would be shocked if he approved a trade sending his star player to New York. And two, are the Yankees really willing to give up some of their best prospects for a player who will become a free agent next offseason? That doesn't seem to be their M.O. these days. Machado figures to test the open market because he's in line for a monster contract, so while the Yankees could re-sign him, they can't count on it happening. They'll have to pay market value to keep him. Adding Machado to Stanton and Aaron Judge and Gary Sanchez would be amazing, especially since third base is wide open next year, but this seems like one of those things that won't happen for many reasons even if it makes sense on paper.