After one year of surprising success that felt like house money, expectations for 2018 New York Yankees season are as high as ever, and prices have followed suit. Since the team acquired Giancarlo Stanton, the asking price for tickets for Opening Day have risen 14 percent, according to TicketIQ.com and the overall average asking price for a ticket to Yankee Stadium is $135, which the highest it's been since 2010, when TicketIQ.com started tracking data, and one year after the Yankees moved into the new Yankee Stadium.
While Stanton has been the biggest driver of demand, fans are also excited to see Aaron Boone in pinstripes for the first time since he batted .143 and struck out six times in the Yankees' 2003 World Series loss to the Marlins. Most fans will choose to remember the walk-off, pennant-winning home run he blasted off Tim Wakefield to end the 2003 ALCS against the Red Sox.
While the Yankees are favorites to get back to the Fall Classic, the Marlins most certainly are not. For fans looking to expunge the memories of that 2003 series, the Stanton-less Marlins come to Yankee Stadium on April 16th and 17th. Barring a disastrous first two weeks, former Yankee captains will be both the owner and manager. While Don Mattingly has returned as a manager once before with the Dodgers, the big question will be whether Derek Jeter is there. If he is, fans will be able to give him a proper thank-you, for as little as $15 as of today. If it is confirmed, $25 might be the cheapest ticket at first-pitch.
If that's not enough to get you to chilly early-season game, below is a look at the most expensive games for each month for the 2018 season from TicketIQ.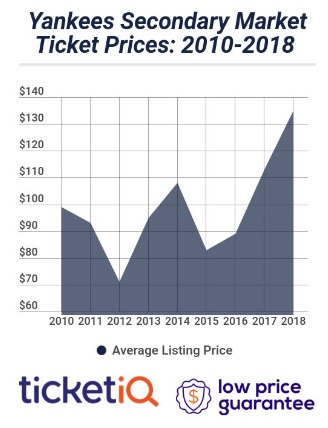 April: Tampa Bay at Yankees, April 2 – With a projected opening day lineup that could feature Aaron Judge, Gary Sanchez, and Stanton, the toughest 2-4 hitters in the game, it's not surprising that Opening Day is the most expensive this decade.
Average asking price: $315; Cheapest ticket: $106
May: Boston Red Sox at Yankees, May 10 –  Despite winning the AL East last year, the Red Sox will likely come in as underdogs to face reloaded Bombers. While average price for Yankees-Red Sox tickets has decreased by over 25% in the last 5 years, perhaps having Boone as manager will rekindle some of the tension that has been out of rivalry since the Red Sox broke the Curse of the Bambino the year after his historic home run.
Average asking price: $234; Cheapest ticket: $55
June: Boston at Yankees, June 30 – With summer out, demand to see the Red Sox visit the Bronx is up 25% from the early May series when many schools are still not out. For Yankees fans in Boston, if you missed the early season games at Fenway park, the cheapest tickets for the Yankees-Red Sox Series in August is around $100.
Average asking price: $294; Cheapest ticket: $71
July: New York Mets at Yankees, July 20 –  A healthy Yoenis Cespedes to complement Stanton and Judge gives the game ample opportunity for 500 footers. If the Mets can rebound from their disastrous season last year, prices and demand for this three-game weekend series may not reach 2001-levels, but they're not likely to drop much.
Average asking price: $278; Cheapest ticket: $59
August: Texas Rangers at Yankees, Aug. 11 – Dog days of summer descend in August with a lackluster home schedule against the Blue Jays, Rangers, Rays, White Sox and Tigers. The month begins with with the final game of a series with the Orioles.  While tickets for that Wednesday nighter can be had for less than $30 today, if the O's are out of it, and Manny Machado trade rumors are swirling, prices could climb.
Average asking price: $233; Cheapest ticket: $29
September: Detroit Tigers at Yankees, Sept. 2 – This day game on the Sunday before Labor Day is a big draw for fans looking to celebrate their weekend with a trip no farther than the Bronx. Without Justin Verlander, the Tigers are not likely to improve on their 5th place finish from last season and the most interesting thing about this series may be whether current-Tigers ace Michael Fulmer will be in pinstripes by then.
Average asking price: $237,  Cheapest ticket: $30
Visit the TicketIQ Blog for more detailed analysis of trends for Yankees and other New-York teams.