The other day, Steven wrote about the rationale of trading David Robertson to clear some salary room to fit Yu Darvish's hypothetical contract under the $197 million luxury tax threshold. Today, I'm here to make a case for trading away another established veteran player with a +$10M salary: Brett Gardner.
We've talked about the Yankees' commitment to stick to the current luxury tax plan all winter. As of this moment, the Yankees stand at $175 million for 2018, which gives them around $22 million of wiggle room. Trading away ~$10 million worth of of room will comfortably fit another big contract. It's the ol' subtract-to-add situation.
While Gardner is penciled in as a big part of the 2018 Yankees, he is not untouchable. Darvish can put the Yankee rotation in a solid spot for the next few years. This idea does not have my 100% endorsement, but there are reasons why it would make sense.
1. Gardner's value. There are two sides here. First off, Gardner had one of his finest seasons in the majors in 2017, hitting .264/.350/.428 with 21 home runs, which is good for a 108 wRC+ and a 3.8 fWAR. Among outfielders with qualifying amount of plate appearances, Gardner ranks 16th in the majors in fWAR, which is pretty good. He is definitely a starter on any team. While the fielding metrics have not been as high on him as they used to be, he still rates as a good fielder and, of course, he brings speed on the bases.
While there are teams out there with OF needs, Gardner is currently a good enough player that he could go to a team with three spots all set and take one of the jobs. He's also set to be paid $11 million in 2018, which is lower than what he would get in open market if he were a free agent.
What am I getting at? It's that Gardner would be more than just a salary dump. He could net the Yanks something interesting in return while the Yankees clear $11 million in the payroll.
There are two things that limit his value: 1) his age, and 2) only one year left in his contract. If Gardner put up a season he did in 2017 when he was 27, Cashman's phone would be buzzing quite a bit. Gardner is currently 34 and will turn 35 in August. Studies have shown that speedy guys tend to age more gracefully but as you have seen with Jacoby Ellsbury, it is not always a guarantee.
As you may know, 2018 is the last year of Gardener's four-year, $52 million contract. There is a $12.5 million team option for 2019, by the way. Basically, whoever has him has a choice to keep Gardner for another season, which helps his overall value. While Gardner is a very good MLB player, teams will be wary of his age and for how long they can have him. At the same time … he is much more tradeable than Ellsbury.
2. It could clear the OF logjam. So, at this moment, the Yankees have four sure everyday guys in Giancarlo Stanton, Aaron Hicks, Aaron Judge and Gardner, and two bench guys in Ellsbury and Clint Frazier (don't forget about Jabari Blash either). Depth is important and the Yankees have a lot of outfielders. Both of these can be true.
Let's talk about the two bench guys here though. Ellsbury, with the decline he has shown since joining the Yankees, has become somewhat of an albatross and the team has not made it much of a secret they want to trade him away. At the same time … he's not awful. He may be average at best, but he's capable of good usage here and there.
Frazier, on the other hand, could be a guy who could use some exposure against big league pitching in 2018. When he makes contact, man, he can hit'em hard. Frazier had 31 base hits in the ML last year and 16 of them were for extra bases. He just needs to be more seasoned at the highest level. He's a young talented outfielder who warrants patience. Giving him ample opportunity to experience growing pain in 2018 may pay off big time sooner than later.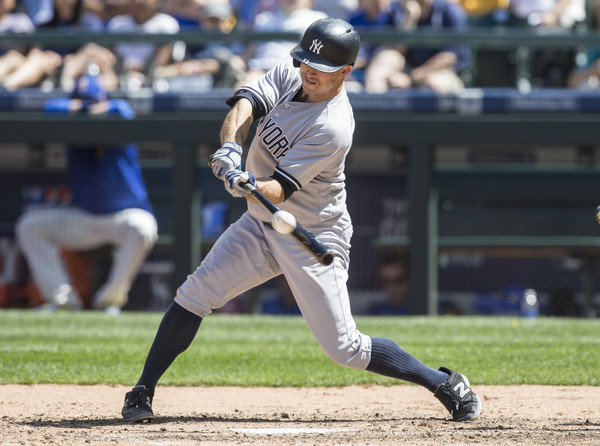 3.  One less OF or one less bullpen pitcher? Steven talked about how the Yankees bullpen has depth and can afford to subtract a piece for a overall greater good. I don't disagree with him. However, bullpen pitchers can tend to be a bit more volatile. Uber-consistent relievers like Mariano Rivera are quite rare. In 2017, we saw Aroldis Chapman, one of the most sturdy closers in the recent history, get into some serious slumps that cost the team some games. Heck, even Tommy Kahnle had a bit of an unreliable stretch before the playoffs.
Because of the high bust rate of the relievers, it becomes hard to project how consistent the bullpen unit can be. Because the Yankees pitching is built to rely on late-inning arms, maybe it is not a bad idea to keep the best relievers for depth. Also, by having a loaded bullpen, the team will have an easier time limiting Darvish's workload and keep him fresh.
At the same time, the Yankees do have a history of giving up an offensive piece to either acquire starting pitcher. Trading away Nick Johnson for Javier Vazquez back in 2003-04 offseason comes to mind. Sending Melky Cabrera to Braves to re-acquire Vazquez was also a thing. Both played as regulars for the Yankees prior to the deals, but Brian Cashman pulled the trigger to add another arm to the rotation.
What did Cabrera and Johnson have in common at the time? They were a bit superfluous to the team based on the position they played. Johnson was blocked by Jason Giambi and his long-term deal. Cabrera was traded away only a few weeks after the Yankees acquired Curtis Granderson in a three-way deal. Cashman didn't trade away players that had clear positional dominance in the roster – he chose to part with those who were a little extra at the position.
Which brings us to Gardner. As I said, he's a clear starter for every ML team. However, the Yankees have a big OF depth and the team could always use more starting pitching. Because of his value and contract, he is very tradeable and it might make sense to make a sacrifice to add a bigger boon.
Losing Gardner would obviously put a dent in current offense – but at the same time, they can rotate Judge – Hicks – Stanton – Ellsbury – Frazier. The first three can do a lot of damage year-round and Ellsbury/Frazier and be sub'd in once in awhile to give them rest.
4. Yu Darvish is pretty good. The Yankees need more rotation depth, etc. Yup. Steven covered this in his post.