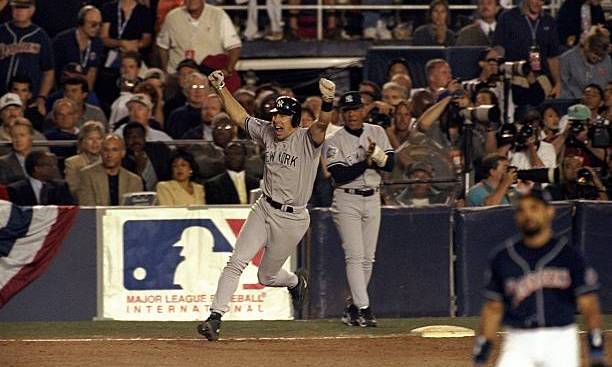 The story of the 1997 Yankees was largely that of disappointment. They finished second in the AL East despite winning 96 games, and traveled to Cleveland for the ALDS, where they would take a 2-1 series lead in short order. And they went home just two nights later, suffering a couple of one-run losses on the road. I remember that series (and the playoffs as a whole) more vividly than I'd like to; but I digress.
One of the scapegoats for the "failed" 1997 season was a pitcher that didn't even appear on the playoff roster – Kenny Rogers. The Yankees had signed Rogers to a four-year, $20 MM contract heading into 1996 (a tremendous deal back then), and were almost immediately ready to send him packing. He posted a 4.68 ERA (92 ERA+) in 179 IP that year, and then allowed a 14.14 ERA in four postseason appearances. Rogers followed that up with a 5.65 ERA (78 ERA+) in 145 IP in 1997, shuffling between the rotation and the bullpen. The Yankees had lined up a deal for Rogers in July, whereby he and Mariano Duncan would've headed to San Diego in exchange for Greg Vaughn, but the curmudgeonly outfielder failed his physical and the deal was scuttled. Thankfully, his pinstriped career would only last a few more months.
On November 7, 1997, the Yankees dealt Rogers and $5 MM to the A's. The team had tired of his non-performance and inability to deal with the pressure of New York, so they happily ate some of the contract to facilitate the deal. And, in true George Steinbrenner fashion, Rogers's fortitude was questioned as he headed for greener pastures. In exchange, the Yankees received 31-year-old utility player Scott Brosius. And even that is a bit of an exaggeration, as the official trade was for a player to be named later.
When the deal was made, Brosius was viewed as "a player who we feel can help us in the future" by then-GM Bob Watson. It was difficult to be too excited about Brosius, as he was coming off of a season in which he slashed .203/.259/.317 (53 OPS+) in 526 PA. He had produced in back-to-back seasons beforehand, including an excellent 1995 (.304/.393/.516, 22 HR, 127 OPS+, 5.3 bWAR), but there was little excitement about his prospects at the time. After all, he was a 31-year-old PTBNL with a somewhat lengthy injury history coming off of an awful year.
The Yankees opted against picking up Wade Boggs's team option heading into 1998, so they had a vacancy at the hot corner. That vacancy turned into opportunity for Brosius, who opened the season as the team's starting third baseman. He batted eighth on Opening Day (between Chad Curtis and Joe Girardi), and went hitless in four at-bats. It was a non-story, to be sure, but his job security wasn't quite there yet, so every at-bat counted. If he struggled as much as he had in 1997, you could be sure that the Yankees would've pulled the plug.
That never happened. Brosius reached base safely in his next seven games (.375/.484/.458 with 4 RBI and 6 BB), and endeared himself to the fans with a propensity for clutch hits and great defense as the season wore on. He earned an All-Star nod for the first and only time (serving as a reserve), wrapping up the first half with a .309/.380/.462 slash line, along with 8 HR and 52 RBI.
Brosius had the first extended slump of his Yankees career in the weeks following the All-Star game, when he hit .167/.245/.271 over a fourteen game stretch from late July into early August. It was relatively short-lived, though, and he hit .324/.387/.549 with 9 HR and 36 RBI over his last 53 games. All told, he hit .300/.371/.472 (121 OPS+) with 19 HR, 98 RBI, and 5.3 bWAR. That's not too bad for a PTBNL.
Of course, Brosius's reputation wasn't built solely on his strong overall performance. Instead, it largely revolved around his ability to come through in clutch situations, which can't really be overstated. He batted .373/.444/.588 with RISP, .301/.400/.493 with RISP and 2 outs, and .300/.372/.457 in late and close situations. Those last two numbers look an awful lot like his baseline numbers, which may lead to the ubiquitous "is clutch a skill" debate; but for our purposes, these numbers match his reputation, and maintaining one's awesomeness in big situations is always worthwhile.
And then the playoffs came, and Brosius went a bit crazy. He hit .400/.400/.700 with a home run and 3 RBI in the ALDS, as the Yankees swept the Rangers, and then .300/.348/.500 with a homer and 6 RBI against the Indians in the ALCS. Both of those home runs ended up being the game winners, with his three-run shot against the Indians coming in the decisive game six.
The memory of Brosius's 1998, however, often boils down to his two home run effort in game three of the World Series:
Brosius hit .471 with 2 HR and 6 RBI in the World Series, and took home MVP honors as a result. His playoff numbers as a whole merit writing out here: .383/.400/.660, 6 runs, 1 2B, 4 HR, and 15 RBI in 13 games.
All this from a player to be named later that spent 139 games batting 8th or 9th in the lineup.
---
The Rogers-for-Brosius swap was brought-up consistently throughout the season, with the Daily News frequently leading the charge. The trade was not second-guessed (particularly after the postseason that Brosius had), but Rogers rebounded tremendously, and was a legitimate asset for the A's. His 1998 was, by both versions of WAR, the best season of his career. It was the rare deal that worked out well for both sides, and I can't imagine that either team would have had it any other way.