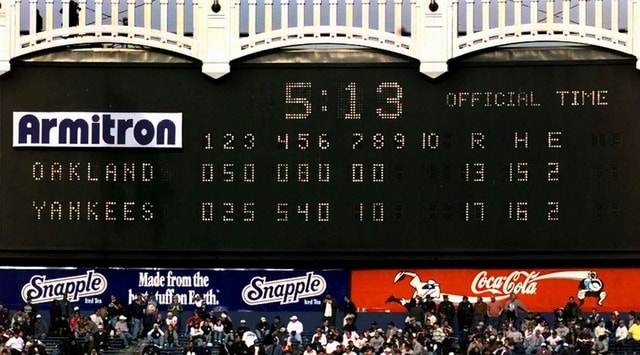 The schedule makers were not kind to the 1998 Yankees. The Yankees not only had to start the season on the road, they were out on the West Coast. Two games in Anaheim, two games in Oakland, three games in Seattle to start the new season. That's no fun. The Yankees lost their first three games and four of their first five games that year.
It wasn't until April 10th, ten days into the season, that the Yankees played at home in the Bronx. Twenty-seven of the other 29 teams played a home game before the Yankees that year. A crowd of 56,717 — the largest home crowd since Yankee Stadium was renovated in 1976 — turned out to see Joe DiMaggio throw out the first pitch on a Friday afternoon. DiMaggio threw a strike and might've been the most effective person to toe the rubber that afternoon.
"This has got to be the most brutal game I've ever seen in my life," said Yankees first base coach Jose Cardenal to Buster Olney a few hours later, after the Yankees and Athletics combined for 30 runs and 32 hits. A's first baseman Jason Giambi called it a "fiasco … you almost pitied anyone who went to the mound."
That afternoon's 17-13 win over the A's was — and still is — the highest scoring home opener in Yankees history. Each team used ten pitchers. Only three of them did not allow a run. David Cone allowed nine runs in 4.1 innings and was the better of the two starters; Jimmy Haynes allowed six runs in 2.1 innings before giving way to reliever Aaron Small.
"There's no excuses. I've been just awful the last two starts," said Cone to the Associated Press. "The team has given me leads, and I've gone out there and given it right back up … I can't explain it. Physically, I'm way ahead of schedule. I just get into trouble and kind of go into a panic mode and allow big innings to happen."
The A's struck first with a five-run second inning. Two walks, three singles, and a double accounted for the damage. The Yankees answered with two in the second, five in the third, and five in the fourth. Then Oakland pushed across eight runs against Cone, Darren Holmes, and Mike Buddie in the fifth.
"Not the textbook win. Not what I imagined my first win would be," said Buddie to Olney. He allowed two inherited runners to score and gave up a run of his own in 1.1 innings, making him one of the day's more effective pitchers. It was Buddie's third career appearance and first career win.
Tino Martinez went 3-for-5 and, believe it or not, hit the game's only home run. It was a three-run shot. Joe Girardi, the No. 9 hitter, went 4-for-5. Six of the nine Yankees in the starting lineup had multiple hits and, amazingly, the 1-2-3 hitters (Chuck Knoblauch, Derek Jeter, Paul O'Neill) went a combined 1-for-15.
"It's always fun to win a game, but this is one of the ugliest games I've ever been a part of," said O'Neill to Olney.
The Yankees drew 12 walks and struck out once — once! — as a team. Darryl Strawberry did the strikeout honors in the sixth inning. The A's had themselves a great afternoon at the plate as well, obviously. Their 3-4-5-6 hitters (Ben Grieve, Matt Stairs, Jason Giambi, Dave Magadan) went a combined 9-for-20 and drove in eight runs.
It had been 43 years, since beating the Washington Senators 19-1 on Opening Day in 1955, that the Yankees scored at least 17 runs in their home opener. I don't know what's more impressive, that the Yankees accomplished something they hadn't done in 43 years, or that they've scored 17+ runs in multiple home openers. Seems crazy.
A game like that, a 17-13 barn burner, is always a bit of an anomaly. The Yankees were great that season, the A's were not, but for nine innings on a cold and windy afternoon in the Bronx, nearly 60,000 fans hung in for four hours to watch the first of 88 games — and 67 wins — at the House that Ruth Built that season.
"Yeah (it was cold)," said Girardi to Olney, "but you got a lot for your money."