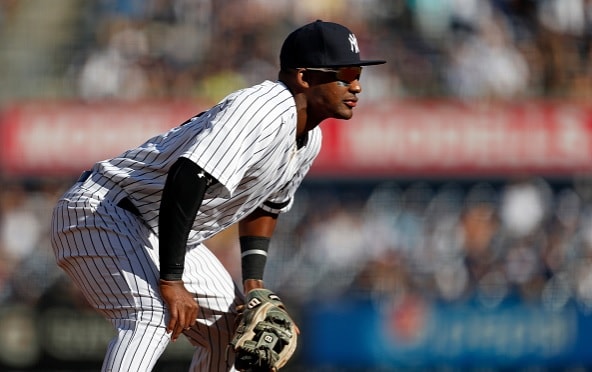 Pitchers and catchers will report to Tampa one week from tomorrow, which means my annual top 30 Yankees prospects list will be posted this Friday. The whole thing is written. Pretty sure this is the earliest I've finished it. I just need to proofread it a few more times and all that. Friday's the day though. Here are some minor league notes to help pass the time.
Five Yankees on BP's top 100 prospects list
Another top 100 list was released earlier today. Baseball Prospectus has Braves OF Ronald Acuna as the top prospect in baseball right now. (They didn't include Angels RHP/DH Shohei Ohtani in their rankings.) Nationals OF Victor Robles is second. Five Yankees make BP's list:
3. SS Gleyber Torres
26. OF Estevan Florial
51. RHP Chance Adams
57. LHP Justus Sheffield
100. RHP Albert Abreu
Noticeably absent: 3B Miguel Andujar, who ranked in the middle of other top 100 lists these last few weeks. In the chat, Jeffrey Paternostro said he is "just not an Andujar guy. I don't love the swing or the throwing at third. He keeps making it work though, and I fully admit I may be too stubborn here." To each his own.
Five Yankees on FanGraphs' top 100 prospects list
Yet another top 100 list. Kiley McDaniel and Eric Longenhagen posted their combined top 100 list today and they had Ohtani in the top spot, followed by Acuna and Blue Jays 3B Vlad Guerrero Jr. Five Yankees made their FanGraphs top 100 list:
12. SS Gleyber Torres
14. 3B Miguel Andujar
39. LHP Justus Sheffield
59. RHP Albert Abreu
79. OF Estevan Florial
That is the lowest Torres appears on a top 100 list this year and, holy crap, also the highest Andujar appears. No other top 100 list has him higher than 54th. "Andujar has cut down on his swing-and-miss while also lifting the ball more and hitting it with more authority, an obviously rare and desirable combination when you're already working with a toolsy prospect who was always young for his level," says the write-up. Love it.
Law ranks top ten Yankees prospects (and more)
Two weeks ago Keith Law released his annual top 100 prospects list and organizational rankings. The Yankees had five top 100 guys plus two more on the "just missed" list, and they ranked second in the farm system rankings behind the Braves. Then, last week, Law posted his team-by-team prospect breakdown (subs. req'd), which includes a top ten list and lots more. His introductory Yankees blurb:
The Yankees have drafted well, they've scouted very well internationally, and they've kept most of the "right" guys in trades so far, such that their system is No. 2 in all of MLB even after promotions and a few deals. Their Trenton (Double-A) and Scranton Wilkes-Barre (Triple-A) affiliates should be extremely fun to watch this year.
Within the write-up are brief scouting reports on the Yankees' non-top 100 lists. Law goes beyond the top ten with the Yankees and ranks 21 prospects total:
1. SS Gleyber Torres
2. LHP Justus Sheffield
3. 3B Miguel Andujar
4. RHP Freicer Perez
5. RHP Albert Abreu
6. OF Estevan Florial
7. RHP Domingo Acevedo
15. RHP Taylor Widener
16. RHP Trevor Stephan
17. SS Oswaldo Cabrera
18. 2B Nick Solak
19. RHP Cody Carroll
20. 3B Dermis Garcia
21. OF Jake Cave
8. RHP Dillon Tate
9. RHP Chance Adams
10. RHP Luis Medina
11. RHP Jonathan Loaisiga
12. RHP Clarke Schmidt
13. SS Thairo Estrada
14. RHP Matt Sauer
That is an awful lot of right-handed pitchers. Law also mentions C Saul Torres, OF Billy McKinney, RHP Ben Heller, RHP Domingo German, and SS Hoy Jun Park in the write-up, and labels Medina as his sleeper. "Luis Medina is incredibly exciting, just a long way off, but he could be the next great starter prospect in what looks like a line of them from the majors on down," he writes.
Four Yankees on ZiPS top 100 prospects
Over at ESPN, Dan Szymborski used ZiPS to put together a data-driven top 100 prospects list. For the most part the ZiPS list agrees with the scouting-based top 100 lists. Players are generally ranked in the same spot, with a few notable exceptions. Acuna tops this list as well. Four Yankees made the ZiPS top 100:
6. SS Gleyber Torres
41. RHP Chance Adams
51. OF Estevan Florial
79. 3B Miguel Andujar
LHP Justus Sheffield doesn't make the list, and in the write-up, it is said "if he were projected to pitch in a less homer-friendly stadium than Yankee Stadium, Sheffield moves back into the top 100. In fact, as a Tampa Bay Ray he would get up to No. 68." So there you go. Blame the ballpark for the Yankees not having a fifth ZiPS top 100 prospect.
Yankees sign Bollinger, release Graham
The Yankees have signed well-traveled LHP Ryan Bollinger to a minor league contract, it was announced during an Australian Baseball League broadcast. Bollinger, 26, was drafted by the Phillies in the 47th round of the 2009 draft, but did not sign. He spent 2010 in an independent league, 2011-13 in the White Sox system, 2014-16 in independent leagues, 2017 in Germany, and this offseason in Australia. He's made nine starts with the Brisbane Bandits and thrown 54.1 innings with a 3.48 ERA and a 75/12 K/BB this winter. Would be something if this guy made it, huh?
In other transaction news, the Yankees have released RHP J.R. Graham, reports
Matt Eddy
. Graham came over from the Twins in a cash trade in May 2016, managed to spend the rest of the season on the 40-man roster, then was outrighted last year. The 28-year-old allowed 19 runs in 20.1 innings with Triple-A Scranton last season before going down with an injury in June. The Yankees have so many bullpen arms for Double-A and Triple-A in the system. It would've been tough to find room for Graham.
Misc. Notes: Medina, Double-A Trenton
To other quick notes to pass along:
Baseball America (subs. req'd) tabbed RHP Luis Medina as one of nine breakout prospects for 2018. "The Yankees' system is full of powerful, high-end arms, and Medina might have the highest ceiling of them all … Medina has an excellent chance to find himself in next year's Top 100 Prospects," says the write-up.
The Trenton Thunder are rebranding themselves as the Trenton Pork Roll. For real. The Associates Press has the story. It's for Friday nights only this season, starting May 18th. The team will wear special jerseys and "sell pork roll sandwiches and pork roll-themed merchandise" at the ballpark.
Pork roll-themed merchandise? Pork roll-themed merchandise.