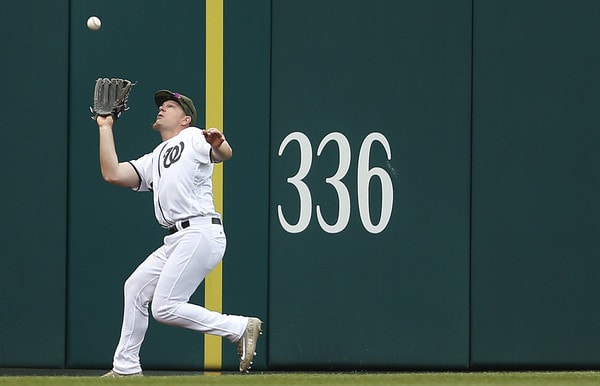 Last last week the Yankees took advantage of the still slow-moving free agent market and signed veteran slugger Adam Lind to a minor league contract. He spent a few days at the MLBPA's free agent camp and, despite a strong 2017 season with the Nationals, Lind confirmed he received only two offers this winter. Both were minor league deals.
"They offered me a contract," said Lind to Pete Caldera when asked why he signed with the Yankees. "The way this winter worked out, I'm happy to just have a job … It's a great opportunity, I know I've talked to them over the past couple of years (about a deal). I think it was the right situation."
Lind now has three weeks to prove he's worth a big league roster spot, which you'd think he did last season by hitting .303/.361/.513 (122 wRC+) with Washington, but apparently not. As far as the Yankees are concerned, this is a no risk move. They'll get three weeks to see what Lind can do, and if he looks good, they can keep him. If not, they can walk away with no strings attached.
"It's an insurance policy. He'll come in and be in the mix. We'll see what he's got," said Brian Cashman to Bryan Hoch. "He'll obviously have a chance to prove that he's got some value … We know what he's capable of. We saw him all of last year and previous years. We know obviously he's a very productive hitter."
For all intents and purposes, Lind is competing with Tyler Austin for a bench spot, that backup first baseman's spot. Cashman ruled Lind out as outfield option — he did play 25 games in left field for the Nationals last year — which means he's a first base/DH guy only, limiting roster flexibility. Austin can at least fake the outfield, if necessary. A few things about this sudden competition.
1. The Yankees keep replacing Austin. A few days prior to the Lind signing, Aaron Boone said Austin had a leg up on a bench spot as Greg Bird's backup. Now he doesn't. This is the second straight year the Yankees have signed a low cost veteran first baseman to replace Austin. Last year it was Chris Carter. This year it's Lind.
Maybe replace isn't the right word. But both this year and last, the Yankees brought in some veteran competition for Austin, veteran competition you can easily envision on the roster. Carter had just led the NL in homers when the Yankees signed him. Of course he was going to be on the roster. Lind had a great year in 2017. Does he really have to compete for a job? Actions speak louder than words, and the Yankees keep signing guys to keep Austin off the roster. Hmmm.
2. Lind is not Carter. For a few reasons. One, he doesn't strike out nearly as much. Carter had a 32.0% strikeout rate the year before signing with the Yankees and his career strikeout rate is 33.3%. Lind struck out 15.6% of the time last season. His career strikeout rate is 18.8%. Lind makes way more contact. Two, right-handed hitter vs. left-handed hitter is not an insignificant difference. Lind has the platoon advantage more often.
Three, the Yankees know Lind can produce in a part-time role. He did it last season. He was a classic NL bench bat last season. Lind was Washington's top pinch-hitter and part-time first baseman (and left fielder). Carter had been an everyday guy pretty much his entire career. Making the adjustment from everyday player to part-timer ain't easy. And four, Carter had a guaranteed contract. Lind is on a minor league deal. The Yankees owe him nothing. This doesn't mean Lind will work out whereas Carter didn't. Just that they're different players with different skills and a different set of circumstances.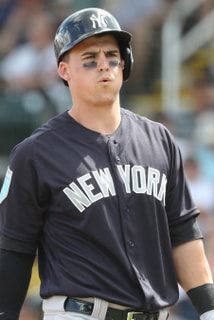 3. Lind and Bird can't platoon. Tough to platoon two left-handed hitters! Lind has never hit southpaws — he's a career .217/.263/.329 (56 wRC+) hitter against lefties — so the Yankees can't employ some kinda fancy reverse-split platoon here. Austin is a right-handed hitter, so it's easy to see how he could factor into the lineup. When Bird needs a day, give him a day against lefties for platoon purposes.
Keep in mind the AL East is loaded with left-handed starters. The Red Sox have Chris Sale, David Price, Drew Pomeranz, and Eduardo Rodriguez. The Blue Jays have J.A. Happ and Jaime Garcia. The Rays have Blake Snell. Another right-handed bat wouldn't be a bad idea. Then again, when you have Aaron Judge and Giancarlo Stanton and Gary Sanchez in the lineup, maybe another righty isn't a huge deal. Point is, Austin would have a clearer path to playing time than Lind.
4. The Yankees need insurance for Bird. We all love Greg Bird, but the dude has had lots of trouble staying on the field, and if he gets hurt again, Lind is a capable everyday first baseman. At least offensively. Defensively … not so much. We don't really know what Austin can do at the big league level on an everyday basis. He's never had an opportunity. Lind, if nothing else, gives the Yankees a more proven insurance plan should Bird get hurt again.
5. Lind is a great pinch-hitter. Coming off the bench cold and producing as a pinch-hitter isn't easy. Lind is a career .324/.391/.568 (152 wRC+) hitter as a pinch-hitter, including .356/.396/.644 (165 wRC+) with the Nationals last year. The Yankees are poised to go with some combination of Brandon Drury, Miguel Andujar, Gleyber Torres, Ronald Torreyes, and Tyler Wade at second and third bases. Having a quality lefty pinch-hitter for the late innings ain't a bad idea.
Now, that all said, Lind has 156 career pinch-hitting appearances, 48 of which came last year. We're talking about not many pinch-hitting appearances spread across many years. (This will be his 13th big league season.) I'm not sure how meaningful or predictive Lind's pinch-hitting numbers are. He has produced in a pinch-hitting role up to this point. Will he continue to do so in the future? Given the small sample and volatile nature of pinch-hitting, it's impossible to say.
* * *
Lind can opt out of his contract at the end of Spring Training, so if he performs well, he'll have the option to latch on elsewhere. It's unclear whether he's willing to go to Triple-A. Lind has banked more than $40M in his career to date. He might decide to pack it in and go hang out with the family if he doesn't get a big league job. If he is willing to go to Triple-A, the Yankees could stash him there for a bit and go with Austin on the bench.
There's a chance — a pretty good chance, I'd say — the only way the Yankees will be able to keep Lind is by adding him to the active roster at the end of Spring Training. I'm not sure I'd count on him accepting a Triple-A assignment. And given the first base depth chart …
Greg Bird
Adam Lind
Tyler Austin
Austin Romine
Billy McKinney
Ryan McBroom
… keeping Lind might not be a bad idea, even if it means adding him to the roster and sending Austin back to Triple-A for the time being. If Bird gets hurt again — I wish we didn't have to think like this, but we do — the Yankees will be happy to have Lind around. The Yankees are quite deep as an organization, but first base is not one of their stronger positions.
There are more than three weeks to go before Opening Day, so sorting out the bench and figuring out what to do with with Lind and Austin is hardly a pressing issue. Maybe Lind gets old quick and his Grapefruit League play makes it easy to walk away. What do I always say? These things will work themselves out. The Carter/Austin situation did last spring when Austin broke his foot. As far as I'm concerned, the Yankees have two viable backup first basemen in Lind and Austin. With any luck, everyone will stay healthy and the Yankees will be forced to make a tough decision.