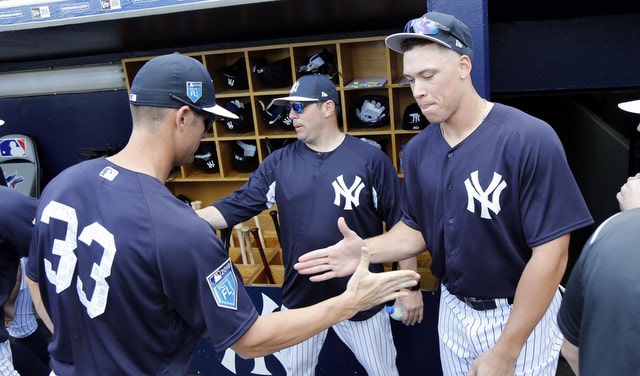 At its most basic state, the Yankee lineup is formidable enough. Assuming Gleyber Torres makes the team out of Spring Training, the weak spots in the lineup are his and Brandon Drury's. Think about that for a moment. The potential weak spots a pitcher will get to land on are occupied by a global top-5 prospect and a guy with a career .169 ISO. Even if Torres doesn't make the team, Drury and someone else will be the not-so-strong spots, and those options all have something desirable; Miguel Andujar has power. Tyler Wade can take a walk and steal a bag. Ronald Torreyes has good contact skills.
Pulling back to incorporate the outfield, the Yankees have six players capable of being starting-caliber outfielders. Behind their rotation, the Yankees have three pitchers with blow-you-away stuff in Domingo German, Domingo Acevedo, and Albert Abreu. Even beyond them, they have top-100 prospects in Justus Sheffield and Chance Adams, not to mention Luis Cessa. The back of the bullpen could and would be the front for most teams. Jonathan Holder, Ben Heller, and Gio Gallegos would probably be mainstays in most MLB bullpens.
Despite Aaron Boone's declarations, it's hard to believe the Yankees aren't in some market for pitching to add to their already decent rotation depth. If they add someone, it'll be another concerted effort at buttressing against injury and/or poor performance. Late last week, the Yankees made a depth move, signing first baseman Adam Lind to a minor league deal, presumably as Greg Bird insurance. Lind is a solid bat who, in a normal market, would probably be on someone's Major League roster without having to try out for it. If Bird goes down, there are few others who could fill in as well as Lind could and would.
The Yankees are well supplied at most every position. Granted, the catcher's spot doesn't quite fit that bill, but how many teams–absent the Dodgers–are able to have quality depth there? There are going to be storms that will need to be weathered throughout the season, as they always are, and the Yankees are in a great position to do so. At the very least, they have upside in many places where holes could form. So long as there isn't some nightmare, Armageddon scenario in which everyone important gets hurt at exactly the same time, they'll be alright.