We've got eleven questions in this, the final mailbag before Opening Day. Been waiting a long time to type that. As always, RABmailbag (at) gmail (dot) com is the mailbag email address.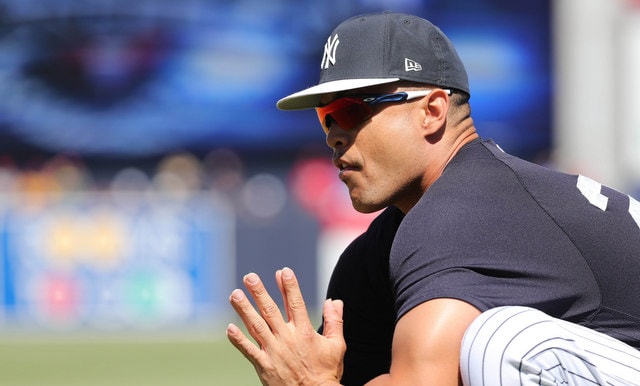 Bill asks: The Dodgers wanted Stanton but couldn't afford him until they cleared salary, so the Yankees scooped him up. Right after that my first thought was they trade Stanton to the Dodgers for prospects and sign Harper/Machado after this season. Your thoughts?
It sounds a little far-fetched. Do you trade Giancarlo Stanton before signing Bryce Harper or Manny Machado, or after? Has to be after, right? Can't get stuck with none of these guys. And once you sign Harper or Machado, your leverage in Stanton trade talks goes down because teams know you have to move the salary. That's what happened with the Marlins! They got nothing significant for the reigning NL MVP because everyone knew they couldn't afford him.
Also, Stanton with a $22M luxury tax hit is an incredibly good value for a Yankees team trying to limit their luxury tax penalty. Harper and Machado are going to end up with $30M+ per year as free agents — Harper might end up approaching $40M a year if he repeats 2015 — and I'm not sure the difference in on-field production is worth the uptick in payroll, especially if the Yankees a) won't get a huge return in the Stanton trade, and b) aren't going to spend like crazy again. I think the Yankees acquired Stanton with the idea of keeping him for long haul, and that is a-okay with me.
Todd asks: With the new extra inning rule set for the minors, is it now possible for a team to throw a perfect game and lose?
Yep! Scoreless tie into extra innings, start with a runner on second, grounder to second moves him over and a sac fly gets him in, and the run scores without the pitcher allowing anyone to reach base. I don't know what the Minor League rulebook says about perfect games, but here's what the Major League rulebook says:
An official perfect game occurs when a pitcher (or pitchers) retires each batter on the opposing team during the entire course of a game, which consists of at least nine innings. In a perfect game, no batter reaches any base during the course of the game.
If the pitching staff retires every batter but allows a run on outs due to the extra innings rule, it sure seems to me it should go down as a perfect game. You can allow runs and take a loss in a no-hitter and it's still a no-hitter. If this quirky tiebreaker rule results in a run despite batters being retired, I think it should go into the history books as a perfect game. A dumb rule, but it is what it is. I'm okay with the tiebreaker in the minors. Never in MLB though.
Mike asks: AL East question. Its been reported that the Rays are going to start the season Archer, Snell, bullpen day, Eovaldi. Do they really not have a fifth starter? Why not sign Cobb? The season didn't yet and it already sounds like the Rays gave up.
This question was sent in before Alex Cobb signed with the Orioles. The Rays didn't re-sign him because they can't afford him, or chose not to afford him. Tampa has confirmed they will use a four-man rotation (Chris Archer, Blake Snell, Jake Faria, Nathan Eovaldi) this season, with a bullpen game essentially serving as the fifth starter. Matt Andriese, last year's fifth starter, will be in the bullpen. Prospects Anthony Banda, Ryan Yarbrough, and Yonny Chirinos will be the shuttle arms in Triple-A.
Maybe I'm just not smart enough, but I don't see the upside to this four-man rotation plan. Both Craig Edwards and DRays Bay looked at it and concluded the upside is giving a few more starts to Archer (and Snell). That's basically it. Archer could make as many as 37 starts rather than 32 by sticking to an every five days schedule. I guess that's it? We're just going to assume Archer can handle the added workload with no issues? I'm curious to see how long the Rays stick with it. Demolishing your bullpen every fifth day seems like a bad idea. A tanking team found a new way to tank and keep costs down.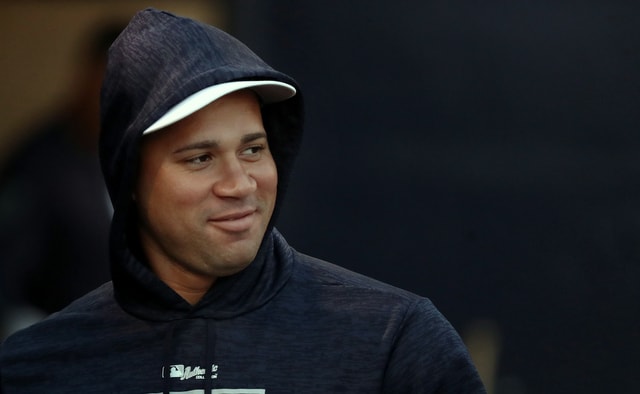 Gregg asks: Once upon a time NYY had McCann, Cervelli, Murphy, Sanchez and Romine all in their system. How would you grade where they stand currently? I am giving them an A+. They now sport a young potential superstar, a homegrown backup, starting CF (Hicks), dominant bullpen piece (Green), SP depth (Cessa) and a top young arm in their farm system (Abreu). Impressive!
I'm not sure I would go as high as an A+ — and A+ basically means best case scenario all around, right? — but you know what? I am cool with an A-, and I am typically a tough grader. The 2014 season was the only year the Yankees had all five of those catchers in the organization. Here's what the Yankees have turned those five into since then:
Three above-average seasons from Brian McCann.
One good backup season each from Frankie Cervelli (2014) and John Ryan Murphy (2015).
Two below-average backup seasons from Austin Romine (2016-17).
A year-and-a-half of superstar production from Gary Sanchez.
One very good year from Justin Wilson.
One below-average partial year and one great year from Chad Green.
Two below-average partial seasons from Luis Cessa.
One bad season and one good season from Aaron Hicks.
Two good prospects (Albert Abreu and Jorge Guzman), one of whom was part of the Stanton deal.
The Yankees still have five more years of control over Sanchez and Green (and Cessa) and two more years of Hicks, plus whatever Abreu gives them, and whatever portion of Stanton's production you want to attribute to Guzman. That all worked out pretty great, I'd say. If things click for Cessa and Abreu turns into an impact big leaguer — or is used as a trade chip for an impact big leaguer — then I'd bump this up to an A+. Right now I'll stick with an A-, which is really great.
Sandy asks: Do you think MLB should structure the schedule so that every team visits every city at least once? The NHL implemented this years ago and it's been very successful, particularly for smaller market teams.
Should they? Yeah, I think so. I think it would be good for baseball overall. Getting the Yankees and Red Sox to cities like Miami and Cincinnati and Denver every season would be a positive for baseball. The Dodgers coming to Yankee Stadium every year would be cool as well. MLB surely wants to do this but I don't think the players are up for it. It's a lot of extra travel. West Coast teams would have to make sooo many more long road trips east. Interleague play seems like a good compromise. You play each division and travel to those cities once every three years.
Brian asks: Has the extensive use of the shift elevated the requirements for third base defense for teams like the Yankees (making a guy like Drury with 2B experience even more attractive)? It seems that an "iffy" defensive third baseman becomes even more of a liability if you're asking him to shift a lot and (if I'm correct) handle double plays while in the shift. Does this impact Andujar or are his "footwork" issues more related to 3B?
Interesting! I hadn't thought about that. The Yankees use the shift as much as any team and they like to leave Didi Gregorius as the lone defender on the left side of the infield because he has the most range, meaning the third baseman ends up playing second base. Brandon Drury played second base all last season, so playing there during the shift should feel natural to him. Todd Frazier had some second base experience and he handled the shift well. So did Chase Headley even though he never played second at the MLB level.
I'm not sure playing second base during the shift raises the bar for third base defense. The shift stacks defenders where the batter is most likely to hit the ball and that means each individual defender has less ground to cover. There's three defenders on the right side of the infield rather than two, right? The double play pivot could be a problem but, generally speaking, teams don't use the shift in double play situations. Double plays could definitely create some headaches though, for sure.
The Yankees do use the shift in the minors. I don't know if they use it as extensively as they do at the big league level, but they definitely use it in the minors. How else are the kids down there supposed to learn it? I imagine Miguel Andujar has played the right side of the infield during the shift at some point in his career. His footwork issues are tied to third base, as far as I know. More time in the minors to get familiar to the shift wouldn't be a bad thing though. These days playing second base during the shift comes with being a third baseman for the Yankees.
Michael asks: With teams seemingly unwilling to invest in over 30 veteran free agents, what are the chances the DH is adopted in the National League with the next CBA (or sooner!)? This would open up 15 more roster spots for veterans to continue their careers and get compensated at something close to market value.
The MLBPA should really be pushing this. Those 15 roster spots right now are going to bench guys and eighth relievers, who don't make much money. The DH will create better paying roster spots, in theory. Adam Lind and Matt Holliday might have jobs right now. Mike Moustakas might not have had to settle for $6.5M.
There is no good argument against the DH. Sorry, NL lifers, but "that's the way it's always been" and "there's more strategy" are weak at best arguments. Seeing the occasional pitcher home run isn't worth sitting through all those empty at-bats. Pitchers hit .125/.157/.163 (-20 wRC+) with 27 home runs in 5,277 plate appearances last season. Who wants to watch that? I think the NL will add the DH at some point. I don't think it'll happen with the next Collective Bargaining Agreement though. This might be 10-15 years away still.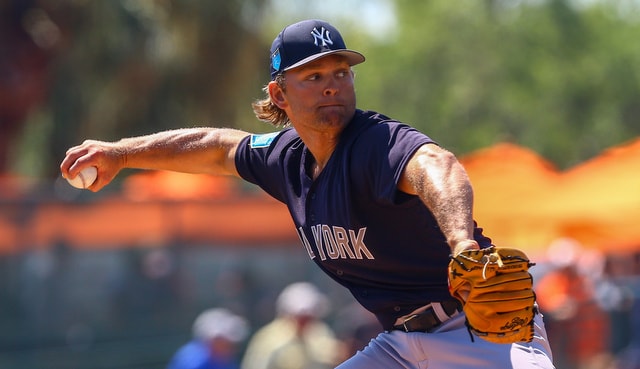 Alessandro asks: More likely for Chance Adams this season: 5+ starts in the bigs or traded at the deadline?
It could be both! Five-plus starts for the Yankees before getting traded at the deadline. Since I have to pick one, I'll go with traded at the deadline. The Yankees are poised for a huge deadline — they have luxury tax payroll space and gobs of prospects to trade — and Adams is a rung below their elite prospects (Andujar, Gleyber Torres, Justus Sheffield, Estevan Florial), so I think they're open to trading him. Heck, Adams might be the best prospect the Yankees are willing to trade. I'm thinking we'll see Adams make starts for the Yankees before getting traded at the deadline this year.
Daniel asks: With the depth the Yankees currently have in the bullpen, could you see a scenario where they look to trade Robertson during the season in order to address other needs (i.e. injuries to the rotation)? Also, what sort of return would they expect to get (assuming they are in contention and looking for players to contribute this year)?
Never say never, but this one is hard to see. The Yankees are a World Series contender and David Robertson figures to play a very big role in making that happen. There is still so much depth and so many quality prospects in the farm system that the Yankees should be able to address any needs at the deadline without subtracting from their MLB roster. There's also enough breathing room under the luxury tax threshold that subtracting a significant salary like Robertson's shouldn't be necessary to add an impact piece(s) at the deadline.
Also, what teams would want Robertson? Contenders only. He's going to be a free agent after the season and no rebuilding team will trade for a pricey reliever. For this to make sense for the Yankees, they'd have to find another contender who needs a reliever and is willing to trade someone(s) off their Major League roster. I have no interest in trading Robertson for prospects, not with the Yankees appearing to have a good chance to make noise in the postseason. Can't see Robertson going. He's too important and he plays a crucial role, and the Yankees have plenty of other trade chips.
Justin asks: For the final time, can you please list the amount of minor league service time that both Gleyber Torres and Miguel Andujar need for the organization to gain the extra year of contractual control?
I'm pretty sure Justin has asked this question for like five weeks straight, so I guess I'll answer it even though I'm pretty sure I've answered it before. Sixteen days for Torres and 36 days for Andujar. That'll push their free agency back from the 2023-24 offseason to the 2024-25 offseason. Count on both spending enough time in Triple-A this season to push back their free agency. Just a hunch.
Mike asks: I know there's the Rule 5 draft and I've heard the regular draft is the Rule 4 draft. Is there a Rule 1, 2, and 3 drafts?
The Rule 4 Draft is the amateur draft that takes place each June and the Rule 5 Draft for buried minor leaguers takes place each December. There are no other drafts. MLB's official rulebook runs 60 rules deep — plus there are tons of subsections and sub-subsections, etc. — and it covers basically everything about baseball. Here are Rules 1-10:
Circuits (number of teams, territorial rights, etc.)
Player Limits and Reserve Lists (roster sizes, disabled list, restricted list, etc.)
Eligibility to Sign Contract, Contract Terms, and Contract Tenders (includes tampering rules)
First Year Player Draft (amateur draft)
Annual Selection of Players (Rule 5 Draft)
Selected Players (rules for returning Rule 5 Draft players)
Termination of Player-Club Relation (allows teams to release players before their contract expires)
Major League Unconditional Release (rules for releasing players)
Assignment of Player Contracts (trades, minor league demotions, etc.)
Major League Waivers (covers all the different waiver types)
There are rules on player salaries (Rule 17), hiring and firing umpires and official scorers (Rule 19), and conflicts of interest (Rule 20), among other things. There is also a disaster plan (Rule 29) in case a team loses multiple players to death or dismemberment, which is kinda dark, but it something the league has to be prepared for. Here is the official MLB rulebook (PDF link), if you're interested.