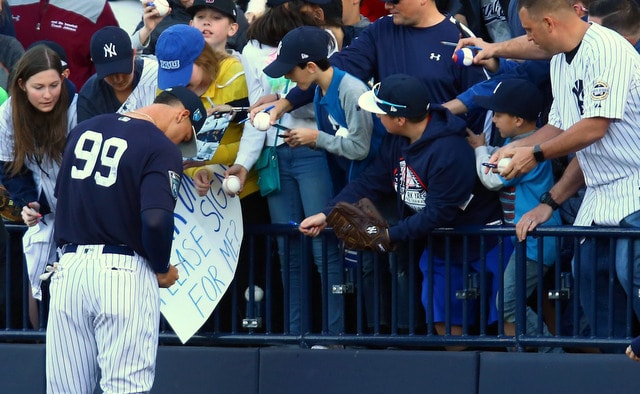 We are in the Spring Training stretch run. The regular season begins one week from today and the Yankees have only six exhibition games remaining this spring, including this afternoon's match against the Twins. The final home game at George M. Steinbrenner Field is Saturday. Pretty soon, these meaningless games will all be over.
Jordan Montgomery is making his final spring start this afternoon and, unlike last year, he's locked into a rotation spot now. He's starting the fifth game of the regular season — Montgomery gets the home opener, which is neat — so today's game is his final tune-up. Make sure you have a feel for everything, get the pitch count up, don't get hurt. Those are the goals for today. Here is the Twins' lineup and here is the Yankees' lineup:
CF Jacoby Ellsbury
SS Ronald Torreyes
2B Tyler Wade
3B Brandon Drury
1B Tyler Austin
C Austin Romine
LF Billy McKinney
RF Shane Robinson
DH Jace Peterson
LHP Jordan Montgomery
Bright and sunny down in Fort Myers today. The Yankees have lucked out with pretty great weather all spring. A year or two ago they had a bunch of rainouts that screwed up some pitching plans. Anyway, this afternoon's game will begin a little after 1pm ET and you can watch live on ESPN2 and MLB.tv. There is no YES broadcast. Enjoy the game.