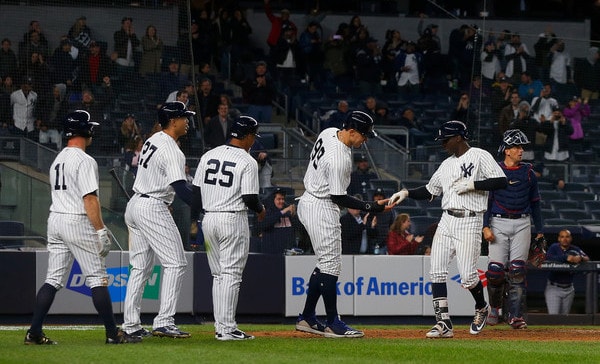 The Yankees are in the middle of their best stretch of the young season. They've won their last three games — the Yankees have held their opponents to one run in all three games — and seven of their last ten games overall. Thanks to this stretch, the Yankees now lead baseball in runs per game (6.05) and are merely 19th in runs allowed per game (4.81). That's a heck of a lot better than where they were a week ago at this time.
Tonight the Yankees will get a look at one of the best young pitchers in baseball in Jose Berrios. He's sitting on a 1.63 ERA (1.77 FIP) and is tied for second in fWAR and tied for fourth in bWAR. The Yankees worked Berrios hard last year — he allowed six runs and threw 149 pitches in 6.1 innings at Yankee Stadium in 2017 (two appearances) — but last season is last season. Hopefully they have the same kind of success against him tonight. Here are the starting lineups:
New York Yankees
1. LF Brett Gardner
2. RF Aaron Judge
3. SS Didi Gregorius
4. DH Giancarlo Stanton
5. C Gary Sanchez
6. CF Aaron Hicks
7. 1B Neil Walker
8. 3B Miguel Andujar
9. 2B Gleyber Torres
LHP CC Sabathia
Minnesota Twins
1. 2B Brian Dozier
2. RF Max Kepler
3. DH Miguel Sano
4. 3B Eduardo Escobar
5. LF Eddie Rosario
6. C Mitch Garver
7. 1B Logan Morrison
8. SS Ehire Adrianza
9. CF Ryan LaMarre
RHP Jose Berrios
Cloudy, cool, and windy in New York this evening, and there is some rain in the forecast later tonight. The internet tells me the heaviest stuff isn't due to arrive until after midnight, so things should be fine for the game. First pitch is scheduled for 6:35pm ET and you can watch on YES locally and MLB Network out of market. Enjoy the game.
Injury Updates: Greg Bird (ankle) is heading to Tampa on Friday to continue his rehab work. He's making good progress so far … Brandon Drury (migraines) will play seven innings at third base with Triple-A Scranton tomorrow, rest Thursday, then play a full nine innings Friday. It's possible he could rejoin the Yankees after that, if all goes well … Tommy Kahnle (shoulder, biceps) is still doing rehab work. He's yet to resume throwing. Kahnle was placed on the disabled list April 17th and the Yankees said he would be shut down ten days, so nothing's changed, really.
Roster Move: So long, Jace Peterson. He was claimed off waivers by the Orioles earlier today, the Yankees announced. Peterson went 3-for-10 with a walk in pinstripes. Could've been worse.