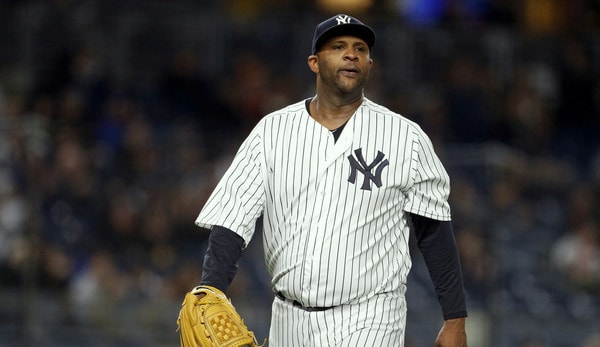 The list of injured Yankees keeps getting longer. As expected, the team announced a series of roster moves this morning, which includes sending two more players to the disabled list. Here's a recap:
Placed CC Sabathia on the 10-day DL with a right hip strain.
Placed Brandon Drury on the 10-day DL with severe migraines.
Optioned Jonathan Holder to Triple-A Scranton.
Called up Luis Cessa and Domingo German from Triple-A.
Added Jace Peterson to the 40-man roster and called him up from Triple-A.
The Yankees had an open 40-man roster spot after losing Trayce Thompson on waivers a few days ago, so no 40-man move was necessary to accommodate Peterson. Three removed from the 25-man roster and three added to the 25-man roster. Straight swaps.
Sabathia left last night's start with right hip soreness and an MRI came back clean. He said he didn't believe he'd have to miss a start, and even if true, the Yankees are going to play it safe early in the season. Monday's off-day means Sabathia will only miss one start if he misses the minimum ten days.
Drury left last night's start with a migraine and blurred vision. Assuming Peterson takes on a bench role, Miguel Andujar could get an opportunity to play third base on an everyday basis for at least the next ten days. That'd be cool. Something tells me Ronald Torreyes will see some action there as well.
"Vision's been very blurry. It's baseball. I need my eyes to be right to play," said Drury to Erik Boland, adding he's been dealing with migraines since Spring Training. "I want to get that fixed up and see what's going on with my vision."
The Holder, Cessa, and German moves are all about adding fresh arms following last night's 14-inning game. Holder has not been good this year (seven runs in 2.2 innings) and is the only optionable reliever in the bullpen, so down he went. Cessa was scheduled to start today for the RailRiders and German was due to start Monday.
Presumably either Cessa or German will step into Sabathia's rotation spot for the time being, and it might come down to who is available. Monday's off-day means Aaron Boone can use both in relief this weekend and still have them make Sabathia's next start, which could be pushed back to next Saturday, on normal rest.
The Yankees now have eight (!) players on the MLB disabled list: Sabathia, Drury, Greg Bird (ankle), Jacoby Ellsbury (oblique, hip), Clint Frazier (concussion), Ben Heller (elbow), Aaron Hicks (intercostal), and Billy McKinney (shoulder). Hicks is expected back as soon as Tuesday. The other guys are all a little further out. Also, Tyler Wade left last night's game with an illness, so he's not 100% either.