For the first time this season, the Yankees are heading to the so-called Senior Circuit for interleague play. They'll play the next two days without the DH (boo hiss).
The Last Time They Met
The Yankees and Nationals had a pair of two-game sets back in 2015, with one coming in May and the other in June. The Yankee dropped three of those four games, despite outscoring the Nationals 18 to 17 (which is what happens when you drop two one-run games and a two-run game). Some notes:
Didi Gregorius started just two of the four games, sitting in favor of Stephen Drew and Brendan Ryan once apiece.
There are several candidates for most forgettable Yankee from this series, including Jose Pirela, Garrett Jones, David Carpenter, and Esmil Rogers. And that's excluding Yankees that we'd like to forget, such as Chris Capuano and the aforementioned Stephen Drew.
Dellin Betances was at peak dominance at that point in time, tossing 3 hitless innings and striking out 4 in two appearances. By the time the second set was over he had a 0.28 ERA (not a typo) and 54 strikeouts in 32.1 IP.
Bryce Harper was in the midst of his MVP season, and he wasn't fooled by Yankees pitching. He went 4-for-13 with a double, two home runs, and two walks in those four games.
You can find Katie's Yankeemetrics posts for the two sets here and here.
Injury Report
Health has not been the Nationals strong suit in 2018, as their disabled list is littered with notable players. Relievers Joaquin Benoit and Koda Glover are out with forearm and shoulder soreness, respectively, and starter Joe Ross is still recovering from 2017 Tommy John Surgery. Catcher Matt Wieters was put on the disabled list on Friday, and first baseman Ryan Zimmerman followed on Saturday; they joined second baseman Daniel Murphy (yet to play in 2018) and outfielder Adam Eaton (out since April 9) … and you get the point.
Their Story So Far
The Nationals are 24-18 with a +35 run differential, and trail the first-place Braves – the Braves! – by two games. They've been red hot for the last weeks to, going on a 13-2 tear since dropping to a season-worst 11-16 on April 28. Their most recent series came against the Diamondbacks in Arizona, where they swept the AL West leaders in a four-game set.
Injuries have hurt the Nationals quite a bit, as most of their regular position players and starting pitchers have been playing up to their baseline, if not surpassing it. Several of their replacements have struggled mightily, though, and the bullpen has wasted many great outings by their starters. More on that to come.
The Lineup We Might See
First-year manager Dave Martinez has mixed and matched with his lineup quite a bit over the first two months, with every spot in the lineup turning over regularly – and that includes pitchers batting eighth or ninth, depending on the match-up. Even Bryce Harper has moved around, batting first, second, and third. Over the last few games, however, Martinez seems to have settled on this:
Trea Turner, SS – .275/.386/.425, 5 HR, 13 SB
Bryce Harper, RF – .236/.400/.543, 13 HR, 4 SB
Anthony Rendon, 3B – .271/.361/.447, 3 HR, 0 SB
Matt Adams, 1B – .274/.389/.642, 10 HR, 0 SB
Howie Kendrick, 2B – .299/.329/.469, 4 HR, 1 SB
Michael Taylor, CF – .186/.253/.310, 3 HR, 10 SB
Pedro Severino, C – .268/.384/.338, 0 HR, 1 SB
[Pitcher]
Andrew Stevenson, LF – .263/.302/.316, 0 HR, 0 SB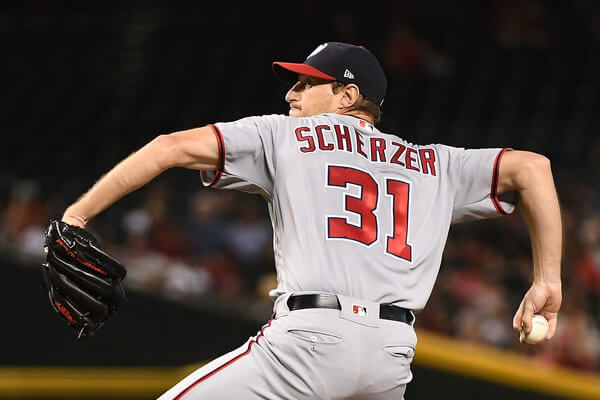 The Starting Pitchers We Will See
Tuesday (7:05 PM EST): RHP Masahiro Tanaka vs. LHP Gio Gonzalez
To give you an idea of how good the Nationals starting pitching has been this year, consider the following: Gonzalez has a 2.22 ERA (181 ERA+) in 44.2 IP, and he might be their third-best starter right now. Gonzalez has somewhat quietly put together a terrific career, with a 3.60 ERA (113 ERA+) in 1687.2 IP, and he's seventeenth among active pitchers in WAR. He'll be 33 in September, and this is his walk year, so this may be his last chance to make his case for a big-time contract – and so far so good.
Gonzalez is a four-pitch guy, with a low-90s four-seamer, a low-90s sinker, a low-80s change-up, and a loopy curveball in the high-70s. He throws all four regularly, too, so he's a bit difficult to predict from at-bat to at-bat.
Last outing (vs. SDP on 5/9) – 6.0 IP, 5 H, 1 R, 3 BB, 8 K
Wednesday (7:05 PM EST): LHP CC Sabathia vs. RHP Max Scherzer
There's no beating around the bush here: Scherzer is one of the best pitchers on the planet, and has been for about half a dozen years now. Take a look at his line through 9 starts – 58.2 IP, 35 H, 13 BB, 91 K, 1.69 ERA (237 ERA+), 1.75 FIP. He's basically an older version of Luis Severino and, experience and resume aside, I don't think that's an insult to either. And way back when he was involved in a three-way trade that saw the Yankees land Curtis Granderson, the Tigers land Scherzer, and the Diamondbacks end up with … Edwin Jackson and Ian Kennedy.
Scherzer utilizes five pitches – a mid-90s four-seamer (which he throws about 50% 0f the time), a high-80s cutter, a mid-80s change-up, a mid-80s slider, and a high-80s curve.
Last outing (vs. ARI on 5/11) – 7.0 IP, 4 H, 1 R, 0 BB, 11 K
The Bullpen
The Nationals bullpen has been a point of weakness throughout the young season, with closer Sean Doolittle (1.45 ERA and 28 strikeouts against 1 walk in 18.2 IP) representing the only sure thing out there – the group as a whole is 23rd in the majors in HR/9 and 24th in ERA+. Set-up man Ryan Madson (4.19 ERA) has blown two saves, and the unit's innings leader (Brandon Kintzler) has a 4.64 ERA and -0.17 WPA. There's talent here, to be sure, but this has to be a bit disconcerting for an organization that has had a yearly struggle with fielding a strong bullpen.
Yankees Connection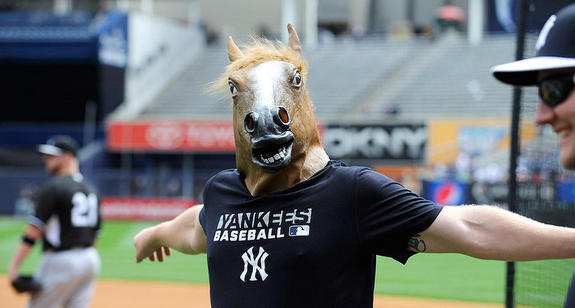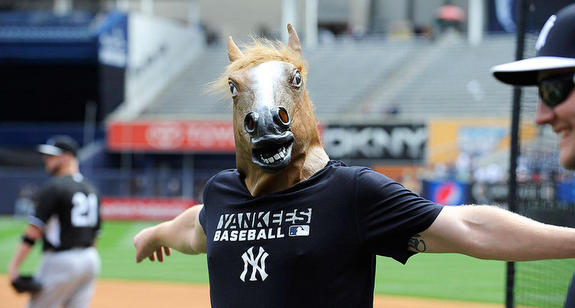 Shawn Kelley spent two uninspiring seasons in the Bronx, pitching to a 4.46 ERA (88 ERA+) in 105 IP between 2013 and 2014. He has been solid since leaving, though, with a 3.48 ERA (118 ERA+) in 142.1 IP over the last three-plus seasons.
And the recently-signed Mark Reynolds spent part of 2013 with the Yankees, slashing .236/.300/.455 with 6 home runs in 120 PA.
Who (Or What) To Watch
Bryce Harper, Trea Turner, and Max Scherzer are must-see TV. And I'm interested to see how the Crafty Lefty incarnation of Sabathia attacks Harper, too.