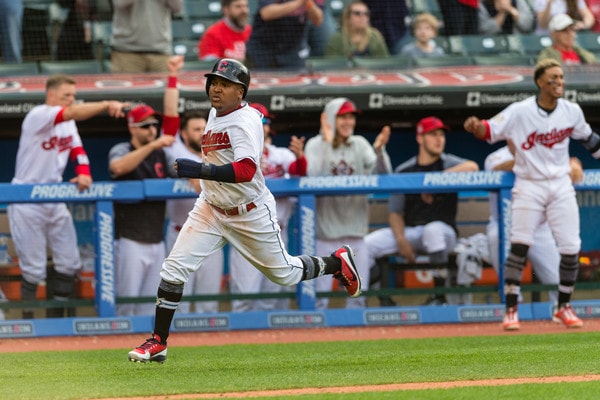 The Yankees are entering the final series of their eighteen games in eighteen days stretch, and it's safe to say that they've surpassed most reasonable expectations – even with three games to go. They're 13-2 thus far, and have outscored their opponents 88 to 36, which is nothing short of remarkable. The Indians may not be quite as good as expected thus far, but they're still a dangerous team, and another intriguing test for the Yankees.
The Last Time They Met
The Yankees and Indians faced off in the 2017 ALDS, and the good guys advanced despite dropping the first two games of the series. It was equal parts wonderful and nail-biting, and it was a moderate upset, to boot. Some notes from the series:
The Yankees offense was buoyed by strong performances from Didi Gregorius (.235/.435/.588), Greg Bird (.222/.364/.556), and Aaron Hicks (.316/.350/.526). Those three combined for five of the team's seven home runs, and ten of their nineteen runs batted in. The team, as a whole, slashed .201/.289/.356.
Aroldis Chapman had a brilliant series, pitching to the following line in three appearances: 5.2 IP, 4 H, 0 R, 2 BB, 10 K.
Masahiro Tanaka came up huge in game three, tossing 7 scoreless and striking out 7. You may also remember that game for this home run:
Check out Katie's
Yankeemetrics
post for more interesting tidbits from the series.
Injury Report
The Indians have a fair bit of talent on the disabled list right now. Relievers Cody Anderson (recovering from March 2017 Tommy John Surgery) and Nick Goody (elbow inflammation) will not return for this series, and Andrew Miller (hamstring strain) is out as well. There's a chance Miller could return Sunday, the first day he is eligible to be activated off the disabled list. Starting pitcher Ryan Merritt (knee sprain) has yet to pitch this year, but he's starting to rehab in the minors so he could be back in a couple of weeks. Infielder Gio Urshela (hamstring strain) and outfielder Lonnie Chisenhall (calf strain) are out, as well, though both are close to returning.
Their Story So Far
Cleveland is 17-14 with a +12 differential, and are leading the AL Central by 3.5 games. They're not quite the juggernaut that many (most?) expected heading into the season – but it's May 4, and they've dealt with a fair amount of injuries. Their offense (10th in runs, 16th in wRC+) and pitching (13th in runs, 9th in ERA+) have both been middle of the pack thus far, but that can change in a hurry.
Francisco Lindor struggled out of the gate, and needed a late flurry to finish April with a 100 wRC+. He's heating up now, though, and has hit .435 with 3 home runs in four games in May.
The Lineup We Might See
Manager Terry Francona has been pretty steady with his lineup deployment, with most of the tinkering revolving around giving players the day off. He plays around with platoons, as well, but he's not strict about it. As such, we'll probably see something along these lines:
Francisco Lindor, SS – .278/.347/.496, 7 HR, 5 SB
Jason Kipnis, 2B – .202/.283/.298, 1 HR, 0 SB
Jose Ramirez, 3B – .277/.372/.538, 8 HR, 3 SB
Michael Brantley, LF – .348/.368/.562, 3 HR, 1 SB
Edwin Encarnacion, DH – .209/.283/.452, 9 HR, 0 SB
Yonder Alonso, 1B – .213/.277/.454, 8 HR, 0 SB
Yan Gomes, C – .250/.329/.461, 4 HR, 0 SB
Tyler Naquin, RF – .311/.354/.393, 1 HR, 0 SB
Bradley Zimmer, CF – .227/.284/.307, 1 HR, 4 SB
Of course, Francona could choose to shake things up against CC Sabathia, swapping Encarnacion and Brantley and squeezing Rajai Davis (39 wRC+) and Brandon Guyer (82 wRC+) into the lineup.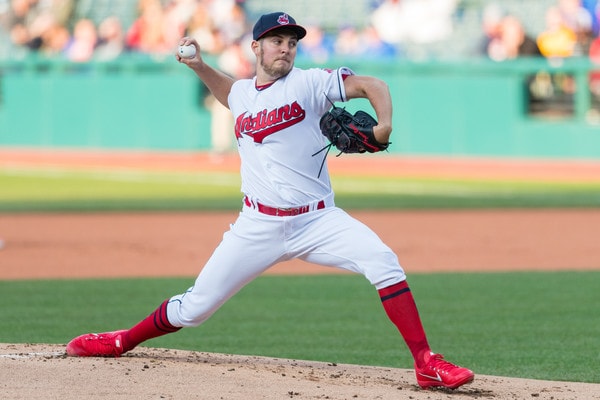 The Starting Pitchers We Will See
Friday (7:05 PM EST): LHP CC Sabathia vs. RHP Josh Tomlin
I'm running the risk of a reverse-jinx here, but I feel the need to point out that Tomlin (1) has an 8.57 ERA in 21 IP in Yankee Stadium, (2) has allowed 10 home runs in 18.2 IP this year, and (3) rarely throws a pitch above 89 MPH. He did shut the Yankees down in the ALDS, though, toss three perfect innings across two appearances … so, there's that.
Tomlin is a junkballer with five distinct offerings – a mid-to-high 80s four-seamer, a mid-t0-high 80s sinker, a mid-80s cutter, a low-80s change-up, and a mid-70s curve. He has good command and control of all five when he's on, but none of them are true swing and miss pitches.
Last outing (vs. SEA on 4/29) – 6.0 IP, 10 H, 6 R, 0 BB, 3 K
Saturday (1:05 PM EST): RHP Sonny Gray vs. RHP Trevor Bauer
Bauer is best-known for either his unique workout habits or his well-earned blowhard label, but he has shown flashes of brilliance throughout his career. And, through six starts in his age-27 season, it kind of looks like he's beginning to put things together. Bauer has a 2.45 ERA (185 ERA+) and 3.33 FIP through 40.1 IP, and he's racking up whiffs (27.2% strikeouts). That's not really the story of his season, for better or worse, because of his mini-tirade about the Astros pitching staff the other day.
Labeling Bauer is a bit difficult, because he throws six distinct pitches. His mid-90s fastball, low-to-mid 80s slider, and high-70s curve represent 85% of his offerings, but he uses a sinker, change-up, and cutter, as well. And the game-to-game utilization of those three fluctuates strongly, based upon how he feels on the day.
Last outing (vs. TEX on 4/30) – 6.2 IP, 4 H, 2 R, 3 BB, 11 K 
Sunday (1:05 PM EST): RHP Domingo German vs. RHP Mike Clevinger
Clevinger broke out last season, pitching to a 3.11 ERA (150 ERA+) in 121.2 IP, and earned a spot in the Indians rotation in 2018 as a result. There were questions about his ability to throw strikes, though, as he walked 12% of batters faced last year – and that was a trend in the minors, as well. Of course, when you prevent runs and strike out 27.3% of batters, it's forgivable. That has changed completely this year, though, as Clevinger's strikeout (19.0%) and walk (6.5%) rates have dipped dramatically; that's a product of approach, as he's throwing far more pitches in the zone.
Clevinger is a four-pitch guy, with a mid-90s four-seamer, a mid-80s change-up, low-80s slider, and mid-70s curve. The slider and curve are both swing and miss offerings when they're on.
Last outing (vs. TEX on 5/1) – 6.2 IP, 7 H, 3 R, 1 BB, 7 K
The Bullpen
I was tempted to just right "it's not good," and move on – but I'll add a bit of flavor. The Indians bullpen currently sports a 5.00 ERA and 4.54 FIP, both of which are in the bottom five of all of baseball. And they've only thrown 90 IP, the second-fewest of any team in baseball, which makes the fact that they've already taken seven losses kind of staggering.
The injuries to Miller (0.00 ERA in 10.0 IP before he went down) and Anderson (hasn't pitched this year) don't help, as they only have one regular reliever with an ERA below 4.40 – and that's closer Cody Allen. The injured Nick Goody, Tyler Olson, and Zach McAllister all have at least 10 IP and an ERA above 5.00. And the fact that the bullpen had to pick-up 7.1 innings in yesterday's double-header against the Blue Jays means that they'll be a bit limited for this series.
Yankees Connection
It seems as though the Indians have a thing for Yankees relievers. In addition to the currently DL'd Nick Goody and Andrew Miller, Cleveland has Zach McAllister (Yankees 3rd rounder in 2006, traded for Austin Kearns in 2010) and Tyler Olson (organizational depth in 2016) in the bullpen.
Who (Or What) To Watch
As was the case with the Astros, this is a match-up of two of the best teams in baseball (even if the Indians have been up and down so far). That makes it a series worth watching for fans of all allegiances, and a special treat for fans of these teams.
Lindor's defense is pretty wonderful, too, as is Zimmer's glove in center.