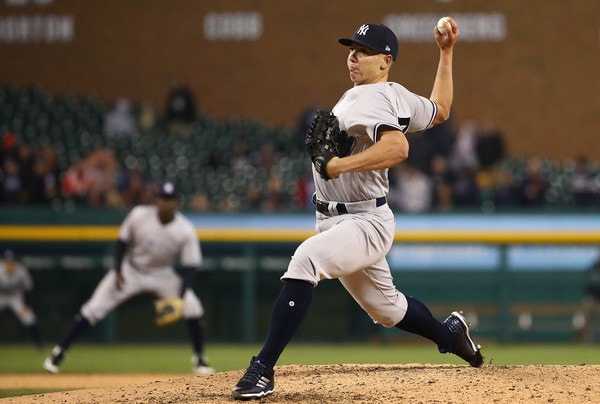 Last night, while the offense was getting dominated by Justin Verlander, five Yankees relievers combined for a Verlander-esque outing, striking out 13 Astros in eight scoreless innings. Domingo German did the heavy lifting. He threw four shutout innings after an elbow injury forced Jordan Montgomery from the game. The bullpen gave the offense a chance to win the game late.
Chad Green had a small hand in the bullpen dominance. Well, not really. He did throw only one inning and nine pitches, the fewest of any reliever, but he faced the middle of the order in the sixth inning of a scoreless game. Green retired Jose Altuve, Carlos Correa, and Yuli Gurriel in order and quickly. That's the real dangerous part of Houston's lineup and Green handled them with ease.
What was unusual about Green's outing was the fact he threw only one inning and nine pitches. Last year, he almost certainly would've remained in the game and thrown a second inning. Green was a multi-inning monster a season ago, getting at least four outs in 29 of his 39 relief appearances and at least six outs 16 times. That ability to pitch multiple innings made him such a weapon.
This year though, Aaron Boone has reined Green in a bit and limited him to one inning at times. Last night was his 12th appearance of the season and the seventh time he threw no more than one inning. Green has done the multiple innings thing at times — he's thrown two full innings twice and recorded five outs on two other occasions — though it's not happening as regularly as it once did.
To be fair, the season is young and Green did throw a lot of intense high-leverage innings last season, and the Yankees may be taking it easy on him for the time being. Also, his non-multi-inning outings can be explained.
April 5th (two runs in 0.2 innings): Labored and had to be pulled.
April 6th (one scoreless inning): Pitching back-to-back days.
April 13th (one out): Bailed out Dellin Betances in the eighth, then Aroldis Chapman closed.
April 17th (one scoreless inning): Getting some work in a blowout.
April 23rd (one out): Escaped a jam, then was removed when the Yankees broke the game open.
April 29th (one scoreless inning): CC Sabathia went seven and Chapman closed.
Last night's outing was the first time this season I said to myself huh, wonder why Green didn't go a second inning. Those other games above, you can understand why he didn't go multiple innings. No need to push him for a second inning on the second of back-to-back days on April 6th. No need to have him throw multiple innings in a blowout when he's just getting some work in. So on and so forth.
Boone knows how good Green is and how devastating a weapon he can be. Look when he used him last night. Sixth inning of a scoreless game against dudes like Altuve and Correa. You want your best reliever on the mound in that spot, and while we can argue the bullpen pecking order until we're blue in the face, Green is very qualified to handle that assignment. He's a true relief ace.
Boone is not oblivious to Green's value. He has used him for multiple innings this season — most notably, for two innings in the win over the Red Sox after Masahiro Tanaka went five innings — and Green leads the Yankees in average leverage index went entering the game …
Chad Green: 1.59
Aroldis Chapman: 1.53
David Robertson: 1.38
… so he's pitching in important situations. Last night's one-inning appearance was a bit odd. It seemed like an opportunity to use Green for multiple innings. Aside from last night though, I don't think what we've seen so far this season suggests Green is no longer considered a multi-inning relief ace. The season is young and his appearances have had some extenuating circumstances, which have capped his outings at times. That's really it.
I'm not sure what was up with last night's one-inning appearance. Perhaps Boone limited Green to one inning because he labored a bit Sunday and didn't want to overwork him? Whatever it is, I don't think Green's role has changed much even though he hasn't gone multiple innings as often this year as he did last year. Aside from last night, when Green has gone one inning or less this season, the game situation has suggested that was the way to go. Green can still be a multi-inning force. He doesn't always have to be used that way though.