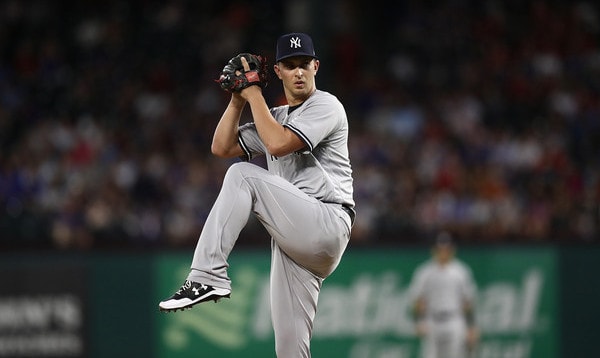 While frustrating, yesterday's loss to Justin Verlander and the Astros was about as mundane as it gets. Nothing about the game stood out and we'll all forget it before the end of the week. The Astros had their ace — and arguably the league's best pitcher — on the mound while the Yankees countered with their fill-in fifth starter. The Yankees lost. C'est la vie.
Something notable did happen in yesterday's game though: A.J. Cole allowed a run. Okay, maybe that's not so notable — the guy does have a career 4.91 ERA in 121 innings, after all — but it was the very first run Cole allowed as a Yankee. Jose Altuve jumping on a hanging breaking ball and hit a solo homer. Good hitter did a good hitter thing. It happens.
The 26-year-old Cole started the season in the Nationals' rotation, allowed 12 runs in two starts, then was moved to the bullpen. A few weeks later he was designated for assignment and traded to the Yankees in a cash deal. The Yankees needed a long man and Cole was available. Seemed like a temporary move and hey, it still might be.
Not surprisingly, the Yankees have revamped Cole's pitch selection, specifically getting him to throw fewer fastballs and more breaking balls. That's their thing. Look at Cole's pitch usage rates by game since the start of last season: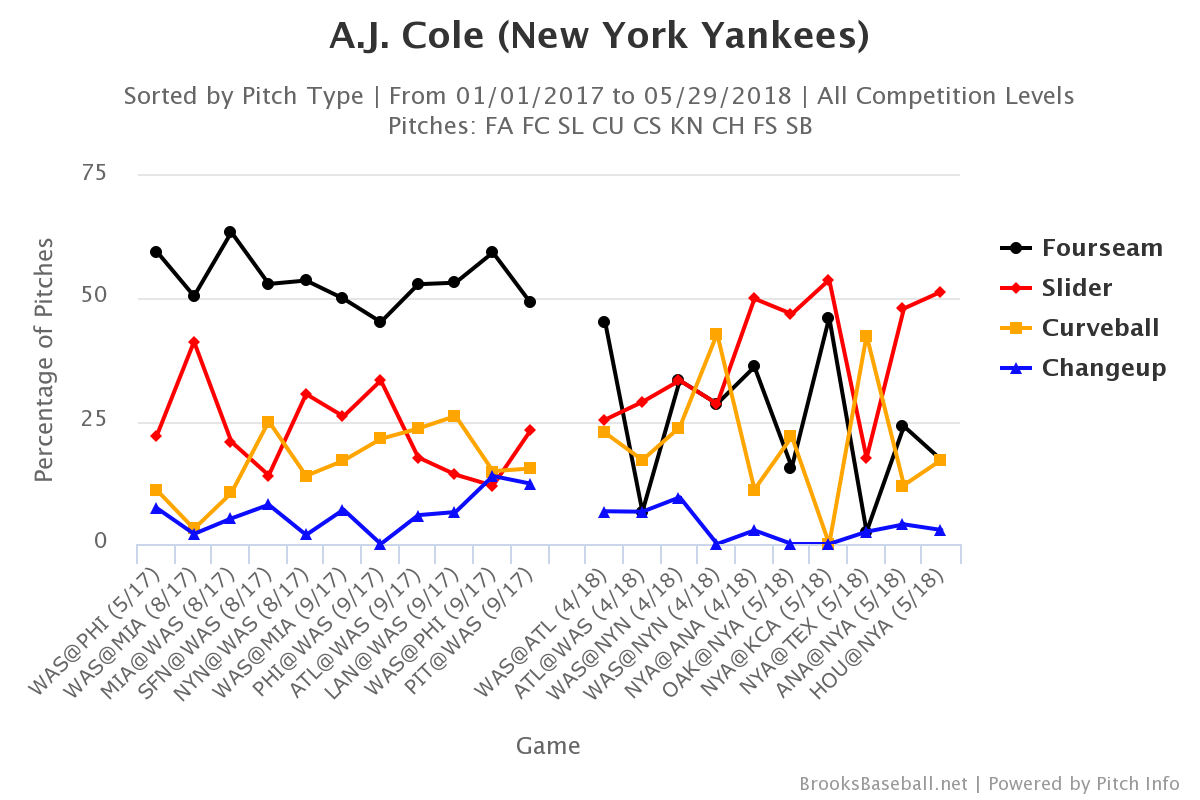 There's a big uptick in sliders as soon as he was traded to the Yankees. Cole threw a higher percentage of sliders (50%) in his first game with the Yankees than he did in any of his 26 career appearances with the Nationals. Five of his six highest individual game slider usage rates have come with the Yankees. Not a coincidence! That's the team's philosophy.
In his brief time with the Yankees, Cole has posted a higher strikeout rate (27.9%), a higher swing-and-miss rate (15.5%), and a higher ground ball rate (48.0%) than he had at any time with the Nationals. His best individual months with the Nationals featured a 29.6% strikeout rate (May 2015), an 11.7% swing-and-miss rate (August 2017), and a 50.0% ground ball rate (May 2017). Cole's time with the Yankees has been the best month of his career.
Keep in mind Cole is not some nobody who scrapped his way to the big leagues. He's a former top prospect — Baseball Prospectus ranked him as the game's 30th best prospect in 2015 — who was the centerpiece of the trade that sent Gio Gonzalez to the Nationals. (Washington reacquired him a few years later.) Cole has not developed as hoped since then, but he's shown enough to keep getting chances.
It's a very small sample size, no doubt, but Cole's whiffs and strikeouts and grounders are up, and it's worth taking notice. Call it a #thingtowatch. There has been a tangible change in his pitch selection — a significant one at that — a change that fits the Yankees' pitching philosophy, so there is reason to believe the improvement may be real. We need to see more before knowing for sure. I don't deny that. The early returns are positive though.
I am not particularly interested in seeing Cole pitch in a high-leverage spot or as a starter. I like him right where he is, working mop-up duty. It's a thankless job but someone has to do it, and if you have an effective pitcher doing it, it makes comebacks easier and blowout wins less stressful. Cole's done nice work in his current role and I see no reason to increase his responsibility. At least not yet. Maybe he pitches his way into a more important role at some point. He's not at that point yet though.
At some point fairly soon Adam Warren, who is currently on a minor league rehab assignment, is going to return from the disabled list and rejoin the bullpen. The Yankees are going to have to open a roster spot when the time comes and it is definitely possible Cole will be the odd man out. Jonathan Holder has been great recently and Chasen Shreve is out of options. Cole might be fool's gold, and the Yankees could move on before regression sets in. Take the good month and run, you know?
For now, Cole is doing fine work as the last guy in the bullpen, and given his new pitch selection and status as a former top prospect, it's possible he will force the Yankees to keep him around. The Yankees sent Ronald Torreyes down a few days ago even though it as completely undeserved. It's possible Holder could go down for Warren even though it would be undeserved. Having that much depth is cool. There's a chance Cole can be more than a throw-away mop-up guy, and it would not surprise me at all to see the Yankees keep him around for a longer look.