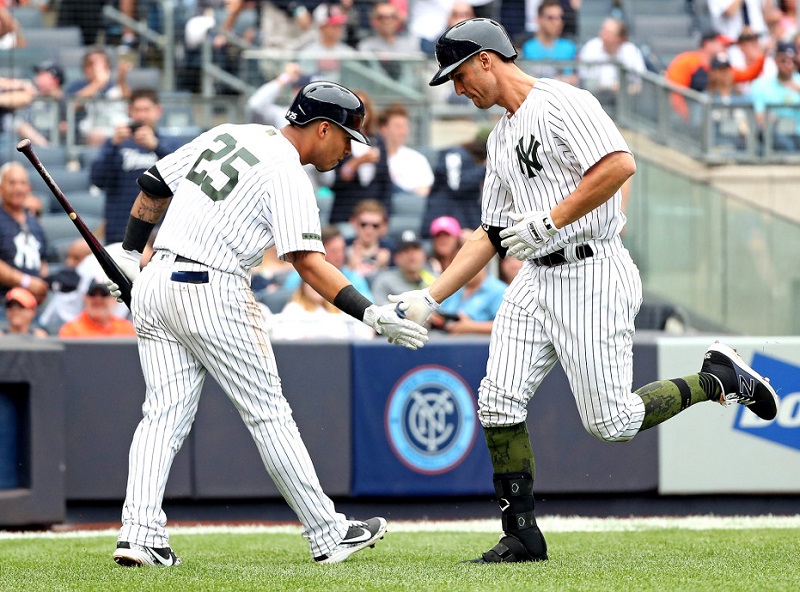 Bird is the only word
For one night, at least, the old adage "good pitching beats good hitting" held true, as the Yankees were totally dominated in Monday's 5-1 loss by Justin Verlander and a historically great Astros pitching staff.
Verlander spun another gem, and in two starts against the Yankees this year, has a 0.61 ERA with 19 strikeouts and no walks. With this being the final series between the two clubs during the regular season, Verlander became the first pitcher — since earned runs became official in 1913 — to strike out at least 15 batters, walk none and post a sub-1.00 ERA in a single season against the Yankees.
One of the guys that Verlander handcuffed was Aaron Judge. After going 0-for-3 in their latest matchup, he remains hitless in 13 at-bats against Verlander with more than half (7) of those outs via strikeout. The 13 at-bats are his most versus any pitcher he doesn't have a hit off in his career.
Domingo German flashed electric stuff but also suffered from inconsistent command. His final line was a mixed bag with three earned runs (plus an unearned run) allowed on five hits, including a homer, and seven strikeouts in 5 2/3 innings.
The good? He was excellent in missing bats and getting hitters to chase his pitches. He matched a career-high with 16 whiffs, and 11 of them came on pitches out of the zone. The only other guys this season to get that many out-of-zone swings-and-misses (11) in a game against the Astros were Trevor Bauer and Corey Kluber. Pretty good company for the rookie!
All seven of his strikeouts were swinging, including two each to the best Astros hitters in the lineup — Carlos Correa and Jose Altuve. Here's German making Correa look silly in the first inning: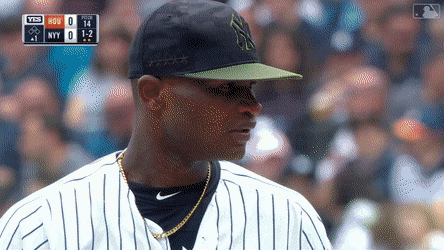 The lone offensive highlight for the Yankees was Greg Bird taking Justin Verlander deep in the seventh inning. It was the first homer that Verlander allowed to a left-handed batter all season; the 120 lefty swingers he had faced entering the week were the second-most of any pitcher in baseball this season who hadn't yet allowed a home run to a lefty.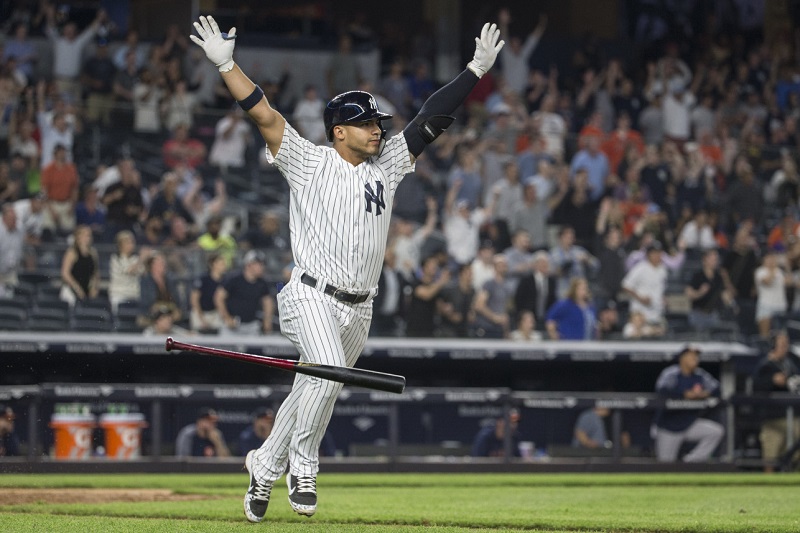 Happy Gleyber Day
After a relatively quiet few days in the Bronx, wild and wacky baseball returned with a bang on Tuesday night, as the Yankees staged yet another epic comeback en route a 6-5 extra-inning win over the defending AL champs.
It was the Yankees AL-leading fifth walk-off win of the season, and also matched their entire total from last year. The only other time in the last 50 seasons that they compiled five-or-more walk-off wins within their first 52 games played was 2009.
But this wasn't just any ordinary walk-off celebration, it required a two-run rally in the ninth inning, which has almost become the norm for this Yankee team. It was their …
MLB-best fifth win when trailing at start of the ninth inning (same number as last year)
MLB-best third win when trailing by multiple runs at start of the ninth (one more than last year)
10th one-run win of the season, more than halfway to last year's total (18)
Sure the Yankees have been piling up these Fighting Spirit-fueled wins, but this one was perhaps the most improbable. The Yankees committed five errors — their most in a win in more than two decades (April 17, 1997 vs White Sox) — and also struck out a whopping 17 times. They are the first team since at least 1908 (and probably ever) to win a game despite making five or more errors and striking out at least 17 times. Congrats?
Trailing 5-2 at the halfway point, the Yankees used their traditional power bats to save the game and then added a dose of Baby Bomber situational hitting to win it. Aaron Judge started the comeback with a 109.1 mph rocket into the second deck in right leading off the fifth inning. It was his fifth opposite-field homer of the season, and fourth with an exit velocity of at least 108 mph — that's twice as many as anyone else through Tuesday.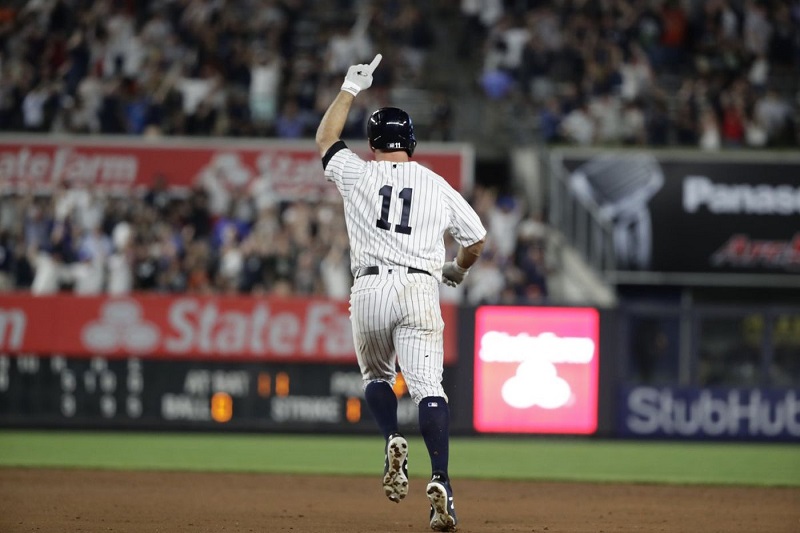 Brett Gardner made sure we'd enjoy free baseball with a thrilling two-run game-tying homer in the ninth inning. It was his second home run of the game, after he led off the night with a solo homer in the bottom of the first. That statistical combo gave us our Guest Yankeemetric of the Series, courtesy of stats maven Doug Kern: Gardner is the second Yankee ever to lead off the game with a home run and then hit game-tying or go-ahead homer in the ninth inning or later, joining Snuffy Stirnweiss on August 27, 1947 against the St. Louis Browns.
Gleyber Torres — who else?! — then won it with a two-out RBI single in the 10th, padding his incredible clutch stats and boosting yet again his ever-growing legendary pinstriped career. After his latest heroics, it seems worthwhile to present this relevant chart:
Gleyber Torres OPS in "Clutch" Situations
*PA in 7th or later with batting team tied, ahead by one, or tying run on deck

| | PA | Torres | League Avg |
| --- | --- | --- | --- |
| RISP | 37 | 1.260 | .732 |
| High Leverage | 28 | 1.519 | .717 |
| Tie Game | 25 | 1.663 | .721 |
| Late & Close* | 21 | 1.357 | .675 |
Torres — at the age of 21 years and 163 days old — became the youngest Yankee with an extra-inning walk-off hit since Ben Chapman on April 25, 1930. And combined with his May 6 game-ending homer vs Cleveland, Torres also entered the record books as the youngest Yankee (since at least 1925) with multiple walk-off RBI in a single season.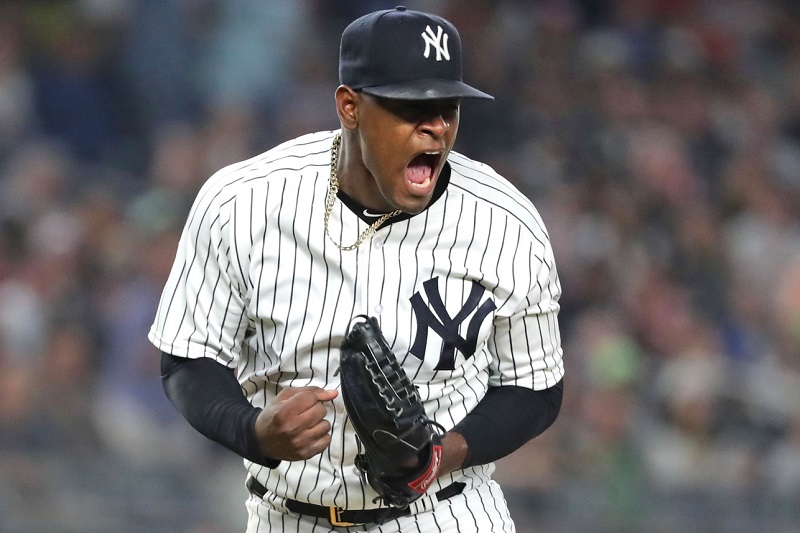 Welcome to the Sevy and Sanchez Show
Yankees continued their domination of the defending champs this season, taking another series against Houston after their 5-3 victory on Wednesday night. The Yankees are the only team to win multiple series against the Astros this season. Some other stats of note as the Yankees improved to…
MLB-best 14-4 in games started by left-handers
MLB-best 20-7 against teams with a .500 record or better
MLB-best 24-2 in games that their starter pitches at least six innings
MLB-best 24-1 when allowing fewer than four runs
Luis Severino showcased his ace stuff as he struck out 11 batters and held the Astros to two runs on four hits over seven innings. All 11 of the punchouts were swinging — a career-best for Sevy — and eight of the 11 came on his slider.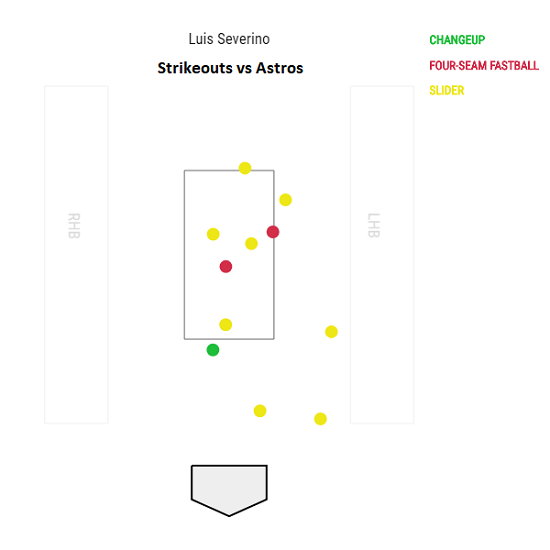 His masterful outing capped off a dominant month during which he struck out a total of 50 batters, whiffing 10-plus guys in three of six May starts. He is just fifth Yankee in the last 50 seasons with 50 or more strikeouts in a single calendar month. This list is pretty good, eh?
Yankees Most K in Calendar Month Last 50 Seasons:

Ron Guidry – 64 (June '78)
David Cone – 56 (June '97)
Luis Severino – 50 (May '18)
CC Sabathia – 50 (July '11)
Randy Johnson – 50 (July '05)

— Katie Sharp (@ktsharp) May 31, 2018
Gary Sanchez delivered the game-changing blow in the fifth inning, a bases-loaded two-run single that turned a 2-1 deficit into a 3-2 lead. That hit snapped an 0-for-19 slump and was his first RBI since May 19. Sanchez has no fear when coming to plate with the bases juiced — he is now 11-for-22 (.500) with the bases loaded since the start of 2017, and has driven in 22 runs in those 22 at-bats.