For the first time since last Sunday, the Yankees are in the win column. It sounds worse than it is. The Yankees haven't played much baseball this past week. Anyway, the rain never did come Saturday night, and the Yankees earned an 8-3 win over the Royals in Kansas City. Good win. Long live dingers.
One Inside The Park, One Outside The Park
Danny Duffy went into Saturday's start having allowed 12 home runs in 47 innings this season — that's a 2.30 HR/9 — and the Yankees treated him accordingly. They tagged Duffy for five runs on seven hits and three walks in four innings, and forced him to throw 95 pitches. Two of those seven hits were home runs. Duffy is up to 14 homers in 51 innings this season. That's a 2.47 HR/9. Yeesh.
After taking a 1-0 lead on Aaron Hicks' single and Gary Sanchez's double in the first inning, the Yankees took a 2-0 lead in the third inning on Hicksie's fourth home run of the season. It was his second home run that didn't leave the ballpark. It almost left the park! Here's the inside-the-park home run:
Hicks had the inside-the-parker in Detroit a few weeks ago, remember. He is the first player with multiple inside-the-park home runs in a single season since … Charlie Blackmon last year. So not that long ago. But! Hicks is the first Yankee with multiple inside-the-park home runs in a single season since Mickey Mantle had three in 1958. That was back when Monument Park was in play.
One inning later, the Yankees took a 5-2 lead on a more traditional home run. Gleyber Torres did the honors with a rocket to left field. Clint Frazier drew a leadoff walk, Ronald Torreyes poked a single to left, and Gleyber unloaded on a two-strike breaking ball that hung up in the zone. Four homers in the last eleven games for Torres. The kid is hitting .325/.384/.519 (143 wRC+) in his 23 big league games. Yeah, it's only 23 games, but how awesome is this?
Severino Labors
One of those "could've been worse" starts for Luis Severino, who started well but labored in the middle innings. He made some mistakes out over the plate and paid for them, and three runs in six innings could've been four runs in six innings had Giancarlo Stanton, Torreyes, and Sanchez not teamed up to nail Mike Moustakas at the plate on Salvador Perez's fifth inning double.
Four of the first five men the Royals sent to the plate in the third inning reached base — the only out was a sacrifice bunt, so thanks for that — and two runs scored on a Ryan Goins double and a Jorge Soler single. Literally Ryan Goins. Severino has thrown 65 innings this season and that third inning was only the third time he allowed multiple runs in an inning. Pretty incredible. The Royals pushed across another run in the fifth inning when Goins — literally Ryan Goins — worked a leadoff walk and later scored on a Moustakas broken bat single.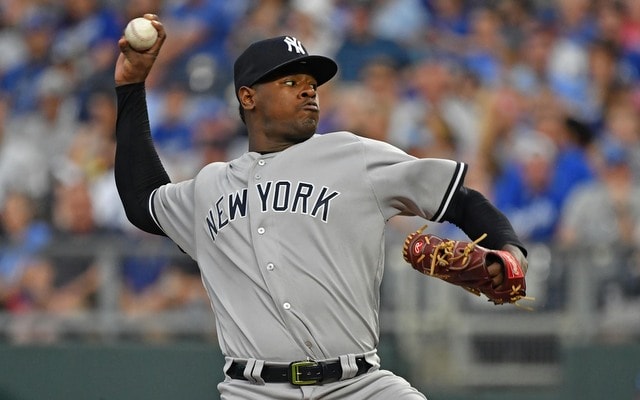 Severino's final line: 6 IP, 8 H, 3 R, 3 ER, 2 BB, 6 K on 77 pitches. Under normal circumstances, I'm pretty sure Aaron Boone would've sent Severino back out for the seventh. The bullpen needed work after all the downtime this week though, and Severino labored a bit, so it's good to get him out after sixth mostly stressful innings. Save those bullets for another day. Not a great outing for Severino, but even his bad outings are still pretty good.
Kraken Crackin'
Remember when Sanchez started the season 2-for-36? He was hitting .056/.081/.167 eleven games into the season. In the 31 games since, Gary has hit .292/.394/.642 with eleven home runs. He went 4-for-5 with a double and two homers Saturday night — Giancarlo and Gary hit back-to-back homers against Blaine Boyer in the top of the ninth — to raise his season batting line to .225/.323/.549 (132 wRC+). Still has a .215 BABIP too. Forty-two games into the season, Sanchez has 12 homers. As a catcher. Bonkers.
The Yankees hit five home runs total Saturday night — Sanchez hit two and Hicks, Torres, and Stanton had one each — for their first five-homer game of the season. It's their first five-homer game since last June against (who else?) the Orioles. And I swear, the Yankees had about four more balls look good off the bat, only to die on the warning track. Stanton had two, Aaron Judge one, and Miguel Andujar had one. Even with the five-homer game, the Yankees have been wearing out the warning track this series.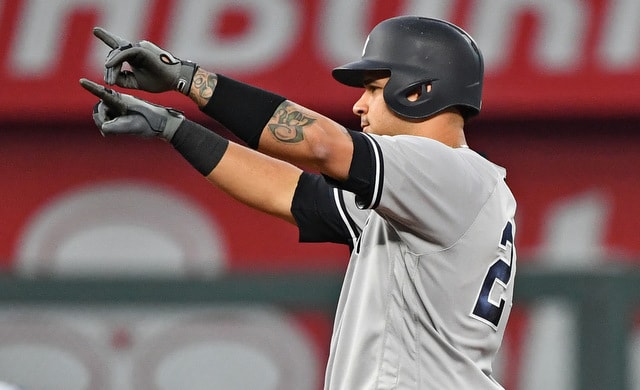 Leftovers
Chad Green pitched around a leadoff double in the seventh and Dellin Betances tossed a 1-2-3 eighth. You always have to worry about Dellin's control after a long layoff — he hadn't pitched since Sunday — but he came out firing strikes and retired the side on 12 pitches. Two cans of corn and a strikeout. Aroldis Chapman pitched around an umpire-aided walk in the ninth. Everyone in the bullpen has gotten their work in with relatively ease the last two nights. Good to see after the long layoff.
Two hits and a walk for Hicks, two walks and a hit for Frazier, two hits for Tyler Austin, and two hits for Torreyes. It was a total team effort on offense. The only player who failed to reach base? Judge, whose .432 OBP was second in baseball going into the game. Go figure. He went 0-for-5 with three strikeouts, all looking on borderline pitches. One day Judge should just snap at an umpire. Imagine being on the other end when he's pissed off? Maybe that'll swing some of those borderline pitches in his favor.
And finally, good night for video replay guru Brett Weber. The Yankees went 2-for-2 in challenges in this game, the first on a bang-bang play at first base — Andujar made a nice play and a very long throw to get Soler at first — and the second on one of those ticky tack "he was off the base for a nanosecond" plays in the ninth. I hate those, but whatever.
Box Score, WPA Graph & Standings
For the box score and updated standings, head over to ESPN. MLB has the video highlights and we have a Bullpen Workload page. Here's the win probability graph:

Source: FanGraphs
Up Next
The Yankees and Royals will wrap up this three-game series Sunday afternoon at Kauffman Stadium. That'll be a 2:15pm ET start. Sonny Gray and lefty Eric Skoglund are the scheduled starting pitchers.