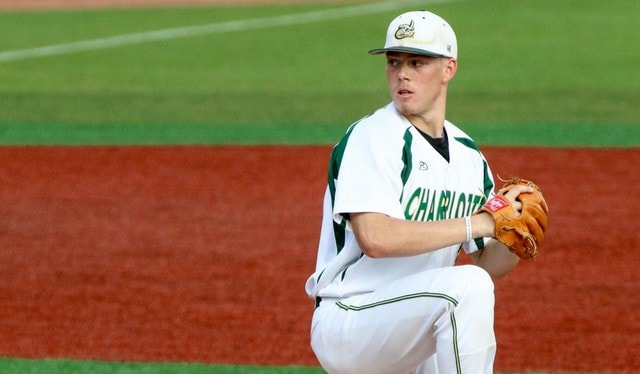 The three-day 2018 amateur draft is over and now teams will move on to signing their picks. The Yankees selected 40 players this year and will probably sign around 30. That's a typical number. Here are my Day One, Day Two, and Day Three draft recaps. You can see all the Yankees' picks here. Here's the latest signing news:
As a reminder, Georgia HS C Anthony Seigler (1st round) has already said he's signing. It hasn't happened yet, but it will soon enough. "There's no doubt in my mind that I'm definitely going to sign with the Yankees. This is a no-brainer for me," he said on a conference call with reporters.
Bucknell RHP Connor Van Hoose (8th round) is already in Tampa according to David Driver, so he's signing. He's slotted for $159,800. As a bonus pool friendly college senior, it's safe to assume Van Hoose is signing for something considerably less than lost.
UNC Charlotte LHP Josh Maciejewski (10th round) has signed, according to his agent's Twitter feed. He's slotted for $137,800. There's no word on his bonus, but, as a college senior, I imagine he signed for much less than slot.
VMI OF Matt Pita (12th round) sounds like he's going to sign. "I've always been a Yankees fan, so to be drafted by the Yankees is pretty special. VMI's definitely prepared me in every way possible, so I feel … ready to go and start my career," he said to Matt Gentry.
George Washington 3B Isiah Pasteur (13th) told Pat Stoetzer he's ready to sign. "I don't even have all the details as far as that goes right now. Just waiting for that phone call, and they'll tell me where I'm flying to and when I need to be there," he said.
Idaho HS C Alex Guerrero (18th round) signed for $125,000, he told KTIK. Slot money for every pick after the tenth round is $125,000. Every dollar over that counts against the bonus pool.
Bryant 1B Mickey Gasper (27th round) and Northeastern 3B Max Burt (28th round) both traveled to Tampa to sign today, reports Tom King. "I grew up a Yankees fan … It was always the Yankees. So this is a dream come true for me," said Gasper.
Our 2018 Draft Pool Tracker page is up and running, so make sure you check that out. It is available at all times under the Resources tab. The signing deadline is Friday, July 6th this year.