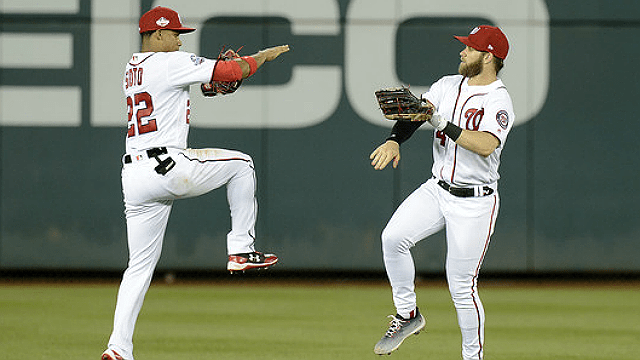 Back in the Bronx! The Bombers begin a nine-game homestand that features a 1.5-game stint in Washington D.C. in the middle. Before they can get to the District, the Yankees will host the Nationals for two games on River Avenue.
The Last Time They Met
The Yanks and Nats played half a game last month, but the last time they completed a series was back on June 9-10, 2015 at Yankee Stadium. Nearly three years ago to the date.
Masahiro Tanaka outdueled Max Scherzer in the opening game as the Yankees won, 6-1. Stephen Drew hit a pair of solo home runs and the Bombers extended the lead off the Washington bullpen.
Game 2 pitching matchup was Gio Gonzalez and Nathan Eovaldi. Pretty funny that the two starters for the Nationals in the series were the two probable starters for the two-game set the Nationals had last month.
The Yankees gained a two-run advantage late, but a shorthanded bullpen forced Jacob Lindgren into a high leverage eighth inning and he gave up a tying homer to Michael A. Taylor. The Nats would win in extras of Chris Capuano.
For more information, check out Katie's Yankeemetrics post on that series.
Injury Report
A lot of big names on the disabled list. 2B Daniel Murphy could make his season debut this series while RHPs Stephen Strasburg, Jeremy Hellickson and Brandon Kintzler were recently placed on the 10-day DL. Ryan Zimmerman could be back soon from back soreness but likely needs a rehab stint first.
Relievers Joaquin Benoit and Koda Glover, as well as catchers Matt Wieters and Jhonatan Solano, will miss this series and Yankee killer Howie Kendrick is done for the season with a ruptured right Achilles.
Their Story So Far
The Nationals are tied for the National League East division lead at 36-27 despite getting off to a slow start to the season. They've been especially strong away from Nationals Park, going 21-11 on the road. However, they've cooled off a bit recently after losing five of their last nine.
Contrary to the last few seasons, this isn't a top-notch offensive team, batting .236/.315/.400 (92 wRC+) as a team. Their starting rotation has remained stout and they have an improved bullpen headlined by Sean Doolittle and Ryan Madson. In their lineup, Zimmerman and Murphy have missed significant time while Bryce Harper is in a bit of a slump.
Lineup We Might See
A lot of lefties on Dave Martinez's squad, so there will a different mix that faces CC Sabathia compared with the one that faces Sonny Gray. Here's a lineup with all their best healthy hitters even though Taylor or Wilmer Difo may get a start.
1. RF Adam Eaton (.333/.421/.606, 179 wRC+)
2. SS Trea Turner (.254/.339/.387, 99 wRC+)
3. CF/RF Bryce Harper (.228/.360/.509, 127 wRC+)
4. 3B Anthony Rendon (.262/.342/.452, 112 wRC+)
5. 1B Matt Adams (.265/.345/.578, wRC+)
6. 2B Daniel Murphy (.322/.384/.543, 136 wRC+ in 2017)
7. DH Mark Reynolds (.290/.343/.597, 152 wRC+)
8. LF Juan Soto (.328/.431/.541, 163 wRC+)
9. C Pedro Severino (.197/.303/.254, 50 wRC+)
Fun Fact: A.J. Cole, with a home run in three ABs, leads the Nationals with a 344 wRC+.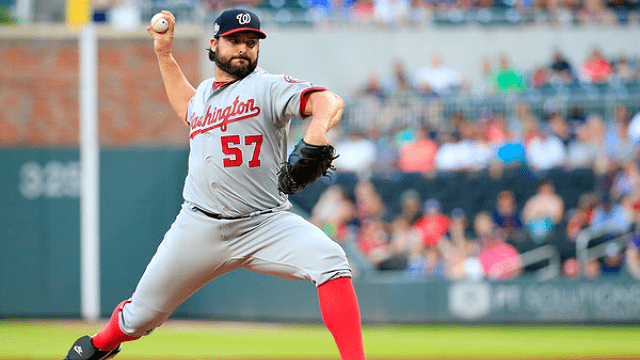 The Starting Pitchers We Will See
Tuesday (7:05 PM ET): LHP CC Sabathia vs. RHP Tanner Roark
Tanner Roark is really good in even-numbered seasons and slightly below average in odd years. This season has been a slight departure as he's been good (3.56 ERA/113 ERA+ in 78 1/3 innings) but not outstanding as he was in 2016 (2.83 ERA/151 ERA+ in 210 innings).
Part of why he fluctuates season to season is that he allows a lot of balls in play. In his career, only about 25 percent of his PAs end in strikeouts or walks.
The 31-year-old has lost one mph off his fastball/sinker but still has gotten solid results overall, though his groundball rate has declined a bit. He lives in the low 90s with a lot of sinkers and mixes in mid-80s sliders and changeups as well as a mid-70s curveball, with equal rates among the off-speed offerings.
Last Outing (vs. TB on June 6) – 6.0 IP, 6 H, 2 R, 1 BB, 5 K, 1 HR
Wednesday (7:05 PM ET): RHP Sonny Gray vs. TBA
This is Strasburg's spot in the rotation, but he left his last start early and is on the DL. The likely replacement is Erick Fedde, who has produced middling results in Triple-A. Formerly a top prospect, he's lost a bit of his luster after three poor starts in 2017 and average results in Triple-A. He had a solid spot start last month. As for his repertoire, he lives in the low-to-mid 90s with his fastball, using a slider as his go-to offspeed offering and a changeup that is hit or miss.
The other starters on the Nationals' 40-man roster that could make the starter are Austin Voth and Jefry Rodriguez, each of whom has been called up at least once this year. Edwin Jackson opted out just before the Nationals' rash of injuries and former starter A.J. Cole is in the Yankees bullpen. Not a lot of options.
The Bullpen
Acquiring Doolittle and Mason from Oakland last season has helped the Nationals turn their bullpen into a strength, even as Blake Treinen has excelled with the Athletics. Justin Miller has gotten off to a solid start in middle relief and southpaw Sammy Solis continues to get reps there as well.
Shawn Kelley hasn't been nearly as bad as last season's 7.27 ERA, but he hasn't been great. Lefties Tim Collins and Matt Grace have been fine in small samples while righties Trevor Gott and Wander Suero are typically low leverage guys.
With a Monday day off and Scherzer's start Sunday, the Nationals' pen should be pretty well rested.
Yankees Connection
You may remember Kelley from his 105 innings in middle relief for the Bombers from 2013-14 before he was traded for Johnny Barbato. Reynolds spent 36 games with the Yankees in late 2013 at first and third base while former Yankee hitting coach Kevin Long is now the Nats' hitting coach.
Who (Or What) to Watch?
Phew! No Scherzer! The Yankees dodge a bullet there, yet there's still a ton of star power. I'm always down to watch Harper and Rendon/Turner/Eaton are pretty exciting as well.
However, the most exciting thing might be 19-year-old wunderkind Juan Soto. The youngest player in the majors has done nothing but hit at every level with his 72 PAs with the big league club no exception. Perhaps most impressive is his 11 walks vs. 11 strikeouts.