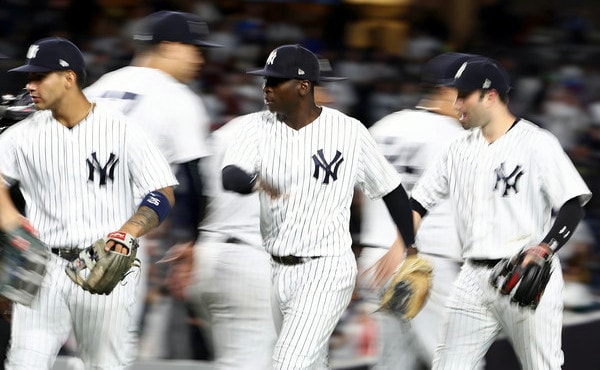 In their third attempt of the season, the Yankees and Nationals finally played a full nine innings last night. They had a game suspended last month and another one rained out. Last night's win was a good one, a crispy 3-0 shutout. The Yankees have baseball's best record at 43-19 and they've won ten of their last 12 games overall. Things are going pretty great.
You know what would be nice today? A blowout win. Spot starter Erick Fedde will be on the mound tonight — he has a 4.76 ERA in 56.2 Triple-A innings this season — and it would be swell to see the Yankees jump on him early and coast to an easy win. A.J. Cole hasn't pitched in 16 days. 16 days! How about letting him throw some mop-up innings with a big lead? Could be cool. Here are the lineups:
New York Yankees
1. LF Brett Gardner
2. RF Aaron Judge
3. SS Didi Gregorius
4. DH Giancarlo Stanton
5. CF Aaron Hicks
6. 3B Miguel Andujar
7. 1B Greg Bird
8. C Austin Romine
9. 2B Gleyber Torres
RHP Sonny Gray
Washington Nationals
1. RF Adam Eaton
2. SS Trea Turner
3. CF Bryce Harper
4. 3B Anthony Rendon
5. DH Daniel Murphy
6. 1B Matt Adams
7. LF Juan Soto
8. 2B Wilmer Difo
9. C Spencer Kieboom
RHP Erick Fedde
It is cloudy and humid in New York and that means rain. Thankfully it is not expected to arrive until later tonight. The Yankees and Nationals should be in the clear unless this game goes long. Tonight's game will begin at 7:05pm ET and you can watch on YES locally and ESPN nationally. Enjoy the game.