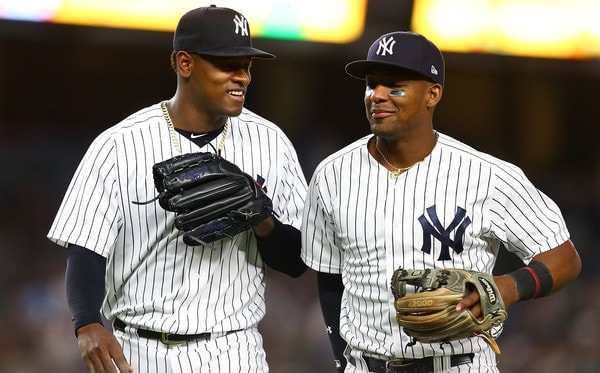 Good game last night. I've watched the Gary Sanchez and Giancarlo Stanton homers like ten times since breakfast. Baseball doesn't let you enjoy the highs too long though. The Yankees and Mariners are right back at it this afternoon with the finale of their three-game series. The Yankees have already clinched the series victory. Now it's time for the sweep.
Luis Severino is on the bump today and the Yankees are 13-2 in his 15 starts this season, including 8-0 at Yankee Stadium. The guy taking the ball for the other team, James Paxton, is pretty good too. But I feel confident with Severino on the mound against anyone. The Yankees are 16-4 in their last 20 games. Keep on keepin' on. Here are today's lineups:
New York Yankees
1. CF Clint Frazier
2. RF Aaron Judge
3. LF Giancarlo Stanton
4. SS Didi Gregorius
5. 2B Gleyber Torres
6. DH Miguel Andujar
7. 1B Greg Bird
8. C Austin Romine
9. 3B Neil Walker
RHP Luis Severino
Seattle Mariners
1. 2B Dee Gordon
2. RF Mitch Haniger
3. LF Denard Span
4. DH Nelson Cruz
5. 3B Kyle Seager
6. 1B Ryon Healy
7. RF Ben Gamel
8. C Mike Zunino
9. SS Andrew Romine
LHP James Paxton
Good afternoon for baseball in the Bronx. There are a few clouds in the sky but it's sunny and not ridiculously hot. This afternoon's game will begin at 1:05pm ET and you can watch on YES. Enjoy.
Injury Updates: A.J. Cole has been placed on the 10-day DL with a left neck strain, the Yankees announced. Must've gotten a kink in his neck sleeping in the bullpen during all that time off. Luis Cessa (oblique) was activated off the disabled list to replace Cole. Cessa was scheduled to start for Double-A Trenton today and has gotten stretched out to 50-ish pitches during his rehab assignment … Masahiro Tanaka (hamstrings) could throw a bullpen at some point this weekend … Brett Gardner (knee) is doing better and is ready to play. He's being held out against the lefty and to give the knee another day. This is day five without him. Wish they'd just put him on the 10-day DL.