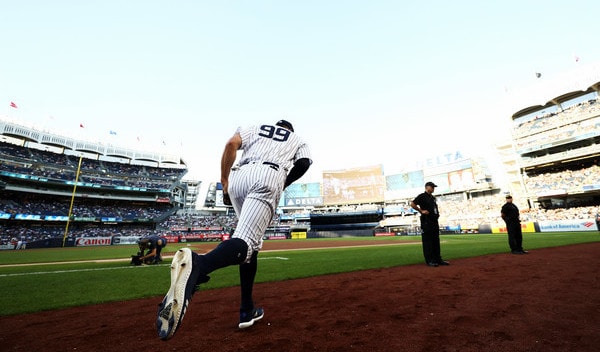 Great start to the series last night. Too bad baseball doesn't let you enjoy things all that long. The Yankees and Red Sox continue their three-game series tonight and the pitching matchup is very one-sided: Sonny Gray vs. Chris Sale. Two or three years ago, this would be must-see television. Gray has struggled this season though, especially at home, and even during his good starts we're all kinda waiting for the other shoe to drop.
I suppose the good news is the bullpen is well-rested. Aaron Boone has a full reliever complement available, so, if Gray runs into trouble early in the game, Boone can turn things over to the bullpen. Hopefully it doesn't come to that. Maybe this is one of those reverse lock games, where the pitching matchup is so one-sided that the other team wins? Hope so. Anyway, go Yankees. Sock some dingers and beat the Red Sox again. Here are tonight's lineups:
New York Yankees
1. CF Aaron Hicks
2. RF Aaron Judge
3. DH Giancarlo Stanton
4. 2B Gleyber Torres
5. SS Didi Gregorius
6. 3B Miguel Andujar
7. 1B Brandon Drury
8. C Austin Romine
9. LF Brett Gardner
RHP Sonny Gray
Boston Red Sox
1. RF Mookie Betts
2. LF Andrew Benintendi
3. DH J.D. Martinez
4. 1B Mitch Moreland
5. SS Xander Bogaerts
6. 3B Rafael Devers
7. 2B Eduardo Nunez
8. C Sandy Leon
9. CF Jackie Bradley Jr.
LHP Chris Sale
It is frickin' hot in New York today. I was planning to go to tonight's game but nope, I'm going to stay home in the air conditioning instead. Tonight's game will begin at 7:15pm ET and you can watch on FOX. Not FOX Sports 1. Regular old FOX. Enjoy the game.
Injury Update: Masahiro Tanaka (hamstrings) will make a minor league rehab start with Triple-A Scranton on Wednesday. That, probably not coincidentally, lines Tanaka up to start one the doubleheader games in Baltimore next Monday.