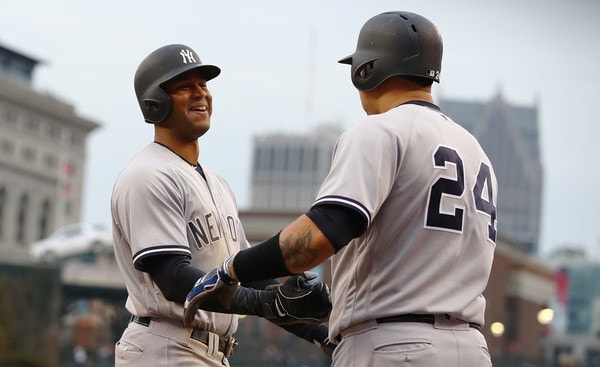 Wanna hear something crazy? The Yankees will actually play some baseball today. Pretty amazing, isn't it? Thanks to scheduled off-days and all the recent rainouts, the Yankees have played 14.5 games in the last 21 days. They have a doubleheader today, a doubleheader two weeks from today, and another doubleheader three weeks after that. And of course they had plane trouble getting out of Baltimore yesterday. Sucks.
Anyway, the Yankees are in Detroit today for a pair of makeup games against the Tigers. These are the makeup games for their April 14th and 15th rainouts. The Yankees technically lead this three-game series one game to none. They won the series opener on April 13th. Aaron Hicks had inside-the-park and outside-the-park homers in that game, which I'm sure you remember.
The Tigers are early in their rebuild but they have not been a total pushover this season. They're in second place in the admittedly terrible AL Central at 28-31 with a -15 run differential. All things considered, that's an impressive run differential. This is a team that went 13-41 in their final 54 games last year and added no one of substance over the winter. They're bad. Just not as bad as expected. Here are the lineups for first game of the doubleheader:
New York Yankees
1. CF Aaron Hicks
2. DH Aaron Judge
3. 1B Greg Bird
4. RF Giancarlo Stanton
5. SS Didi Gregorius
6. 3B Miguel Andujar
7. LF Clint Frazier
8. C Austin Romine
9. 2B Gleyber Torres
RHP Luis Severino
Detroit Tigers
1. CF Leonys Martin
2. RF Nick Castellanos
3. DH Miguel Cabrera
4. 3B Jeimer Candelario
5. 1B Niko Goodrum
6. C John Hicks
7. LF JaCoby Jones
8. SS Jose Iglesias
9. 2B Dixon Machado
RHP Drew VerHagen
Thankfully, the weather will not be an issue today. The sun's out in Detroit and it's nice and warm, but not hot. Good doubleheader weather. The first game of today's split doubleheader will begin at 1:10pm ET and you can watch on YES locally and MLB Network out-of-market. Enjoy the game.
Roster Move: Welcome back, Clint Frazier. He is the 26th man for today's doubleheader, as expected. Unless someone gets hurt, which hopefully won't happen, Frazier has to go right back to Triple-A after the doubleheader today.
Injury Update: Adam Warren (lat) threw a bullpen session Friday and could be activated today. It might be one of those "use a reliever in the first game, then send him down and activate Warren for the second game" situations. We'll see. It sounds like Warren is ready is return though. It's just a question of when they'll activate him.
Update (6:45pm ET): In case you missed it earlier, the Yankees won the first game of the doubleheader 7-4. Here are the lineups for the second game:
New York Yankees
1. CF Brett Gardner
2. RF Aaron Judge
3. C Gary Sanchez
4. DH Giancarlo Stanton
5. SS Gleyber Torres
6. 3B Miguel Andujar
7. 2B Neil Walker
8. 1B Tyler Austin
9. LF Clint Frazier
RHP Domingo German
Detroit Tigers
1. 3B Jeimer Candelario
2. RF Nick Castellanos
3. 1B Miguel Cabrera
4. DH Victor Martinez
5. SS Niko Goodrum
6. CF Leonys Martin
7. C James McCann
8. 2B Ronny Rodriguez
9. LF Victor Reyes
RHP Mike Fiers
Good weather again for the nightcap. This game is scheduled to begin at 7:10pm ET and you can watch on YES. Enjoy the game.
Roster Move: Between games the Yankees activated Adam Warren off the disabled list and optioned Tommy Kahnle to Triple-A Scranton, the team announced. Didn't see that coming. The Kahnle part, anyway. Jonathan Holder and A.J. Cole pitching well pushed Kahnle out. That and his struggles.