That was about as listless as the Yankees have looked at any point this season. The Yankees were unable to finish the three-game sweep of the Phillies on Wednesday night because the offense never got anything going. Third shutout loss of the season. The final score was 3-0 bad guys.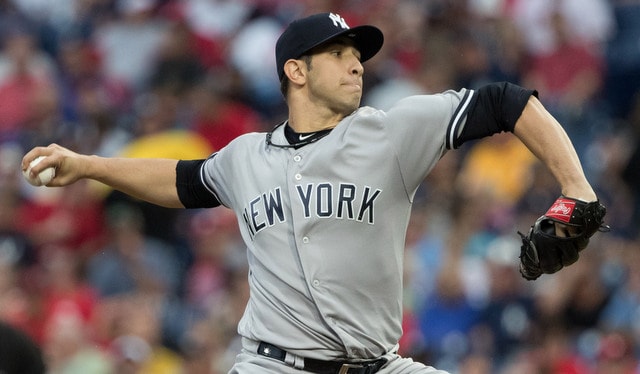 Bad Cessa
While well-intentioned, the Luis Cessa spot start idea did not go well. The Yankees started Cessa in this game so CC Sabathia could face the Red Sox this weekend and also get some extra rest. Cessa, who was on a pitch limit, faced 16 batters and seven reached base, and it would've been more had Brett Gardner and Giancarlo Stanton not made spectacular running catches on back-to-back plays in the third inning. Lots of comfy swings and at-bats.
Cessa did well to escape a bases loaded jam in the first inning — he struck out Aaron Altherr and Scott Kingery to strand the three baserunners — but he couldn't escape the second inning jam. Jorge Alfaro singled to center, Cesar Hernandez worked a walk, then Cessa left a two-out, two-strike slider up to Rhys Hoskins. Can't do that. I mean: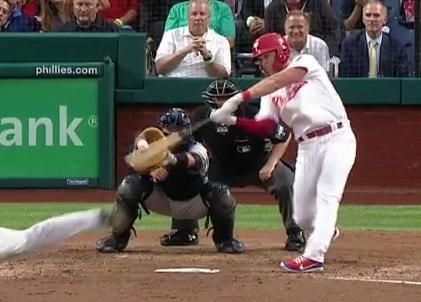 Three-run home run into the first (or second) row of the right field seats. Hoskins had done nothing in the series other than yell at a fan prior to that homer. Cessa was able to get through the third inning thanks to the Gardner and Stanton catches, but he needed 74 pitches to get nine outs. The final line: 3 IP, 5 H, 3 R, 3 ER, 2 BB, 2 K, 1 HR. Stick him back in the bullpen and leave him in short relief.
Stupid Eflin' Offense
Of course, it wouldn't have mattered who was on the mound for the Yankees because the offense did a whole bunch of nothing against Zach Eflin, who went into this game with a 2.32 ERA (2.00 FIP) in four starts and 23.2 innings in June. Eflin held the Yankees to four singles and two walks in seven innings, and never once did the Yankees get a runner to third base. He shut them right down, like he's been shutting everyone down this month.
The Yankees had their best chance to score against Eflin in the second inning, when Miguel Andujar served a one-out single to right and Kyle Higashioka worked a two-out walk. But, thanks to the magic of the National League, Cessa came to the plate with two on and two outs. Three pitches later, the inning was over. Love that NL baseball. The Yankees had leadoff runners in the fourth and sixth and did not score. Hell, Eflin allowed a leadoff single in the sixth and still had a four-pitch inning. That kinda night for the offense.
Aaron Hicks had two of the four hits and Stanton, my goodness, had a very loud 0-for-4. He did strikeout once, but the three balls in play were a fly ball to the warning track, a liner at the right fielder, and a hard-hit grounder into the shift. At least he's still crushing the ball, even if the results weren't there. Neil Walker, who can't buy a hit right now, smoked a line drive right at Carlos Santana at first. Bad luck but mostly bad at-bats. So it goes.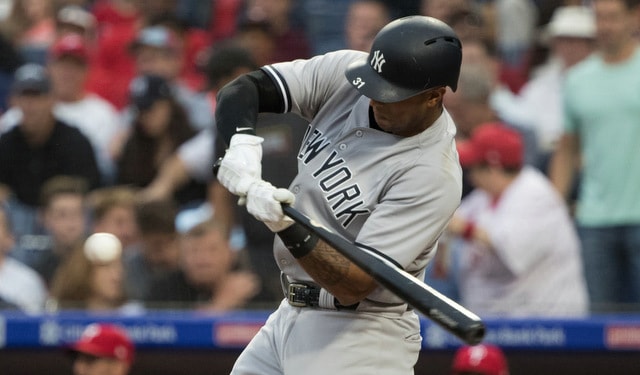 Leftovers
Nice night by the bullpen, especially Gio Gallegos. He struck out six in three scoreless innings. Jonathan Holder and Domingo German — German's going to go nine or ten days between starts because they're using Thursday's off-days to skip him in the Red Sox series, so he threw an inning out of the bullpen in this game — tossed a scoreless frame each. Complain about Cessa all you want. The pitching staff allowed three runs all night and that is a winnable game.
And finally, is it just me, or do the Phillies make an extraordinary amount of pickoff throws to first base? I can't ever remember seeing this many in a three-game series, especially against the Yankees, a team that doesn't steal bases all that often. So many unnecessary pickoffs this series. So, so many.
Box Score, WPA Graph & Standings
ESPN is the place to go for the box score and updated standings, and MLB has the video highlights. Here is our Bullpen Workload page and here's the loss probability graph:

Source: FanGraphs
Up Next
An off-day. After that, the Yankees will open an important three-game series — or at least as important as a series can get in late June — against the Red Sox at Yankee Stadium. Old lefty CC Sabathia and young lefty Eduardo Rodriguez are the scheduled starters for Friday night's series opener. Fun fun fun.