Good gravy that was ugly. Let's all agree never to talk about this game again. The Red Sox depantsed the Yankees 11-0 on Saturday night. First double-digit shutout loss at the New Yankee Stadium.
The Sonny Disaster
An impressively pathetic outing for Sonny Gray, who allowed nine of 16 batters to reach base and couldn't put anyone away with two strikes. He needed 68 pitches to get seven outs. The Red Sox put 14 balls in play against Gray and ten came in at 90 mph exit velocity or better. Six were 99 mph or better. Lots of loud contact. Lots and lots of loud contact. At least he had his personal catcher though?
Oddly enough, the first inning started pretty well. Gray retired Mookie Betts and Andrew Benintendi to begin the game, then all hell broke lose. He got ahead in the count 1-2 on J.D. Martinez, couldn't finishing him off, and allowed an infield single. Fine. Whatever. infield single is no big deal. Then Gray couldn't put Mitch Moreland away with two strikes and walked him. Then Xander Bogaerts ambushed a first pitch heater with a single to load the bases.
Three straight baserunners with two outs and only one ball out of the infield. Gray got ahead in the count 1-2 on Rafael Devers — the second strike was a swing over top a real nice curveball down in the zone — but the two-strike curveball wasn't buried in the dirt. It was left up in the zone …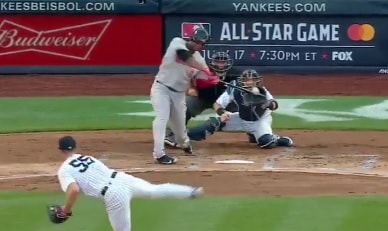 … and Devers lifted it into the first row of the left field seats for a grand slam. Yankee Stadium cheapies are only fun when the Yankees hit them. I'm not blaming the ballpark though. Gray had two strikes on Martinez, Moreland, and Devers and couldn't put any of them away. Two more runs came in the second inning thanks to a rally that started with Sandy Leon's loud leadoff double, which of course came in a two-strike count.
Gray's final line: 2.1 IP, 7 H, 6 R, 6 ER, 2 BB, 0 K, 0 HR on 68 pitches. Didn't even have the decency to settle down a tad and soak up innings to spare the bullpen. Not counting the Jordan Montgomery injury game, this was the shortest start by a Yankee all season. Halfway through the season Gray has a 5.44 ERA (4.38 FIP) in 82.2 innings. He ranks 85th in ERA among the 88 pitchers with enough innings to qualify for the ERA title. I really want to like Sonny, but he has been an unmitigated disaster.
No Runs
I suppose the good new is Gray's start coincided with a Chris Sale start. It's not like Gray started one day and Sale started the next. Two birds, one stone, you know? The funny thing is the Yankees made some good contact against Sale early. Giancarlo Stanton ripped a single back up the middle in the first and, two batters later, Didi Gregorius lined out to center to end the inning. Aaron Hicks was robbed of extra bases by Jackie Bradley Jr.'s leaping catch at the wall in the third inning.
That was pretty much it though. Sale retired the final 16 batters he faced — two of those 16 batters hit the ball out of the infield — and that first inning Stanton single was the only hit Sale allowed. Sale hit Hicks with a pitch, gave up the single to Stanton, and walked Austin Romine. That's all. Three baserunners in seven innings against eleven strikeouts. At least Gleyber Torres managed a ninth inning single against Hector Velazquez to turn the one-hitter into a two-hitter. Woof.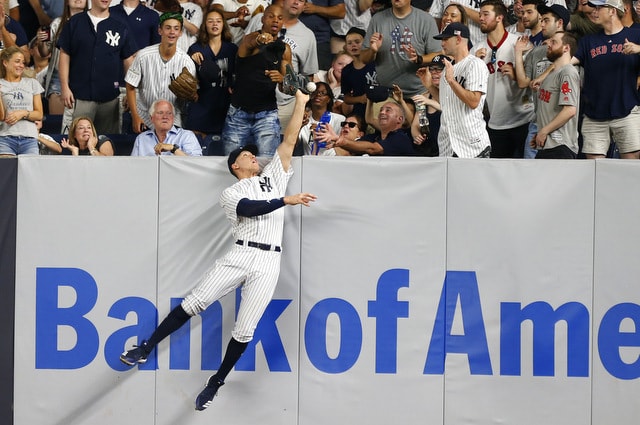 Leftovers
Adam Warren was the best reliever used, rather easily. He tossed 2.2 scoreless innings. Gio Gallegos allowed three runs in two innings and was sent down after the game. Jonathan Holder allowed a run — that ends his 23-appearance, 27.2-inning scoreless streak, which dated back to that 14th inning loss against the Orioles in April — in his inning, and Chasen Shreve allowed a run in his inning. Fun Fact: The Yankees still have the third lowest ERA in baseball (3.43).
At 21 years and 199 days, Gleyber Torres became the youngest Yankees cleanup hitter since Mickey Mantle batted cleanup at 21 years and 197 days on May 5th, 1953. Torres celebrated the day by going 1-for-4 with three strikeouts. Brandon Drury went 0-for-3 with three strikeouts in his return to the big leagues. Three strikeouts tonight after watching Miguel Andujar and Greg Bird (twice) hit homers Friday night. Not a good two days for Drury.
Austin Romine exited the game with hamstring tightness in the seventh inning and is day-to-day. The Yankees can not afford to lose another catcher. Romine went 0-for-1 with a walk and is 1-for-13 (.077) since taking over as the starting catcher. Also, runners are 6-for-6 stealing bases again him. At least stolen bases are not passed balls? I hope everyone who complained about Gary earlier this year has taken it back already.
And finally, on the tenth anniversary of his big league debut, Brett Gardner went 0-for-2 with a walk and a strikeout. You can stop trying to come up with Gardner trade proposals now. He has full no-trade protection as a 10-and-5 player.
Box Score, WPA Graph & Standings
For the box score and updated standings, go to ESPN. MLB has the video highlights and we have a Bullpen Workload page. Here's the loss probability graph:

Source: FanGraphs
Up Next
The rubber game. The Yankees and Red Sox will wrap up this three-game series during the ESPN Sunday Night Game. Will that one end before midnight? Tune in to find out! Luis Severino and David Price are the scheduled starters, assuming Price doesn't duck the Yankees again.