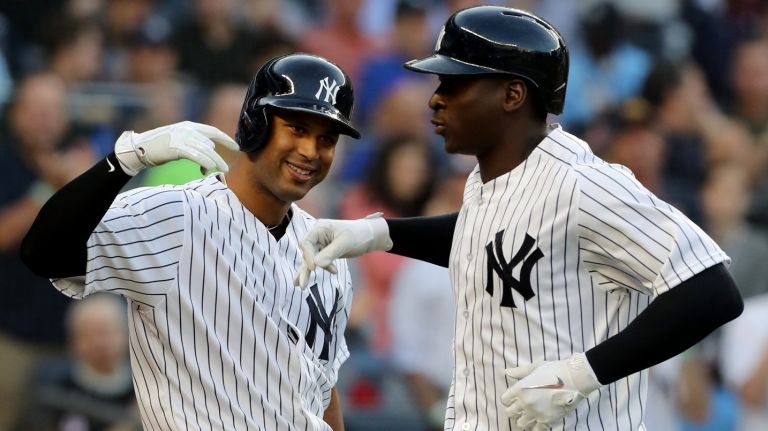 #DidiDingers
Two days after suffering their first shutout loss of the season against the Mets, the Yankees bounced back on Tuesday night with a 3-0 victory over the Nationals in the Bronx. It was their fourth shutout win of 2018, more than halfway to their total in 2017 (seven).
The win also guaranteed that they'd keep their "haven't-lost-three-games-in-a-row streak" alive for at least a few more days. It is the Yankees' longest such streak to start a season since 1954, when they didn't lose back-to-back-to-back games until August 22 in their 124th game on the schedule.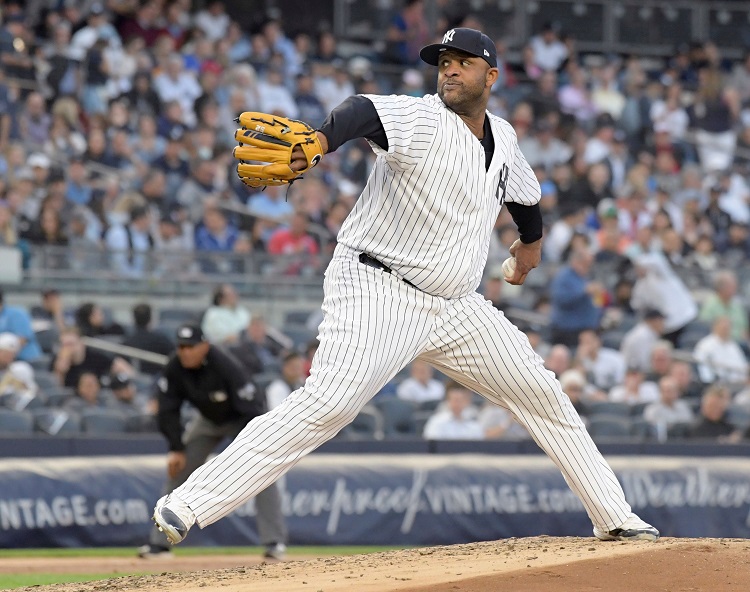 CC Sabathia produced a second straight superb outing, pitching into the sixth inning without giving up a run. He put a lot of traffic on the bases (four hits, three walks, hit batter) but was tough-as-nails when the pressure was greatest, pitching out of jams in nearly every inning to keep the Nats off the scoreboard.
This type of gutty performance is nothing new for Sabathia, who has limited batters to a .439 OPS with runners in scoring position this season, the second-best mark among AL pitchers and sixth-best in MLB (min. 50 batters faced).
And he did it in typical re-invented Sabathia form, by generating weak contact. As you can see below, only two balls in play against Sabathia were hit with solid contact (the pink/red zone in the chart):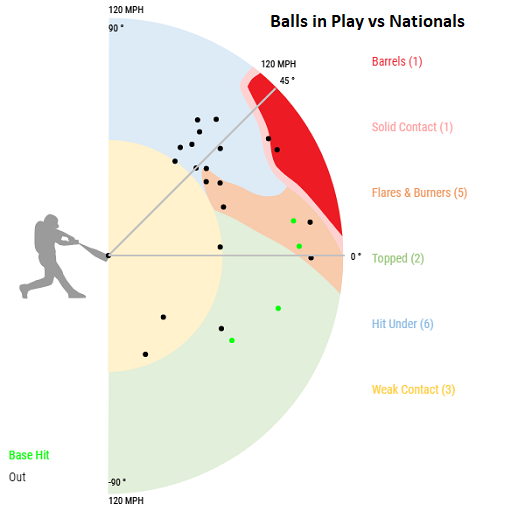 The big lefty also notched a few milestones on Tuesday night. With his 124th regular season win as a Yankee, he broke a tie with Mike Mussina for 12th place on the all-time franchise list. And his fourth-inning strikeout of Michael Taylor was the 1,500th of his Yankee career, the fifth pitcher in team history to reach that mark and the fastest to do so.
*Number of games to reach 1,500 K

| | Strikeouts | Games* |
| --- | --- | --- |
| Andy Pettitte | 2,020 | 338 |
| Whitey Ford | 1,956 | 381 |
| Ron Guidry | 1,778 | 303 |
| Red Ruffing | 1,526 | 560 |
| CC Sabathia | 1,500 | 267 |
Didi Gregorius, slowly emerging from his miserable May slump, snapped his power drought in style. He launched two home runs in his first four plate appearances, after going deep just once (on May 23) in his previous 143 plate appearances dating back to the last week of April.
It was his third multi-homer game in 2018, the most by any shortstop in a single season in franchise history, and his fourth as a Yankee. He's already tied with Frankie Crosetti for the second-most career multi-homer games by a shortstop; only Derek Jeter, with 10 in his 20 pinstriped seasons, has more.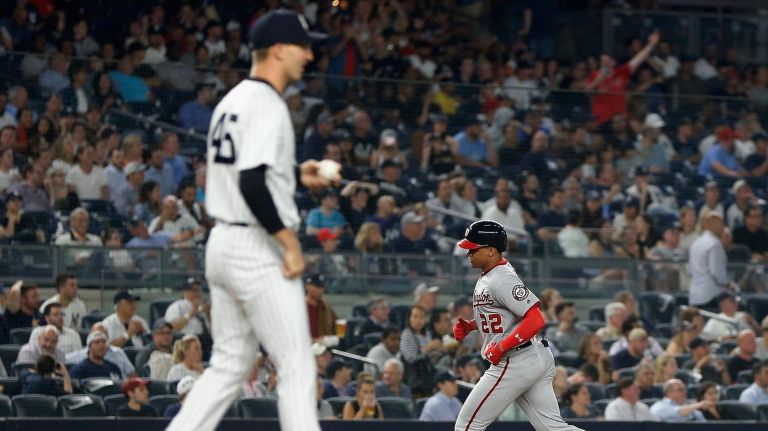 Teenage kryptonite
The Comeback Kids came up just short on Wednesday night, losing 5-4 in a wild, back-and-forth game. The loss also dropped them to 8-8 all-time at home versus the Nationals/Expos franchise. The only other franchise that has a .500 or better regular-season record in the Bronx against the Yankees is the Braves (10-7).
Despite my best efforts to fix/reverse-jinx him, Sonny Gray's struggles at Yankee Stadium continued. He entered the game with a 7.22 ERA in six starts in the Bronx this season, the second-worst home ERA in the AL (min. 25 IP), and exited with the same 7.22 ERA after giving up four runs in five innings. Looking ahead … the highest single-season ERA at either version of Yankee Stadium by a Yankee pitcher (min. 10 starts) is 6.32 by Phil Hughes in 2013.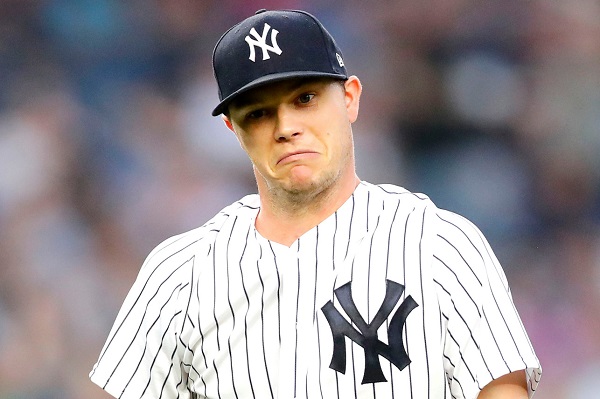 Three of the four runs allowed by Gray came via a home run by Juan Soto, who hit a 338-foot wallscraper to left field in the fourth, and also launched a tie-breaking solo shot in the seventh off Chasen Shreve. Amazingly, this was Yankees first loss this season when tied at the start of the seventh inning; they were a perfect 8-0 in that situation before Wednesday.
At 19 years and 231 days old, Soto became the youngest player to homer against the Yankees since Andruw Jones (19 years, 180 days) in Game 1 of the 1996 World Series, and the youngest to do it in the regular season since Ken Griffey Jr. (19 years, 190 days) on May 30, 1989. All three of those guys — Soto, Jones, Griffey — hit two homers in their historic games.
Gleyber Torres did his best to match the teenage phenom, flexing his clutch gene with a career-long 435-foot blast in the fifth inning that briefly tied the game 4-4. It was his 12th homer, a new single-season Yankees record for a No. 9 hitter. Seven of the 12 have either tied the game or given the Yankees a lead — and those seven game-tying/go-ahead homers are two more than any other Yankee has hit since his debut on April 22.
With 19-year-old Soto and 21-year-old Torres both going deep in the game, STATS dug up this gem:
Juan Soto of the @Nationals and Gleyber Torres of the @Yankees have a combined age of 41 years, 48 days, the lowest by opposing players to homer in the same game since Mike Tiernan and Egyptian Healy on May 19, 1887.

That's right, 1887.#OnePursuit #PinstripePride

— Stats By STATS (@StatsBySTATS) June 14, 2018
The Yankees had plenty of chances to put this game away with 10 baserunners (eight hits, two walks), but their slumping bats again failed in key scoring situations. After going 1-for-7 with runners in scoring position on Wednesday, they are 1-for-28 (.036) with RISP over their last six games, and 3-for-47 (.081) with RISP in their last eight games dating back to the second game of the June 4 doubleheader versus the Tigers.