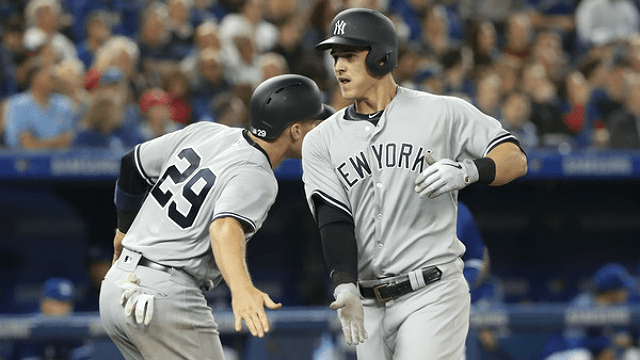 A team is only as good as its weakest link, so the saying goes. The Yankees have had a series of bench players, mop-up relievers and forgettable characters so far this year. Why not grade them?
Ronald Torreyes
The skinny: Torreyes got the chance to start plenty of games at second base until Gleyber Torres was called up and Toe did nothing but rake in that interim. It was mostly singles, but he finished April with a .390/.405/.488 line. He has been sent down and called up twice with the Yankees not having room on their infield for even semi-regular time. Gotta love Toe.
Best game/highlight: He's had a trio of three-hit games this season, but one of his one-hit games stands out. On Apr. 19, he knocked in a run early before walking and scoring the go-ahead run in a 4-3 win vs. Toronto.
Midseason Grade: A
Brandon Drury
The skinny: The Yankees acquired Drury with the idea he'd be their starting third baseman, but vision problems and the emergence of Miguel Andujar have kept him away from the big league club. He has just eight hits as a Yankee thus far, though he excelled in Scranton. Hopefully, he'll receive a larger chance now that his vision is better and he can make an impact in the second half.
Best game/highlight: In the second game of the year, he drove in two runs while going 2-for-3 with a walk. His double in the second inning came mere inches away from going out of the park.
Midseason Grade: C/Incomplete
Tyler Wade
The skinny: Wade's first stint with the Yanks in 2018 was seriously disappointing. Though he provided the Yankees with stable defense at second, he simply didn't hit. He had a real chance to win playing time at second base to start the year and blew it. His second opportunity in replacing Gleyber has been much better with six hits in his last 13 ABs with some good defense as well. He's going to play a role down the stretch, even if it's just as a pinch runner.
Best game/highlight: Last week, Wade came a triple short of the cycle, knocking his first career home run to right field at Camden Yards. It's surprising a player that fast doesn't have a triple in his career yet.
Midseason Grade: D
Clint Frazier
The skinny: Frazier is a victim of the Yankees having one of the best outfield rotations in baseball. He'd be starting in a corner for most other teams. When he's been with the big league club, he's shown strong patience and sports a .390 OBP. He was robbed of a game-winning home run by the monstrosity that is Tropicana Field. He'll get an opportunity soon if he's not traded for a top-line starting pitcher.
Best game/highlight: His first game of the year came on May 19 in Kansas City and he lined a double, drew two walks and scored a run. Always nice to see him show off both a strong approach and his Legendary Bat Speed.
Midseason Grade: B+
Tyler Austin
The skinny: Austin was the fill-in first baseman for Greg Bird for the first month and a half and was perfectly adequate. He hit eight home runs and put up a .471 slugging percentage. However, he didn't get on base often enough and was prone to prolonged slumps. The 26-year-old remains a solid contingency plan waiting in Triple-A, though you'd rather see Bird out there for sure.
Best game/highlight: He has two two-homer games this year and the second one was an impressive day in Kansas City. He drilled a pair of two-run shots to knock starter Eric Skoglund out of the game and begin a blowout win.
Midseason Grade: B-
Billy McKinney
The skinny: Two games. Four at-bats. One hit. One injury. That's a basic summary of McKinney's big-league career thus far. He was called up for Game No. 2 after Aaron Hicks went down with an injury and was sidelined himself in his second start by banging into the left field wall at Rogers Centre. Not ideal. He's been good once again in Scranton.
Best game/highlight: Obviously, it's his one full game where he recorded his first career hit. March 30 in Toronto, a win to boot.
Midseason Grade: Incomplete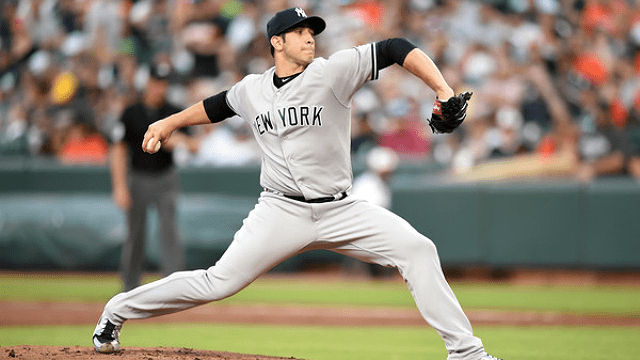 Luis Cessa
The skinny: Anyone else forget Luis Cessa was in a mop-up role in mid-April? He apparently threw four innings that month before suffering an oblique strain. He came back up in June, threw two innings of relief and then had a forgettable spot start in Philly. He then started in Baltimore during last Monday's doubleheader with further detail below.
Best game/highlight: July 9 in Baltimore wasn't a pretty day for the Yankees, but Cessa helped them salvage a win against the last-place O's with six shutout innings. He put on six baserunners but pitched well and had two double plays turned behind him. Not bad!
Midseason Grade: B
David Hale
The skinny: Hale was up and down as a mop up reliever, taking almost exclusively the lowest leverage innings and saving the rest of the bullpen, all before receiving an unceremonious DFA. He threw exclusively multi-inning outings and also had one game with the Twins. While his last outing was impressive, he won't be making another with the Yankees this season as he has signed with the Hanwha Eagles of the KBO.
Best game/highlight: He saved the best for last in relief of Sonny Gray. He threw 5 2/3 innings of one-run ball against the Blue Jays in a 6-2 loss. While he gave the team a chance to win, it was more important that he simply absorbed innings.
Midseason Grade: A
Gio Gallegos
The skinny: Like Hale, Gallegos has come up to take on mop up innings. In four multi-inning outings, he hasn't come in with a leverage index higher than .30. It'll be tough for him to earn any sort of permanent role with the Yankees this season, so it's the up-and-down role the rest of the way. He's one of three Yankees with a save as he threw three innings to close Cessa's win in the doubleheader.
Best game/highlight: In Cessa's other start vs. the Phillies, Gallegos came in out of the bullpen and dazzled hitters with his stuff. Three innings, two hits, no runs and six strikeouts. Six! It was his best outing as a Yankee. Two of the Ks were the opposing pitcher, but he also punched out Cesar Hernandez and Rhys Hoskins.
Midseason Grade: B
Jace Peterson
The skinny: McKinney, Hicks and Jacoby Ellsbury all were on the disabled list in early April, thus giving Peterson a shot. He got a chance to play three games (two starts) in the outfield, going 3-for-10 with a walk over 10 days. He joined Baltimore afterwards and, funny enough, has played as many games against the Yankees as he has for the Bombers.
Best game/highlight: He manned left field in his first Yankee start on Apr. 7 and saved the game with a nice catch to rob Pedro Alvarez of two go-ahead RBI in a game the Yankees would go on to win.
Midseason Grade: B+
Shane Robinson
The skinny: With the Yankees still short on outfielders and facing lefties in Boston, Robinson got the call-up in place of Peterson. He went 1-for-3 with two walks and a stolen base in his two games in pinstripes.
Best game/highlight: He pinch ran for Tyler Austin and stole second base on Apr. 11 in Boston. I guess that counts as a highlight?
Midseason Grade: Incomplete