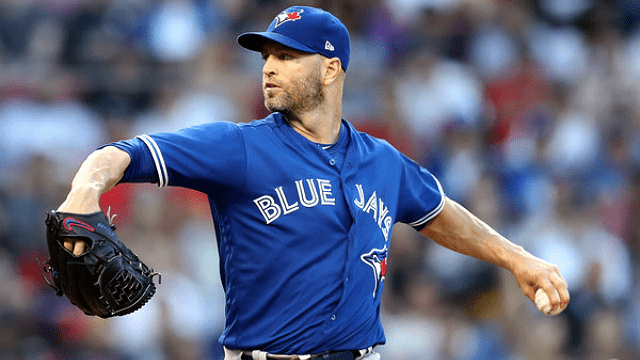 The hot stove is scorching. Though J.A. Happ wasn't moved on Wednesday night, he's likely to be traded at any minute. The Blue Jays lefty is in the midst of a fine season, though he's struggled recently. How does he fit the Yankees? Let's look!
Current performance
James Anthony Happ carries a 4.18 ERA (3.84 FIP) over 114 innings and 20 starts into play Thursday, though he had a 3.62 ERA (3.64 FIP) heading into July. His early season performance, particularly his May and June results, earned him his first All-Star bid as the Blue Jay's lone representative.
To start this month, the 35-year-old southpaw suffered three consecutive lackluster starts, allowing 18 runs (13 earned) while walking eight and striking out 15 over 12 innings. He gave up four homers as well. Yikes. In his first start after picking up a save in the All-Star Game, he returned to form with one run over five innings.
Why is he an attractive asset? He sports a career-high strikeout rate of 27.4 percent without having the corresponding rise in walk rate (7.4 percent). While he's inducing fewer groundballs, he's creating more pop outs and fewer line drives. The concern is that he's allowing home runs at a hefty rate, surrendering 17 this season after giving up just 18 a year ago.
Happ has seen a rise in his swinging strike rate from 9.4 to a personal-best 10.5 percent despite throwing fewer pitches in the zone. Batters have swung and missed on pitches out of the zone more often and his overall contact percentage has improved from 80.1 to 77.7.
Like most lefties, Happ has always had a normal split, though he's been even better against same-sided batters this season. Only two of his home runs were hit by left-handers. He's been much better away from Rogers Centre (2.60 ERA on road vs. 5.22 ERA at home). Despite struggling at home, he's enjoyed a late-career revival since his brief stint with the Pirates in 2015 and his subsequent return to Toronto.
Current stuff
Happ used to be a 4-5 pitch pitcher, but now he comfortably relies on just 3-4 pitches, depending on if you consider the sinker a separate pitch from his fastball. He has mostly phased out his curveball and now uses his low-90s four-seam fastball and sinker more than 70 percent of the time. For off-speed offerings, he sits in the mid-80s with his slider and changeup, combining to use them in 25 percent of his pitches.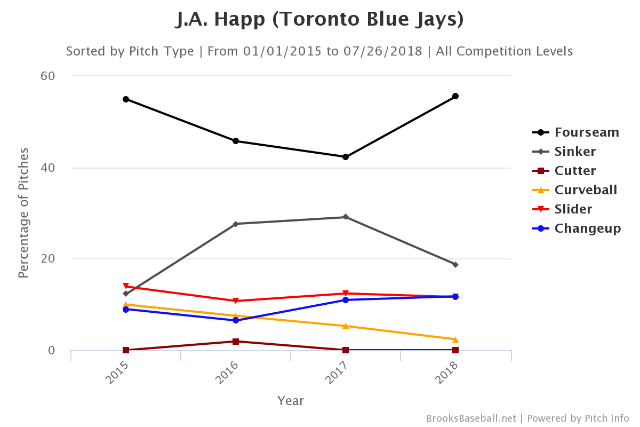 He throws his four-seam fastball around 93 mph and is in the midst of his highest velocity month for his fastball in his career, according to Brooks Baseball. The sinker around 91 mph.
Happ's fastball remains his best pitch, hence why he relies upon it. His struggles in July have been due to batters hitting his sinker more for average and his four-seamer for power.
When he's at his best, he hides the ball well and can blow his low-90s fastball by hitters.
Injury History
Happ has been a workhorse in recent seasons, but he did miss a month and a half with an elbow injury last season. However, he hasn't missed a start since May 30 of last season.
He's over five years removed from foot surgery and a scary line drive that hit him in the head and knocked him out for much of the 2013 season.
Contract Status
The southpaw is a rental, so no more years or control or money beyond this season. He's in the final year of a three-year, $36 million contract and has a little over $4 million remaining on his deal. The Yankees have around $8 million to play with before bumping into the luxury tax, so Happ fits their budget.
What Would it Take?
With the Blue Jays not in the midst of a full rebuild, they'll likely want controllable players near the majors. Joel Sherman reported that the Jays' brass likes Brandon Drury, who the Yankees have reportedly floated in trade offers.
If not Drury, I'd expect a package that splits the difference between the Red Sox's haul for Nate Eovaldi (one Triple-A pitcher with six years of control) and the Zach Britton package (one Triple-A starter, a Triple-A reliever and a Double-A starter). The Yankees have pitching depth from which to deal.
Does He Make Sense for the Yankees?
The Yankees are looking to stabilize a rotation that is currently tossing out Luis Cessa and Sonny Gray two out of every five days, so Happ would do just fine. His price may be a little high considering his contract status, but the Bombers can afford to splurge with a 40-man roster crunch looming in the offseason. Happ could also audition for a deal with the Yankees next season.
It doesn't hurt that the Red Sox struggle with lefties and the Yankees have them on the schedule nine more times this year. Happ isn't perfect in this regard, having gotten shelled by the Sox earlier this month. But at the very least, he could be a stable addition to replace the rotating cast of younger players at the back-end of the rotation.