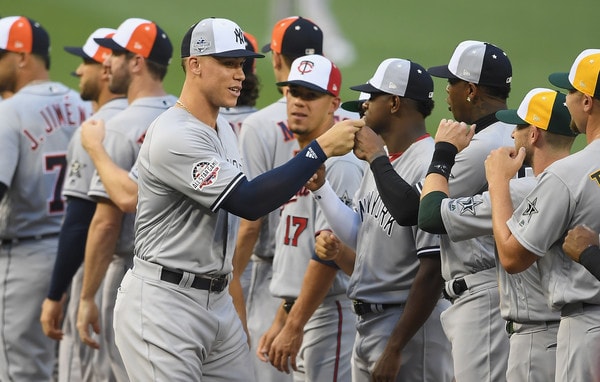 Tomorrow night the Yankees will resume the regular season with the first game of the second leg of the 2018 Subway Series. They took two of three from the Mets at Citi Field a few weeks ago. Now they'll play three games at Yankee Stadium this weekend. Sixty-seven games to go this season. Sixty-seven games until the real fun begins. Let's get to some thoughts.
1. Pretty much every starting pitcher trade candidate (J.A. Happ, Cole Hamels, Tyson Ross, Nathan Eovaldi, etc.) has stunk lately, which is a tad annoying. It has created (even more) reasons to be skeptical about those guys and trying to figure out the best fit is damn near impossible. At this point, Happ is my pick among the rentals even though he's allowed 25 runs in his last five starts and 26.1 innings. He's outpitched Hamels the last few years and he has a much cleaner injury history than Ross and Eovaldi. Maybe that doesn't matter though? Trading for a rental means the Yankees are acquiring 12 or so starts of the guy, plus postseason. Long-term health and performance is not a consideration. Who is best able to help you win right now, over the next three months? I still think it's Happ. I'm not nearly as sold on him as I was a few weeks ago — his track record is strong but his recent struggles can't be ignored — but I do think he's the best option. Hopefully Brian Cashman & Co. can dig up a better starter between now and July 31st. The current market options are suboptimal.
2. A trade deadline wildcard: The Cardinals. They're 48-46 and only four games out of a postseason spot, but they've lost 19 of their last 32 games, and they just fired manager Mike Matheny. There are some clubhouse issues that need to be resolved and there are enough underperformers on the roster (Dexter Fowler, Marcell Ozuna, Kolten Wong, etc.) that the front office might shake things up at the deadline, especially if they don't win much between now and then. And if they do decide to shake things up, would Carlos Martinez or Michael Wacha become available? Those two could interest the Yankees. (Wacha is still a few weeks away from returning from an oblique injury, however.) Point is, I've been kinda waiting and hoping something unexpected would happen and spice up the trade market. The Cardinals collapsing and firing Matheny just might be that thing. Their situation these next 12 days is a #thingtowatch.
3. Does Aroldis Chapman's lingering knee issue factor into the team's trade deadline plans at all? The Yankees are said to have interest in Zach Britton and Brad Hand, among others, and there's nothing wrong at all with adding another quality reliever to the bullpen. Chasen Shreve is replaceable, and with starters throwing fewer innings in general and the postseason devolving into one giant bullpen game, I don't think there are any diminishing returns. There will be plenty of high-leverage innings to go around, you know? Anyway, Chapman's been pitching on an achy knee for most of the season and he's indicated this is something that won't be clear up until the offseason. Would it make sense to go get someone like Britton, who could step in and close important late season games if necessary? Acquire another reliever essentially as an insurance policy against Chapman's knee, and, if that insurance policy is not needed, great! The more quality relievers, the better. I dunno. I don't think another bullpen arm is a necessity. It's a luxury and I'd happily take one. I do wonder whether Chapman's knee issue will factor into the team's decision-making at all though.
4. I have been beating this drum since the offseason, and since we're now 95 games into the season and all the fluky small sample size outlier performances have gone away, can Aaron Judge and Giancarlo Stanton please hit back-to-back now? Pretty please? I understand the whole "break up the righties" thing, but neither Didi Gregorius nor Greg Bird is good enough to sandwich between arguably the two best power hitters in baseball. There have been two many instances in these last few weeks where Brett Gardner gets on, Judge gets on … and then someone other than Stanton comes to the plate. It's a buzzkill and I say that as someone who loves Didi and is mildly enthusiastic about Bird. Stanton has been crushing the ball for more than two months now — he's hitting .303/.366/.567 (151 wRC+) with 18 homers in his last 284 plate appearances — and it sure would be cool to give him ample opportunity to drive in runs. Squeezing literally any other player on the roster between Judge and Stanton feels like doing the pitcher a favor. It's time. Bat Judge and Stanton back-to-back and enjoy.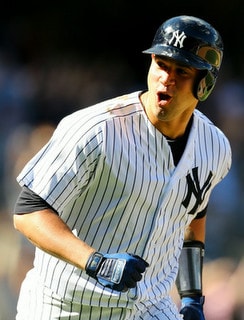 5. Really looking forward to Gary Sanchez coming back, you guys. Gleyber Torres too, but especially Sanchez. He is expected back tomorrow as long as his groin checks out okay after catching nine innings with Triple-A Scranton last night. Since Sanchez's injury Austin Romine and Kyle Higashioka are a combined 13-for-70 (.186) with six walks (.250 OBP), and opponents have gone 18-for-21 stealing bases in 20 games. Oy vey. They have hit five home runs in those 20 games, which is cool and unexpected, otherwise life without Gary behind the plate has not been much fun. He's such a better hitter than what he showed earlier this season and he'll add quite a bit of length to the lineup. The 7-8-9 spots without Gary and Gleyber these last few weeks have been rough. The sooner Sanchez comes back, the sooner the gets locked in at the plate, and the better the Yankees will be.
6. On paper, the Yankees have a very favorable second half schedule. Baseball Prospectus says the Yankees have an opponent's winning percentage of .471 the rest of the season. Only the Indians (.456) have an easier schedule. That's great, I'd much rather have the second lowest opponent's winning percentage than the second highest, but be careful not to overrate this. The Yankees have had issues with the crappy as hell Orioles this season, remember. The Mets are terrible, one of the five worst teams in baseball, but this weekend they're going to throw Noah Syndergaard and Jacob deGrom at the Yankees. As bad as the Mets have been, the Yankees will have their hands full this weekend. I'm glad the Yankees have so many games remaining against bad teams — I am especially looking forward to the 13-game stretch against the Marlins, Orioles, White Sox, and Tigers from August 21st to September 2nd — but an easy schedule does not necessarily mean easy wins. Any team can beat any other team on any given day in this game.
7. Seeing what Miguel Andujar has done so far this season — he's hitting .279/.316/.489 (116 wRC+) and is averaging an extra-base hit every other game — really makes me wish the Yankees would've given time at DH last season. I know, it doesn't matter now, but damn dude. Matt Holliday hit .179/.225/.300 (34 wRC+) in the second half last year and the Yankees kept waiting and waiting and waiting for him to turn it around, and it never happened. And, in the postseason, Chase Headley and Jacoby Ellsbury were largely useless in the DH role. Andujar could've helped! Maybe even enough to win the AL East! Blah. Not sure what prompted this, but I very much wanted the Yankees to give Andujar a shot at DH down the stretch last year — I'm fairly certain I wrote that a few times — and seeing what he's done this year only makes me wish they'd have given a chance even more.