Gray skies forever
The Yankees kicked of their 11-game, 10-day road trip with the type of loss that has become all too familiar for this team recently — a disaster outing by Sonny Gray, who was pummeled by the Blue Jays on Friday night.
If there was any team and/or place where Gray might finally show the Yankees he deserved a permanent spot in the rotation this summer, it would have been in Toronto against the Blue Jays. Over his previous six road starts, Gray had produced a 2.27 ERA. He also entered Friday's matchup with a career 1.88 ERA in seven starts at the Rogers Centre, the third-best mark by any pitcher with that many starts at the ballpark; and in four starts there as a Yankee, his ERA was 1.50.
All of that historical, positive momentum was quickly obliterated as Gray was pounded early and often by the Blue Jays lineup. He gave up five runs on six hits, including a home run, before getting yanked after the second inning. He retired only six of the 15 batters he faced, as he also walked two batters and hit a guy — and don't forget about the two wild pitches he threw. Congrats, Sonny, you get our Obscure Yankeemetric of the Series!
The list of Yankee starters that were able to cram all of that awfulness — five earned runs, nine baserunners, two wild pitches — into an out of two innings or fewer is short: Gray, Ivan Nova (Sept. 12, 2015) and Tommy John (May 25, 1980). Somehow, each of those three games were against the Blue Jays.
Yet, this might not have been Gray's most embarrassing start in the past week. In his previous start against the Red Sox on June 30, he gave up six runs on seven hits while lasting one out into the third inning. And with those back-to-back ugly games, he joined this group of pinstriped anti-legends:
Yankees Back-to-Back Starts of 2 1/3 IP or fewer, 5+ ER and 6+ Hits allowed:

Sonny Gray (2018)
Chien-Ming Wang (2009)
Jeff Johnson (1991)
Ed Whitson (1985)
Jim Bouton (1962)

— Katie Sharp (@ktsharp) July 7, 2018
Through Friday, the Yankees were 7-10 in games started by Gray and 49-19 in games started by all other Yankee pitchers. He had started 20 percent of all Yankees games, but was the starter in 34.5 percent of their losses.
We'll end with one highlight, Aaron Hicks hitting his 16th home run of 2018, the most he's ever hit a single season. It was also his 10th homer in his last 19 games; the only other Yankee switch hitters to hit 10 homers in a span of fewer than 20 games were Mark Teixeira (2009) and Mickey Mantle (many times).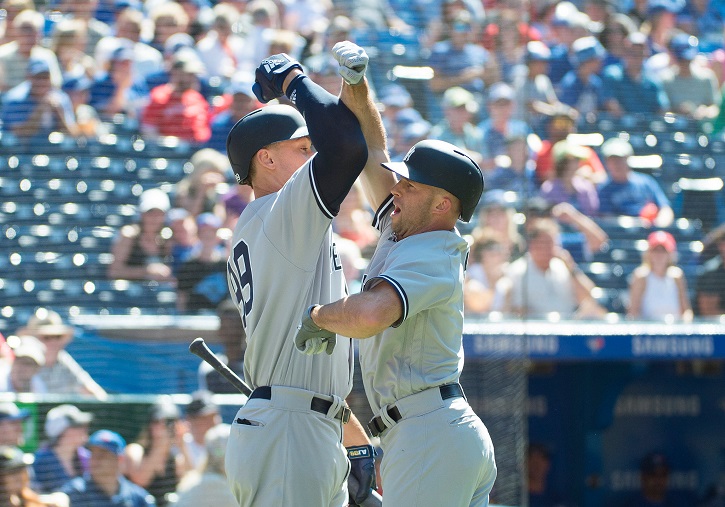 Gardy Party, All Rise
The Yankees wasted no time in erasing the bad taste from Friday's miserable loss. Brett Gardner cranked the very first pitch that J.A. Happ threw into the Rogers Centre seats, igniting the Yankees offense en route to a bounceback 8-5 win.
Judge followed Gardner's shot with another home run, the second time this season that the Yankees opened a game with back-to-back homers (also on May 26 versus the Angels). The only other time in franchise they did that twice in one season was 2003.
For Gardner, it was his 14th career lead-off homer, tied with Frankie Crosetti for the sixth-most in franchise history:
Yankees Most Career Lead-off HR

| Name | HR |
| --- | --- |
| Derek Jeter | 29 |
| Rickey Henderson | 24 |
| Alfonso Soriano | 21 |
| Hank Bauer | 17 |
| Chuck Knoblauch | 15 |
| Brett Gardner | 14 |
| Frankie Crosetti | 14 |
Judge's blast was his 25th home run of the season, the second straight year he's reached that milestone before the All-Star break. Since the first All-Star Game in 1933, the only other Yankee to hit 25-plus homers prior to the break in consecutive seasons was Roger Maris in 1960-61.
Miguel Andujar, an extra-base hit machine, recorded his 25th double of the season in the top of the ninth. The 23-year-old is the youngest Yankee ever to hit at least 25 doubles and 12 homers before the break (since 1933). The only other Yankees to do it at any age were Robinson Cano (2012), Hideki Matsui (2005), Alfonso Soriano (2002), Mel Hall (1992), Don Mattingly (1986) and Reggie Jackson (1977).
The Blue Jays worked Luis Severino hard from the start, and Severino clearly lacked his best stuff as he gave up three runs on five hits, including two homers, in five innings. Still, he was able to extend his streak of starts with three or fewer runs allowed to 16, the longest such streak by any major-league pitcher in 2018. It's also the longest streak within a season by any pitcher in franchise history.
Finally, the win snapped their Canadian Curse, as they clinched their first .500 or better season at the Rogers Centre since 2009. The run of eight consecutive losing seasons there (2010-17) was the Yankees longest active drought at any ballpark.
Two is enough
The Yankees capped off their trip north of the border with —shocking! — another series win, edging the Blue Jays 2-1 in 10 innings on Sunday. The Yankees are now 5-4 in extras this season, matching their win total from all of last year.
Coupled with their 13-inning victory in Toronto on June 6, this is the second time ever that the Yankees won multiple extra-inning games at the Rogers Centre in a single season. The other time it happened? Yup, 1998.
The Yankees also showed off their ability to win with smallball: their first run was scored on an RBI groundout, and the game-winning RBI single was set up with a hit by pitch (thanks Tyler Clippard!) and sacrifice bunt. They are now 8-10 when not hitting a homer, the same number of homerless wins they had the entire season last year (8-27). #toomanyhomers
Domingo German, who entered the game with the second-highest whiff rate (15.0%) in the AL among pitchers with at least 60 IP, dominated the Blue Jays with his typical swing-and-miss stuff — 16 swinging strikes among his 100 pitches (16%) — and allowed only one run over six strong innings. Twelve of the 16 whiffs came with his two-seam and four-seam fastball, the most he's gotten with those pitches in a game this season.
Giancarlo Stanton chipped in with his team-leading 89th and 90th hits of the season, including a third-inning single he drilled into left field with an exit velocity of 120.3 mph. It was the fifth base-hit of at least 120 mph by any player since Statcast tracking began in 2015; Stanton has four of the five, and Judge has the other one.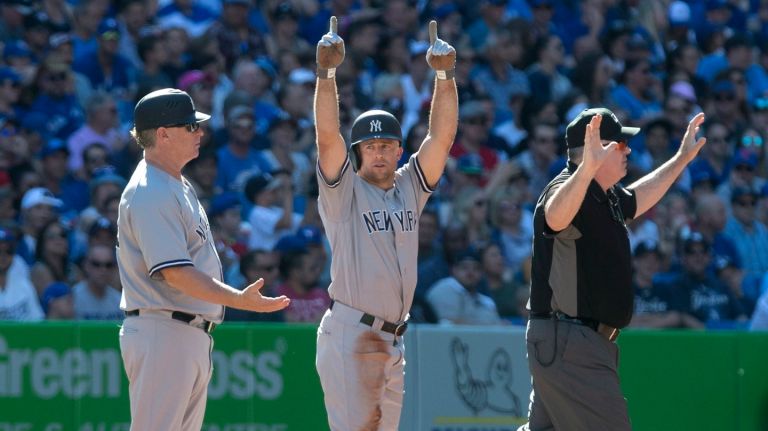 Brett Gardner was the hero, lacing an opposite-field single in the 10th to score Tyler Wade. It was his first extra-inning go-ahead hit this season and sixth of his career. That's tied for the fifth-most by a Yankee outfielder since 1925; the only guys ahead of him are Mickey Mantle (14), Bernie Williams (8), Joe DiMaggio (7) and Charlie Keller (7).