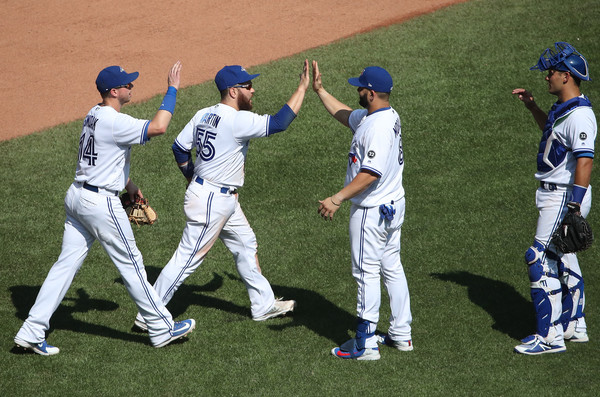 With yesterday's loss, the Yankees are officially a .500 team in the second-half, sitting at 13-13 since the All-Star break. They have a +3 run differential in that time, so it isn't all bad luck, either. This upcoming stretch is a great opportunity to turn it around, though, as their next five series (or sixteen games) are against teams that are comfortably below .500.
The Blue Jays are up first.
The Last Time They Met
The Yankees took two out of three from Toronto back in early July and are 9-4 against them on the season. They've outscored the Blue Jays by 20 runs in those thirteen games, too. Some notes from the most recent series:
David Hale, in his last appearance with the team, saved the bullpen in the first game. Sonny Gray was pulled after the second inning, and Hale got the call – and he soaked up 5.2 innings, allowing just one run. You can't ask for much more than that from a journeyman up-and-down guy.
Brett Gardner and Aaron Judge opened the second game with back-to-back home runs for the second time in 2018. To the video:
Domingo German had one of the best starts of his young career in the final game of the series, allowing one run on five hits and two walks in six innings, striking out five. Gardner gave the Yankees the win with a 10th-inning single.
Check out Katie's Yankeemetrics post for more interesting facts.
Injury Report
Josh Donaldson, former Yankee Brandon Drury, Aaron Sanchez, Yangervis Solarte and Troy Tulowitzki are all out with injuries, and none are expected back for this series.
Their Story So Far
The Blue Jays are 55-66 with a -76 run differential, having waved the white flag heading into the trade deadline. They dealt Seung Hwan Oh, J.A. Happ, Roberto Osuna, John Axford and Aaron Loup in late-July and, were it not for his injury, they may have dealt Donaldson as well. And they're still active now, as they've been shopping Curtis Granderson after passing him through waivers. Now's as good a time as any to say that Granderson would look really good in pinstripes.
Vladimir Guerrero Jr. is batting .353/.452/.627 (201 wRC+) in Triple-A right now, with more walks (10) than strikeouts (7) in 62 PA. This, after hitting .402/.449/.671 in 266 PA at Double-A. It'd be pretty great to see him at the highest level.
The Lineup We Might See
Russell Martin is still playing non-catcher positions fairly regularly, and I think that exemplifies the hand that manager John Gibbons has been dealt this season.
Curtis Granderson, RF – .235/.334/.421, 11 HR, 2 SB, 108 OPS+
Devon Travis, 2B – .246/.294/.398, 8 HR, 2 SB, 89 OPS+
Justin Smoak, 1B – .257/.364/.469, 18 HR, 0 SB, 129 OPS+
Teoscar Hernandez, LF – .242/.301/.486, 18 HR, 3 SB, 113 OPS+
Kendrys Morales, DH – .240/.327/.407, 13 HR, 2 SB, 102 OPS+
Russell Martin, 3B – .202/.349/.346, 10 HR, 0 SB, 94 OPS+
Aledmys Diaz, SS – .255/.290/.454, 15 HR, 3 SB, 102 OPS+
Kevin Pillar, CF – .253/.283/.418, 10 HR, 13 SB, 91 OPS+
Danny Jansen, C – .400/.364/.700, 1 HR, 0 SB, 184 OPS+
Randal Grichuk (97 OPS+) will probably start and play right field against J.A. Happ on Sunday. Luke Maile (84 OPS+) will see time at catcher, too.
The Starting Pitchers We Will See
Friday (7:05 PM EST): RHP Lance Lynn vs. RHP Marcus Stroman
The Yankees have faced Stroman twice this season, and they've hit him hard both times. His line in those two starts: 10.1 IP, 8 H, 12 R (10 ER), 7 BB, 13 K, 2 HR. It's been a rough year for Stroman on the whole, as the 27-year-old has pitched to a 5.03 ERA (84 ERA+) thus far while also spending about a month and a half on the disabled list. He has looked better of late, though.
Last outing (vs. TB on 8/12) – 5.0 IP, 5 H, 1 R, 1 BB, 2 K
Saturday (1:05 PM EST): RHP Luis Severino vs. RHP Sean Reid-Foley
The 22-year-old Reid-Foley made his big league debut on Monday, having earned the call-up by pitching well at both Double-A (2.03 ERA in 44.1 IP) and Triple-A (3.50 ERA in 82.1 IP) this season. He was a second-round pick out of high school back in 2014, and he has slowly but surely risen through the Blue Jays organization to find himself here today. Reid-Foley was a bit disappointing in 2017, but he was a consensus top-100 prospect prior to last year.
Reid-Foley is a four-pitch guy, featuring a mid-90s four-seamer, a mid-80s change-up, a mid-80s slider, and a low-80s curveball.
Last outing (vs. KC on 8/13) – 5.0 IP, 6 H, 3 R, 3 BB, 3 K
Sunday (1:05 PM EST): LHP J.A. Happ vs. LHP Ryan Borucki
Borucki's third big league start came against the Yankees on July 8, and it was a good one. The 24-year-old rookie tossed seven innings of one-run ball, scattering seven hits and walking two, while striking out five. He's been quite good for the Blue Jays so far, pitching to a 3.29 ERA in nine starts, and averaging just under six IP per start. He doesn't strike anyone out (14.5 K%), but his walk and groundball rates are a tick above-average, and it's working so far.
Last outing (vs. KC on 8/14) – 4.0 IP, 6 H, 4 R, 4 BB, 1 K
The Bullpen
The Blue Jays dealt four relievers leading into the deadline, and it shows. Tyler Clippard (3.44 ERA) and Ryan Tepera (3.98 ERA) are splitting closing duties for now, and they've been serviceable. It's a bit of a horror show behind those two, though, with Joe Biagini (5.70 ERA), Jake Petricka (4.88 ERA), and Ken Giles (10.80 ERA with Toronto) seeing lots of action. They have a bottom-ten bullpen on the season, and that's with a few months of Osuna, Oh, Loup, and Axford.
Who (Or What) To Watch
Can the Yankees round back into form against a bad team? That's the biggest question heading into this series, as they really need to take advantage of this favorable schedule. The Blue Jays aren't as bad as some of the other teams coming up, but they're a subpar team that has punted already, and that shows.
And maybe – just maybe – we'll see Granderson traded back to the Bronx midway through the series. Wouldn't that be neat?