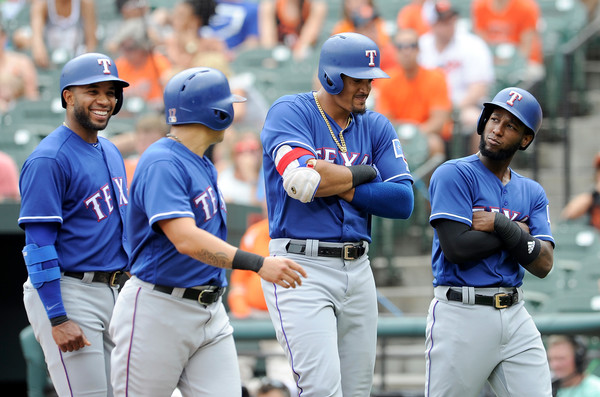 Tonight kicks off an eleven game homestand, eight of which are against teams that are comfortably below .500. This is a great opportunity for the Yankees to put some distance between themselves and the A's, which would solicit a much needed sigh of relief. Seeing them take care of business against the rebuilding White Sox was great – but they have to continue to beat-up on the bad teams.
The Rangers are up first.
The Last Time They Met
The Yankees visited Texas back in May, and they dropped two of three. Poor pitching was the issue back then, as the staff allowed seven home runs and 23 runs to the last-place Rangers. It wasn't a great look. Some notes from the series:
The Yankees had won eight consecutive series heading into this match-up.
Gleyber Torres homered twice off of Bartolo Colon. Why is that interesting (aside from the fact that everything Torres does is interesting)? Torres was three months old when Colon made his major league debut.
Torres had a stellar series in general, going 5-for-12 with four runs scored, four home runs, and seven RBI. That's good for a 1.878 OPS.
Eleven pitchers took the mound for the Rangers in the series. Four of them – Cole Hamels, Keone Kela, Jake Diekman, and Jesse Chavez – were traded in the days leading up to the deadline.
Check out Katie's Yankeemetrics post for more points of interest.
Injury Report
The Rangers currently have a starter (Doug Fister), two relievers (Tony Barnette and Matt Bush), and an entire outfield (Delino DeShields, Nomar Mazara, and Ryan Rua) on the disabled list. There's a chance that DeShields and Mazara could return during this series, but neither is a guarantee.
Their Story So Far
Texas is 51-65 with a -51 run differential, and are in the midst of a rebuild. Their 25-man roster currently has 10 players that are under the age of 25, and they're one of the youngest teams in the majors – and that's with Adrian Beltre (39) and Bartolo Colon (45) skewing the average age quite a bit. They've been allowing the kids to sink or swim all season, and they'll continue to do so for the foreseeable future.
For what it's worth, the Rangers are 9-3 in their last 12, with series victories over the Astros (a three-game sweep), Orioles, and Mariners. They've also been a .500-ish team since June 1, posting a 27-30 record, along with a +12 run differential.
The Lineup We Might See
Manager Jeff Banister is flexible with his lineups, owing to the positional flexibility of Jurickson Profar (all four infield positions and left field), Joey Gallo (first and all three outfield spots) and Isiah Kiner-Falefa (second, third, short, and catcher). He's also a proponent of giving his position players regular rest. That being said, we'll probably see something like this:
Shin-Soo Choo, DH – .270/.384/471, 20 HR, 3 SB, 124 OPS+
Rougned Odor, 2B – .273/.351/.484, 14 HR, 9 SB, 117 OPS+
Elvis Andrus, SS – .283/.332/.422, 4 HR, 4 SB, 97 OPS+
Adrian Beltre, 3B – .280/.336/.390, 6 HR, 0 SB, 91 OPS+
Jurickson Profar, 1B – .252/.338/.449, 6 HR, 0 SB, 105 OPS+
Joey Gallo, RF – .202/.314/.491, 31 HR, 3 SB, 107 OPS+
Robinson Chirinos, C – .223/.336/.447, 15 HR, 2 SB, 104 OPS+
Willie Calhoun, LF – .267/.303/.400, 1 HR, 0 SB, 83 OPS+
Carlos Tocci, CF – .190/.238/.241, 0 HR, 0 SB, 27 OPS+
Ronald Guzman (86 OPS+) and Isiah Kiner-Falefa (93 OPS+) will both see a couple of starts, as well.
The Starting Pitchers We Will See
Thursday (7:05 PM EST): LHP J.A. Happ vs. RHP Ariel Jurado
The 22-year-old Jurado spent parts of three seasons in Double-A (including all of 2017), and made his big league debut back in May. It's sort of strange that he has never pitched in Triple-A – especially when you consider that he's thrown over 300 IP at Double-A – but here we are. He has a 4.02 ERA through three starts (15.2 IP), with great walk (7.8%) and grounder (50.0%) rates, and a complete inability to strike people out (10.9%). And that all tracks with his time in Double-A, where he posted a 14.8 K% and 5.0 BB%.
Jurado is a sinker-baller through and through, as nearly three-quarters of his offerings are his heavy low-90s sinker. He also throws a low-90s four-seamer, a mid-80s slider, a mid-80s change-up, and a high-70s curve.
Last outing (vs. BAL on 8/3) – 5.0 IP, 6 H, 2 R, 2 BB, 3 K
Friday (7:05 PM EST): RHP Masahiro Tanaka vs. LHP Mike Minor
Minor was a promising young starter with the Braves in the first-half of this decade, but multiple shoulder injuries and surgery kept him from pitching in 2015 and 2016. He came back as a reliever with the Royals last year and was excellent, pitching to a 2.55 ERA with great peripherals in 77.2 IP. The Rangers signed him to a three-year deal this off-season and stuck him back in the rotation, and the results have been less than stellar. Minor has a 4.53 ERA (4.40 FIP) in 117.1 IP, with below-average strikeout and groundball rates. He's managed to stay healthy with the increased workload, though.
Minor is a four-pitch guy, with a low-90s four-seamer, a mid-80s slider (his best offspeed pitch), a mid-80s change-up, and a low-80s curve.
Last outing (vs. BAL on 8/4) – 7.0 IP, 4 H, 1 R, 0 BB, 6 K
Saturday (1:05 PM EST): RHP Lance Lynn vs. RHP Drew Hutchison
You may remember Hutchison for his three-plus seasons in Toronto – he made nine starts against the Yankees, and posted a 3.78 ERA in 50.0 IP. He spent all of 2017 in the minors, though, and sports a career 5.01 ERA in 442.0 IP. He was DFA'd by the Phillies earlier in the season, picked up by the Dodgers, and opted out of his contract with them on August 1. He was picked up by the Rangers shortly thereafter, and has made one disastrous start so far.
Hutchison is a three-pitch pitcher, utilizing a low-90s four-seamer, a mid-80s slider, and a mid-80s change-up. He used to throw a sinker, as well, but he's rarely using it nowadays.
Last outing (vs. BAL on 8/5) – 3.0 IP, 6 H, 6 R, 3 BB, 0 K
Sunday (1:05 PM EST): LHP CC Sabathia vs. LHP Martin Perez
Perez was a legitimate top prospect half a dozen years ago, but injuries and inconsistency have kept him from reaching his ceiling. He's still only 27, so there's still time – but he also has a 4.56 ERA (4.41 FIP) in 728.2 IP, and has struggled mightily in 2018 (6.15 ERA/6.04 FIP). Do you remember when prospect folk used to debate Manny Banuelos vs. Martin Perez? Because I do.
Perez is a sinkerballer, with more than half of his pitches being his low-90s sinker. He also mixes in a low-90s four-seamer, a mid-80s change-up, a mid-80s slider, and a big, high-70s curve.
Last outing (vs. SEA on 8/6) – 7.0 IP, 10 H, 3 R, 2 BB, 3 K
The Bullpen
The Rangers dealt their closer (the aforementioned Kela) to the Pirates at the deadline, and former closer Matt Bush is on the DL. Jose Leclerc (2.16 ERA, 35.2 K%) has taken over as the closer, and he's been quite good all season. It's a little bit of a mess behind him, though, as the team works around injuries and trades to sort out the middle innings. Alex Claudio (5.10 ERA) and Chris Martin (4.00 ERA) are usually in the mix.
Who (Or What) To Watch
Adrian Beltre is one of my favorite players, and he's worth watching wherever he is, be it the field, the bench, or the batter's box. I'm also intrigued by the resurgent Rougned Odor, who is walking in 8.4% of his PA, against a previous career-best of 4.9%.
In a general sense, though, I'm just looking for the Yankees to continue to take care of business.