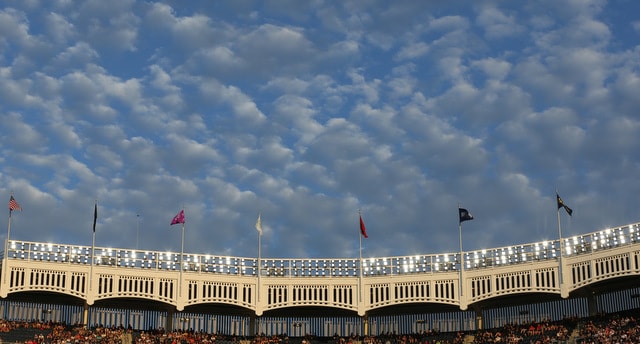 The Yankees wrap up this six-game homestand against the two worst teams in baseball this afternoon with the second of two against the Orioles. Tomorrow the Yankees head up to Boston to start a super important four-game series. Could very well be the biggest series of the season. Gotta take care of business against the O's today first. The Yankees have lost enough games to Baltimore already. Focus on the task at hand.
Sonny Gray is on the mound this afternoon and he has pitched quite well the last few times out, not coincidentally against bad teams. The Yankees lined up the rotation out of the All-Star break in such a way that Gray would only face crummy teams like the Mets and Royals and Orioles. Can't say I blame them. Beat the Orioles today then get ready for that massive series at Fenway Park. The lineups:
New York Yankees
1. LF Brett Gardner
2. DH Giancarlo Stanton
3. SS Didi Gregorius
4. CF Aaron Hicks
5. 2B Gleyber Torres
6. 1B Greg Bird
7. 3B Miguel Andujar
8. C Austin Romine
9. RF Shane Robinson
RHP Sonny Gray
Baltimore Orioles
1. SS Tim Beckham
2. RF Jace Peterson
3. CF Adam Jones
4. DH Danny Valencia
5. 1B Chris Davis
6. LF Trey Mancini
7. C Caleb Joseph
8. 3B Renato Nunez
9. 2B Breyvic Valera
RHP Alex Cobb
Pretty cloudy in New York with rain in the forecast later today. Fortunately things cleared up enough that there shouldn't be much of a problem getting today's game in. First pitch is scheduled for 1:05pm ET and you can watch on YES locally and MLB Network out-of-market. Enjoy the game.
Roster Move: Lance Lynn has arrived and is on the active roster. He is wearing No. 36. Ryan Bollinger was sent down to clear a roster spot. I get the sense he's going to be outrighted off the 40-man roster pretty soon. Lynn last started last Friday and is available to pitch today.
Injury Update: Aaron Judge (wrist) is getting better but he has not started baseball activities aside from shagging fly balls during batting practice. The hope is he can start taking dry swings within a week … J.A. Happ (hand, foot, and mouth disease) is doing better and tentatively remains on track to make his scheduled start Saturday. The Yankees will have a better idea about his availability tomorrow. If Happ can't start Saturday, Lynn and Luis Cessa are the alternatives.