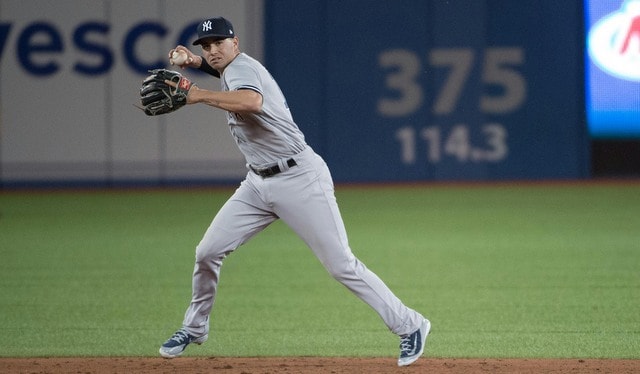 For the fourth consecutive game, Neil Walker started in right field last night. They're the only four right field starts of his career. Aaron Judge is out with his fractured wrist and Giancarlo Stanton is nursing a tight hamstring, which has pushed Walker into right field. Who would've guessed it would come to this back in April and May? Goodness.
Neither Judge nor Clint Frazier is expected back anytime soon, which means either Walker will continue to see time in right field (likely) or Shane Robinson will get more playing time than anyone would like (possible). Either way, it's not an ideal situation. Walker has hit very well the last few weeks but he's no outfielder. Robinson is what he is. A replacement level depth guy.
The Yankees traded away Billy McKinney at the deadline — they traded McKinney literally hours before Judge got hurt — so their Triple-A outfield options are limited. One of them: Tyler Wade, an infielder by trade. Wade has been up and down a few times already this year. Does it make sense to call him up to replace Robinson? Let's talk it out.
1. He has more outfield experience. Not more than Robinson, obviously, but more compared to where he was earlier this season. The Yankees had Wade begin the process of learning the outfield during the 2016 Arizona Fall League and, since then, he's played 36 total games in the outfield between Triple-A and MLB. Not much! But it's more than Walker.
The Yankees have played Wade in the outfield in the big leagues and not only in emergency situations. He started a game in left field earlier this year and started one game in left and one game in right last year. They're willing to play him out in the outfield at the MLB level despite his lack of experience. Heck, they're playing Walker in right field now. They're open-minded about this. A little added experience helps though.
2. He has more offensive potential. Look, I'm a Wade fan, but I am under no illusions that he'll one day be an impact bat. He's a slash-and-dash speed guy who figures to draw enough walks to post respectable on-base percentages. Maybe at his peak he can be a leadoff guy. More than likely, he's a eighth or ninth place hitter long-term and that's fine. Teams need those guys too.
Robinson, meanwhile, is the quintessential replacement level player. He's less than three months away from his 34th birthday, so, even if he had much offensive upside, he's at the point where you expect age-related decline anyway. Robinson is a career .223/.292/.295 (63 wRC+) hitter in 829 big league plate appearances and this year he authored a .261/.296/.330 (75 wRC+) line in 202 plate appearances with Triple-A Scranton before being called up.
We know what Robinson is. He's a career up-and-down guy and hey, there's nothing wrong with that. Robinson has played in parts of nine MLB seasons now and his career earnings are in the seven figures. We should all be so lucky. There's not much upside here though. Wade is a young player who some ability who might be able to chip in more offensively. He might not be able to, but isn't it worth it to find out?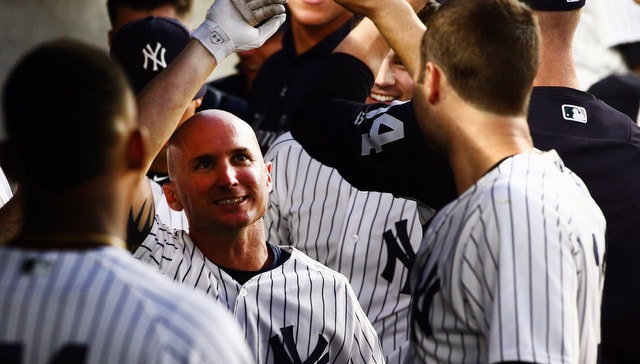 3. He brings speed as well. If nothing else, we know Wade can run. Statcast has his sprint speed at 28.8 ft/s, which is on par with noted speedsters like Starling Marte and Ozzie Albies. The Yankees' sprint speed leaderboard:
Brett Gardner: 29.0 ft/s
Tyler Wade: 28.8 ft/s
Shane Robinson: 28.4 ft/s
Turns out Robinson can run too. I'd trust the 23-year-old to retain his speed late into the season more than 33-year-old, however. Remember, Jacoby Ellsbury is done for the season, so he won't be the designated September/October pinch-hitter. Wade is the obvious in-house candidate to fill that role. So, then, let him play and run the bases, and gain experience.
4. He has a chance to be a long-term piece. I have no idea where Wade fits long-term. Possibly nowhere. But I know where Robinson fits long-term: Nowhere. No offense to the guy, but he is a journeyman playing for his fourth organization in the last five years, and as soon as the season ends, he'll be among the first guys dropped from the 40-man roster. Consider what had to happen for Robinson to get called up and receive fairly regular playing time:
Judge is on the disabled list.
Stanton is nursing a tight hamstring.
Ellsbury is on the disabled list.
Frazier is on the disabled list.
McKinney has been traded away.
Robinson is like eighth on the outfield depth chart and he is performing as expected. He's a short-term fill-in who wouldn't have been called up if Frazier was healthy or if McKinney had not been traded. Is Wade a long-term piece? I have no idea. It seems unlikely given the rest of the roster. I know Robinson is not a long-term piece though. Isn't it time to find out what Wade can do? The kid has 117 big league plate appearances and 130 days on the MLB roster. That's nothing.
* * *
Given Judge's and Frazier's timetables — or lack of firm timetables, more accurately — it stands to reason Robinson isn't go away anytime soon. September call-ups are less than three weeks away and he very well might be on the roster for the duration of the regular season. Wade seems like the better option to me, but the Yankees know their players better than anyone, and if they're not calling him up for outfield spot start duty, there's probably a pretty good reason.