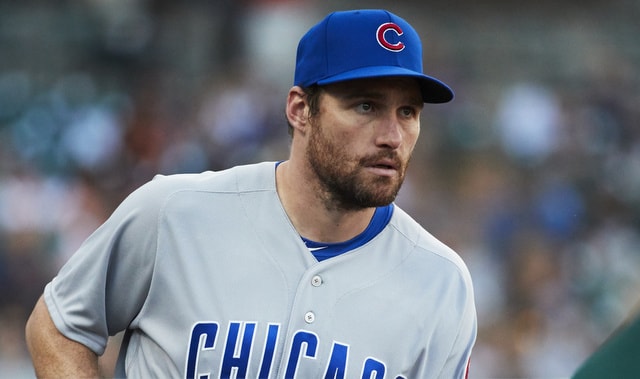 Tuesday was a fairly eventful day in the National League. The Nationals, hands down the biggest disappointment in baseball this season, decided to throw in the towel and cash in some trade chips. Daniel Murphy was traded to the Cubs and Matt Adams was dumped on the Cardinals on a waiver claim. Bryce Harper, meanwhile, was claimed by the Dodgers and pulled back.
The Yankees, thanks to their seemingly never-ending injuries, have an opening for another bat on the roster. Aaron Judge is out, Didi Gregorius is out, Gary Sanchez is out, and Clint Frazier is out. Neil Walker was the everyday right fielder for a while (and still might be!). Aaron Boone indicated Giancarlo Stanton's hamstring has improved to the point where he could start playing the field regularly, freeing up the DH spot.
That's great. But it frees up the DH spot for who? Luke Voit? Ronald Torreyes? Tyler Wade? No, no, no. Stanton playing the field is good news because healthy players are better than injured players. All it does is shift the lineup hole from one position to another though. Stanton is right, Walker at second, and ??? at DH rather than Stanton at DH, Walker in right, and ??? at second. See what I mean?
The Yankees still have time to add a bat before the August 31st postseason eligibility deadline — players not in the organization by 11:59pm ET on August 31st are not postseason eligible, and that's a hard deadline with no loopholes — but getting that bat won't necessarily be easy. Tuesday's trades are a reminder of that:
The Cubs claimed Murphy on trade waivers.
The Cardinals claimed Adams on trade waivers.
The Dodgers reportedly claimed Harper on trade waivers.
When a player hits trade waivers, he goes through his league first before passing through the other league, so American League teams had no chance at Murphy, Adams, or Harper. And, because only the Red Sox have a better record than the Yankees, it means the Yankees are 29th on the NL waiver priority list and 14th on the AL waiver priority list.
That's not great. I mean, it is great because the Yankees do have the second best record in baseball and that's awesome. I'd rather have a great record than a high waiver priority. That said, it does complicate things when it comes to trade waivers. A Harper trade was never happening. Murphy or Adams? The Yankees could've had interest in either guy, especially Adams.
"Because of our record, it's unrealistic to think we would add a substantial player," said Brian Cashman to Joel Sherman earlier this week. The Yankees could go after a player who has already cleared waivers — Curtis Granderson, Justin Smoak, and Andrew McCutchen are the most notable players who've cleared trade waivers based on available reports — but, like Cashman said, I don't think they qualify as substantial players. (McCutchen certainly was at one point. I'm not sure that's the case now though.)
That said, the Yankees don't need a substantial player. They just need some who passes the "better than Luke Voit" test, and that's not a very high bar. And remember, it's not just about plugging a roster hole while Judge and Didi and Sanchez are out. Adding a bat now provides protection for future injuries — the Yankees are one outfield injury away from Shane Robinson, Everyday Player — and also gives the team more options come postseason time.
At some point the Yankees will get Judge, Gregorius, and Sanchez (and Frazier?) back and the lineup will look more formidable. They're also in a pretty good spot with regards to the postseason race, so adding another bat is not super duper urgent. There is a clear need for one though, and I'd much rather the Yankees have too many quality players than not enough. They've been beset by injuries. Adding another player rather than relying on the Luke Voits and Shane Robinsons of the world is something a team with World Series aspirations should do.