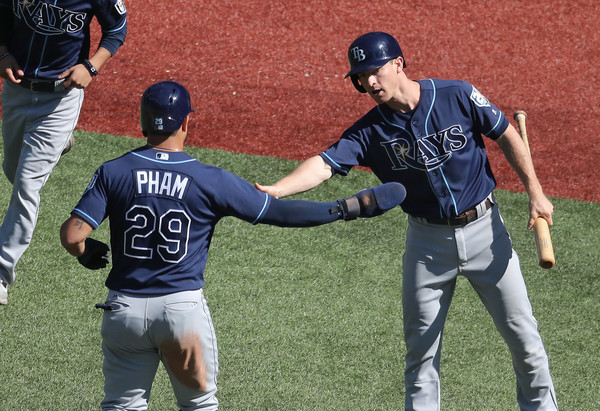 The Yankees magic number to clinch home field advantage is five, with seven games to play. They're two games up in the loss column, which is good, but they're remaining schedule is quite difficult – especially when compared to the A's, who will face the Mariners and Angels. The odds are in the Yankees favor but, to be incredibly cliche, that's why they play the games.
With two series remaining, the Yankees will first travel to Tampa Bay.
The Last Time They Met
The Yankees hosted the Rays for a three-game set back in the middle of August, dropping two out of three by a combined score of 10-6. Some of that could be chalked up to Aaron Judge and Gary Sanchez being on the DL, Andrew McCutchen still in San Francisco, and Luke Voit not yet emerging – but it was still a bothersome series to watch. Some notes:
J.A. Happ spun a gem in the first game, throwing 7 scoreless innings and allowing just six base-runners (one of which was via HBP). It was his first of three scoreless outings for the good guys thus far.
Miguel Andujar went 2-for-4 with a double and a solo home run in game two … and the rest of the offense went 3-for-28 with a double.
Masahiro Tanaka allowed two runs in the first, but settled down nicely from there; unfortunately, the Yankees once again mustered only a single run – this one off of a double by Giancarlo Stanton.
Check out Katie's Yankeemetrics post for more (not so) fun facts.
Injury Report
Wilmer Font, Jose Mujica, and Daniel Robertson have been added to the Rays fairly lengthy list of players that are done for the season. Ji-Man Choi and Kevin Kiermaier are also dealing with nagging injuries, though neither has hit the DL.
Their Story So Far
The Rays are 87-68 with a +85 run differential, and have an incredibly slim chance at making the playoffs as the second Wild Card team. To do so they would need to win out while the A's lost out, though, so the degree of 'slim' cannot really be exaggerated. That being said, it's still kind of miraculous that this team has played so well since opening the season 3-12, considering that they are tied for the eight-best record in baseball with the Cleveland Indians.
Their season has been unconventional, to say the least, but their bullpen/opener strategy appears to be catching on a bit more than expected – so this may end up being one of the more memorable non-playoff seasons in recent memory.
The Lineup We Might See
Operating under the assumption that Kiermaier and Choi will be playing:
Mallex Smith, RF – .299/.370/.409, 2 HR, 36 SB, 118 OPS+
Matt Duffy, 3B – .295/.359/.367, 4 HR, 12 SB, 104 OPS+
Ji-Man Choi, DH – .267/.353/.513, 10 HR, 2 SB, 137 OPS+
Tommy Pham, LF – .273/.361/.456, 20 HR, 13 SB, 124 OPS+
Joey Wendle, 2B – .301/.356/.439, 7 HR, 15 SB, 121 OPS+
Willy Adames, SS – .271/.340/.410, 10 HR, 6 SB, 109 OPS+
Kevin Kiermaier, CF – .220/.284/.376, 7 HR, 10 SB, 82 OPS+
Jake Bauers, 1B – .198/.316/.389, 11 HR, 5 SB, 96 OPS+
Jesus Sucre, C – .215/.250/.260, 1 HR, 1 SB, 43 OPS+
Nick Ciuffo (73 OPS+) will probably see a start or two at catcher, and Carlos Gomez (80 OPS+), C.J. Cron (125 OPS+), and Austin Meadows (117 OPS+) will see some time in the lineup, as well.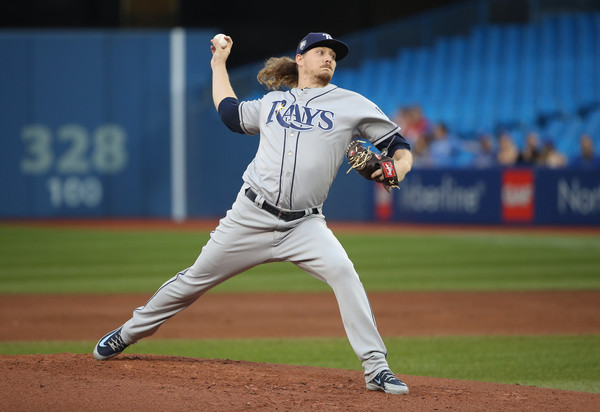 The Starting Pitchers We Will See
Monday (7:00 PM EST): RHP Jonathan Holder vs. RHP Diego Castillo
A 24-year-old rookie, Castillo has been quite good for the Rays this year. He has a 3.25 ERA (127 ERA+) in 52.2 IP, spread across 10 starts and 31 relief appearances. That's right in-line with his 3.33 FIP, as he has solid strikeout (9.9 K/9) and walk (3.1 BB/9) rates. He's faced the Yankees six times this year, pitching to the following line: 7.0 IP, 6 H, 3 R, 5 BB, 5 K. Castillo is a fastball-slider guy all the way, featuring a high-90s four-seamer and a high-80s slider.
The Yankees, meanwhile, announced earlier today that Holder will get tonight's start. Aaron Boone hinted at a bullpen game at some point this week as the Yankees look to get their pitching staff lined up for the Wild Card Game next week. There's a chance Holder will be used as an opener with Sonny Gray set to take over in the second inning, after Holder faces the top of the lineup.
Last outing (vs. TOR on 9/21) – 1.0 IP, 1 H, 1 R, 0 BB, 1 K
Tuesday (7:00 PM EST): TBA vs. TBA
Wednesday (7:10 PM EST): TBA vs. TBA
Thursday (1:10 PM EST): TBA vs. RHP Tyler Glasnow

The Yankees are trying to get their postseason rotation lined up and the Rays are using openers, so the starting pitchers for the majority of the series remain TBA. The Rays acquired Glasnow in the Chris Archer trade and he's been league average for the Rays (4.11 ERA and 100 ERA+), throwing 50.1 IP with a 9.8 K/9 and 2.9 BB/9. Glasnow is similar to a young Dellin Betances. He's got an upper-90s fastball and a hammer breaking ball. His strike-throwing ability varies on a game-by-game basis.
Last outing (vs. TOR on 9/22) – 6 IP, 6 H, 3 R, 3 ER, 2 BB, 6 K, 1 HR
The Bullpen
The Rays bullpen has thrown 779.2 IP this year; the Angels are in second, with 606.0. That difference is greater than the difference between the Angels and the team with the fewest relief innings (the Indians with 440.0), so it's kind of miraculous that the Rays bullpen is in the top-ten in all of baseball in adjusted-ERA this year. Their bullpen was showing signs of fatigue in late-July and early-August, but it has rebounded to the tune of a 110 ERA+ in the second-half.
Sergio Romo is nominally the team's closer, picking up 5 saves so far this month, but he has struggled this month, allowing home runs in three of his last five appearances, and is being used a bit more sparingly. Ryan Yarbrough (3.88 ERA in 139.1 IP) is the team's long-reliever, with Yonny Chirinos (3.68 ERA in 85.2 IP) second-in line for those longer appearances. Jose Alvarado, Adam Kolarek, and Andrew Kittredge have been playing big roles for them of late, as well.
Who (Or What) To Watch
It's a rivalry series with both team's having something on the line, regardless of however fleeting it may be for the Rays – what more do you need?