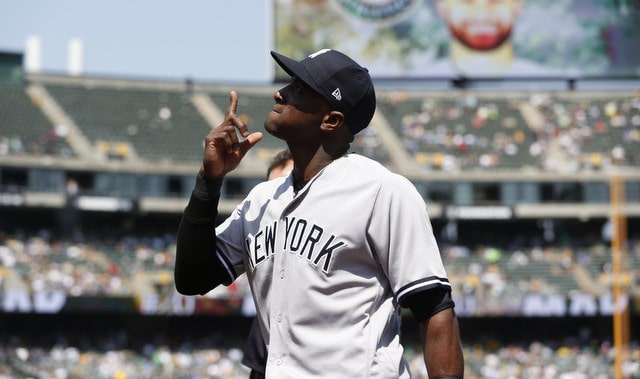 The Yankees made two trades prior to the August 31st postseason eligibility deadline last week. The first brought Andrew McCutchen to New York in a three-player trade with the Giants. The deal had been reported a day earlier, so it wasn't a surprise when it went down. It always seemed likely the Yankees would add an outfielder for September. They got a pretty good one.
The second trade came out of nowhere. The Yankees landed shortstop Adeiny Hechavarria from the Pirates for a player to be named later or cash. Bryan Hoch reports the Rays and Pirates are paying pretty much his entire $5.9M salary this season. The Yankees are only responsible for the pro-rated portion of the league minimum, or roughly $88,000. A cheap pickup in every way.
It was easy to wonder what the Yankees would do with Hechavarria after the trade went down. My first thought was Didi Gregorius would miss more time than expected. Thankfully that does not appear to be the case. But, even with Gregorius out, the team still had Tyler Wade and Ronald Torreyes as reserve middle infielders behind Gleyber Torres and Neil Walker. There's always room for another infielder, sure, but it didn't seem completely necessary.
Hechavarria is 1-for-5 with a single with the Yankees but already we've seen his value. He's a fantastic defensive shortstop. A clear defensive upgrade over the error-prone Torres and a better all-around player than Wade or Torreyes. Neither Hechavarria nor Torreyes will hit much. Hechavarria will at least play the heck out of shortstop. We've seen it already.
Adding Hechavarria was one of those "improve the margins of the roster" moves that tends to raise some eyebrows at the time it is made before coming into focus. He serves two purposes for the Yankees. One, with Gregorius out, he improves the defense considerably. Gleyber is going to be on the field either way. It's either Hechavarria's great defense or Walker's good bat or Torreyes' okay all-around play. Hechavarria it is.
Secondly, when Gregorius does return, Hechavarria gives the Yankees a great defensive replacement for Miguel Andujar. Andujar has to come out for defense late in close games — I love the kid, but it has to happen — and, previously, the Yankees were playing Walker at third base, which is fine. Now it'll be Hechavarria. It's been a while since Hechavarria has played third (2012), but the defensive tools are all there, and I think he'll be able to shift back there with no problems at all.
It would be silly to expect much offense from Hechavarria. He's a career .255/.291/.344 (72 wRC+) hitter with a .253/.286/.340 (68 wRC+) line in 2018. The best thing you can say about him offensively is that he won't strike out excessively (16.2%). Maybe Hechavarria will go into a BABIP fueled hot streak at some point this month. That'd be cool. Otherwise, the Yankees picked him up to help an infield defense that has been underwhelming this year, and so far he's done exactly that.
"Just a premium defender at shortstop," said Aaron Boone following the trade. "I just feel like we really add to our strength up the middle. We just really like his defensive capabilities and that element that he gives us while Didi's down and even after that, potentially just having some defensive flexibility, even late in games."