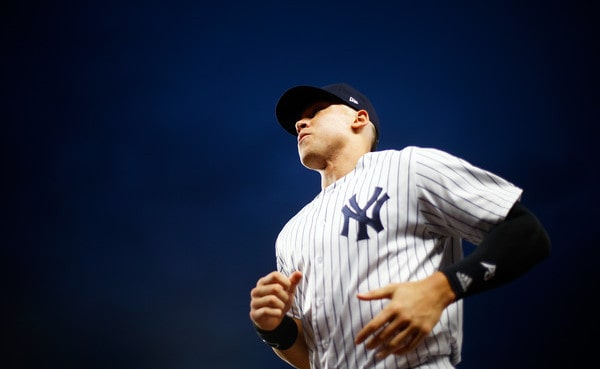 Today is a special day. You know what today is? Today is the first day this season the Yankees have a chance to clinch a postseason spot. A win over the Orioles and the Rays losing to the Blue Jays will do the trick. It has to be both. Either/or won't do it. If all that happens, the Yankees will return to the postseason. Here are the Yankees' various magic numbers:
Two to clinch a postseason spot.
Four to clinch the homefield advantage tiebreaker over the A's (intradivision record).
Eight to clinch homefield advantage in the Wild Card Game.
Still some work to be done. Anyway, this afternoon the Yankees will look for their sixth consecutive win over the Orioles. Remember when they couldn't beat them earlier this year? The Yankees dropped three of four to the O's at Yankee Stadium in April. Since then, they've won ten of their last 13 meetings. That'll work. Go beat 'em again. Here are today's lineups:
New York Yankees
1. LF Andrew McCutchen
2. RF Aaron Judge
3. SS Didi Gregorius
4. DH Giancarlo Stanton
5. CF Aaron Hicks
6. 3B Miguel Andujar
7. 1B Luke Voit
8. C Gary Sanchez
9. 2B Gleyber Torres
RHP Lance Lynn
Boston Red Sox
1. CF Cedric Mullins
2. LF D.J. Stewart
3. SS Jonathan Villar
4. RF Adam Jones
5. 1B Trey Mancini
6. DH Chris Davis
7. 2B Breyvic Valera
8. 3B Steve Wilkerson
9. C Caleb Joseph
RHP David Hess
It is cool and cloudy in New York this afternoon. Not a bad afternoon to spend at the ballpark. Today's game will begin at 4:05pm ET and you can watch on YES locally and MLB Network out-of-market. Enjoy the game.
Rotation Update: J.A. Happ will start tomorrow after all, the Yankees announced. That spot was listed as TBD yesterday. That keeps Happ lined up to start the Wild Card Game on normal rest. The Yankees could easily shift things around next week to line someone else up for the Wild Card Game.