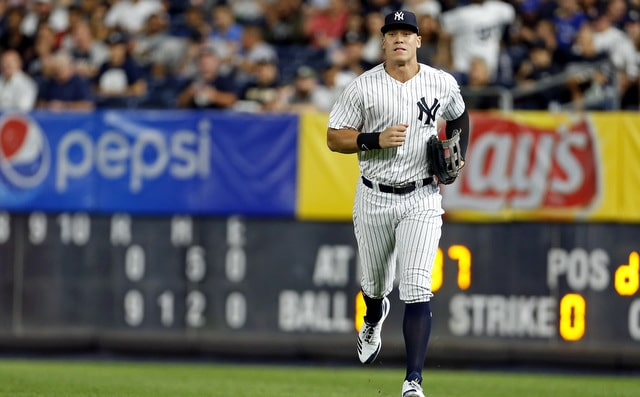 The narrative is oh so easy to construct. The day Aaron Judge was activated off the disabled list, the Yankees went out and clobbered the Blue Jays. In his first two games back in the starting lineup, they mounted a come-from-behind win over the Red Sox and then blew them out the next night. Aaron Judge is back, and the boys are fired up.
"I definitely think certain guys energize a situation, and I think — when we're talking about Aaron — not only is he a special player, but he's a special presence on your club," said Aaron Boone earlier this week (video link). "I do believe there's more impact there than potentially even his outstanding performance and we hope that's the case. We hope that he can provide one of those intangible things you can't always put your finger on. I certainly believe he's one of those guys capable of that."
The impact of Judge's return on the field is obvious. He's still shaking off the rust at the plate — Judge is 1-for-8 with a little flare single in his two games back as a hitter — but the potential for serious damage is there every time he steps in the box. Judge is an imposing figure at the plate. He's also a quality right fielder and he's bumped Brett Gardner to the bench, which is the best thing for the Yankees right now.
Off the field, measuring Judge's impact is impossible, but that doesn't mean that impact doesn't exist. Judge was with the Yankees the entire time while rehabbing the wrist. He didn't go to Tampa for a few weeks or anything like that. Judge remained with the Yankees, went on the road trips, and was in the dugout for every single game while on the disabled list. He was with the team, but he didn't feel like he was with the team.
"Just not grinding with my team. That's the biggest thing. That's what I love to do," said Judge earlier this week (video link) when asked what he missed most while on the disabled list. "Through the good times and the bad times, I want to be in the trenches with my guys. Missing out on that, the ups and downs, that's what I missed the most."
Even though he's less than two full seasons into his big league career, Judge has clearly emerged as a leader for the Yankees. He's great on the field, he's ultra-accountable, and he has a squeaky clean image off the field. A controversy-free superstar and a key figure in the clubhouse. "I hate to put it on a second year player, but he is definitely one of the leaders here," said Dellin Betances to Joel Sherman.
Is it a coincidence the Yankees beat up on the Blue Jays and Red Sox after Judge returned? Yeah, probably. Marco Estrada had been struggling for a while before going into last week's start, and the Yankees didn't do a whole lot before Neil Walker's home run the other night. Last night could easily be chalked up to David Price doing what he normal does in Yankee Stadium. Those frustrating losses Saturday and Sunday still happened, after all.
That doesn't mean Judge isn't having an impact on the team with his mere presence, however. This is still baseball. You're going to lose games and teams often look bad — sometimes very bad — when they lose. Judge is a baseball player. He's not a miracle worker. His presence and return to the lineup can give the team confidence and an on-field boost, though that's only part of the winning equation. He can only lead. Others have to follow.
It is far too early to discuss Judge as a potential captain — Derek Jeter was named captain in 2003 (!), his eighth MLB season and after four World Series rings — but he has captain qualities, I think. At least based on what I can tell as an outsider. He's a go-to guy in the clubhouse, he seems to connect with literally everyone on the roster, and any message he tries to send gets backed up by his play. It can be easy to overstate a player's intangibles and their impact, but it's a real thing, and Judge has it.
"It's tough when you're not playing, to try to tell a guy who's out there grinding his butt off, 'Hey, come on, keep it up, let's go," when you're sitting on the bench eating sunflower seeds and chewing gum. That's kinda tough," Judge added following his first game back in the lineup. "It's a little easier to do that and kinda get into some guys when you're out there fighting with them."