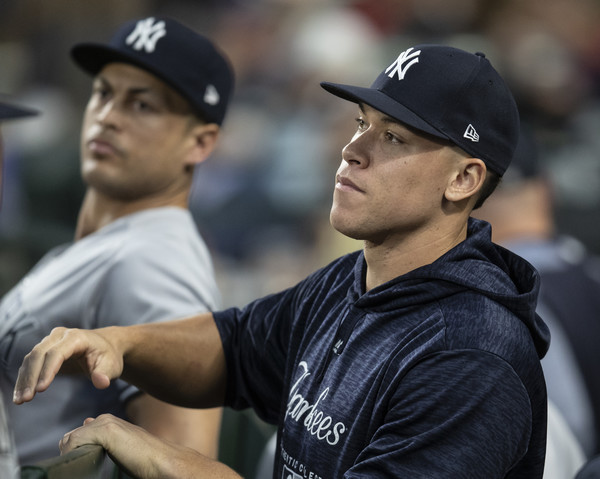 Aaron Judge is the best player on the Yankees, and it isn't particularly close. He leads the team in WAR by half a win, despite having last played on July 26, and his 155 wRC+ leads the team by 27 points. Hell, he's still ninth in the American League in WAR despite giving up a minimum of 93 plate appearances to every other player in the top-ten. Judge is one of the best players in baseball, and that cannot be overstated.
And the Yankees have seriously felt the impact of his absence. They're 64-35 (.646 winning percentage) with Judge in the lineup, and 26-19 (.578) without him. While that big swing cannot be solely attributed to Judge, it's clear that the offensive identity of this team is wholly different without him.
So what's with the title of this post, then? Simple: Judge is under team control for a minimum of four more years, and the Yankees are built for 2019 and beyond. So why risk further injury?
As is the case with Mike Axisa, I am not a doctor. I do not know the risks associated with playing through a not-fully-healed chip fracture, so this may all be a moot point. At the same time, however, Judge is still feeling pain, and it is difficult to see that as anything more than a red flag with my uninformed eyes.
The Yankees have had some bad luck with players coming back too soon recently, most notably in the matters of Mark Teixeira and Greg Bird. Those were different injuries to different players, to be sure, so there isn't a one-to-one comparison – but Judge is also significantly better than either of those players, and (as we know all too well) much more difficult to replace. If their is even the slightest chance that aggravating this injury could have similar repercussions as we've seen before, then I can't imagine bringing back Judge, even as the team is poised for a deep playoff run.
It is true that flags fly forever, and playing for next year doesn't always work out all that well – just take a look at the Nationals, who have not looked quite the same since preemptively shutting Stephen Strasburg down just a few years ago. But the Yankees have been playing the long game for several years now, and all of the key players to their successes in 2018 are under team control next year; and more help is on the way. I feel comfortable trusting the process here.
If Judge is healthy (or as healthy as a player can be at this stage of the season), then he should play. If his wrist is still giving him issues, he shouldn't. And, as much as I hope it's the former, I do think the latter is something that needs to be given a great deal of consideration.