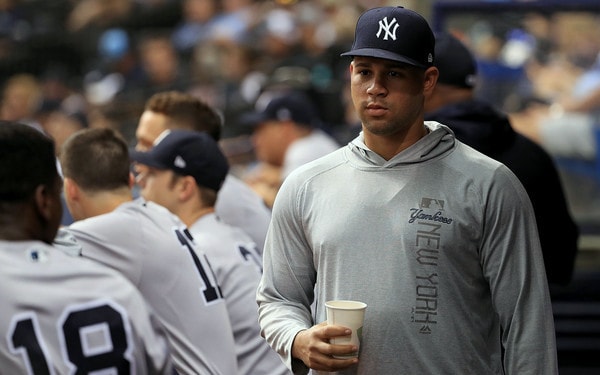 September 1st has arrived and that means rosters have expanded. Teams can carry up to 40 players through the end of the season rather than the usual 25. Most teams will wind up carrying 30-35 players this month. Every team will have extra relievers and bench players starting today.
The Yankees announced a series of call-ups and roster moves today. A recap:
Andrew McCutchen and Adeiny Hechavarria added to the active roster.
Gary Sanchez activated off the 10-day DL.
Tyler Wade and Luis Cessa recalled from Triple-A Scranton.
Stephen Tarpley added to 40-man roster and promoted to MLB.
Andrew McCutchen! The Yankees acquired McCutchen from the Giants yesterday and he spent the day traveling to New York. He wasn't put on the active roster yesterday because there was no reason to do so. He wasn't going to be available and there's no sense in playing with a 24-man roster. McCutchen is in today's lineup. Hooray. I'm not sure whether Hechavarria, who came over in a trade late last night, is with the team yet. No harm in adding him to the roster now that rosters have expanded though.
The big news is Sanchez returning from the disabled list. For all intents and purposes, he's missed the last two months with a groin injury. He went on the disabled list June 25th, returned July 19th, played three games, then returned to the disabled list after reaggravating the groin injury. All told, Gary has missed 54 games with the groin injury and reaggravation of the groin injury.
While Sanchez was out the Austin Romine/Kyle Higashioka catching tandem hit .201/.258/.350 in 231 plate appearances and opponents went 43-for-56 (77%) stealing bases. The overall team ERA also went from 3.43 to 3.72 during Sanchez's absence. It has not been pretty behind the plate the last few weeks. I'm looking forward to Gary being back and him getting back to being the player he was last year.
The other big news today is Tarpley's call-up. The left-hander came over as one of the two players to be named later in the Ivan Nova trade with the Pirates, and thanks to a new pitch and a new role, he posted a 1.94 ERA (3.23 FIP) with 25.6% strikeouts, 9.4% walks, and 68.1% grounders in 69.2 innings between Double-A and Triple-A this year. That 68.1% ground ball rate is the highest among the 1,011 minor leagues with at least 65 innings pitched in 2018.
Tarpley will be making his big league debut, and, like most first time September call-ups, I expect him to work in mop-up duty, at least at first. He held left-handed batters to a .148/.219/.193 batting line in the minors this year and could always get the call in low-to-mid-leverage left-on-left spots. Phil Coke quickly worked his way into the Circle of Trust™ in September 2008. Maybe Tarpley can do the same in September 2018. That'd be cool.
The Yankees have not yet announced a 40-man roster move for Tarpley. I wonder if it'll be Shane Robinson now that McCutchen is with the team and Wade, who can also play the outfield, has been added to the roster. The Yankees might be waiting to make sure no one gets hurt during batting practice today before announcing Robinson has been designated for assignment, assuming he is the move. That's a fairly common practice.
Update: Yep, Robinson has been designated for assignment, the Yankees announced. That's the 40-man move for Tarpley.
Cessa and Wade have been up and down a bunch this season and are just extra bodies now that rosters have expanded. Wade is a speedy utility guy who can play pretty much anywhere. With Quintin Berry not being called up (not yet, anyway), I assume Wade takes over as the designated pinch-runner. Cessa is stretched out as a long man, so now the Yankees have him and Sonny Gray available for long relief work for whenever things go haywire.
Notably absent among today's call-ups: Justus Sheffield. Aaron Boone said yesterday Sheffield would not be called up today, but could be later this month. I think it'll happen fairly soon. Sheffield moved to the Triple-A bullpen last week in preparation for a call-up, but he missed a few games with an illness earlier this week, and fell behind a bit. I expect him to come up after one or two more relief appearances with the RailRiders.
As always, more call-ups will take place throughout September. Sheffield will be up at some point and I assume Chance Adams will as well. Probably once Triple-A Scranton's season ends, which could be as soon as Monday. Berry is another call-up candidate. Domingo German and Jonathan Loaisiga will likely return later this month, plus Aroldis Chapman and Didi Gregorius will eventually be activated off the disabled list, hopefully soon.