The following is the first post from our newest writer, Bob Montano. You'll see his work every Saturday morning here at RAB. You can follow Bob on Twitter at @mr_bobloblaw.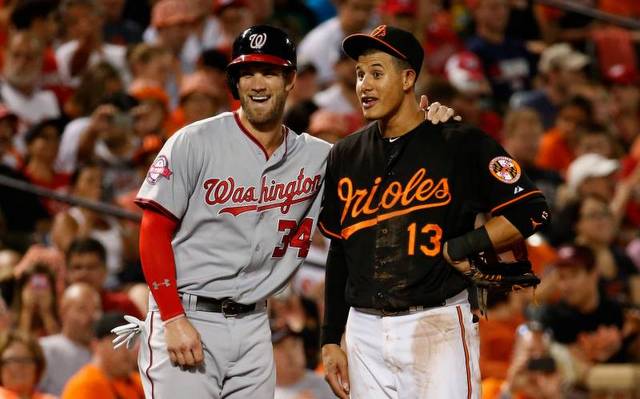 The Yankees face many significant questions as they prepare for what will be their most important offseason in recent memory. Not only are Bryce Harper and Manny Machado younger and more talented than any players to hit the market in recent years, but the Yankees have clear areas to improve the roster. The team will need to find solutions to new problems in the infield now that Didi Gregorius will miss considerable time and it will need to add starting pitching. But any strategy the Yankees have for the offseason is based on whether or not Hal Steinbrenner is willing to flex his financial muscles to augment one of the most talented cores in all of baseball.
Team brass has been open about their goals to get underneath the luxury tax threshold and they finally accomplished that goal in 2018 for the first time by shaving $50 million off of 2017's payroll, bringing the payroll to a total of $192.5 million. This does more than just save the Steinbrenners money: it also resets the penalty for exceeding the threshold to the minimum 20 percent for each dollar over as opposed to the maximum 50 percent the team had been paying. In other words, should the team exceed the $207 million threshold in 2019 by $10 million, they'd pay a $2 million tax instead of $5 million. It goes without saying that these numbers are significant at the scale of MLB payrolls and it is not clear if the Yankees are willing to take the financial hit.
Hal has long said that teams do not need a $200 million payroll to win the World Series and that has technically proven to be true – but the reality is that the league has changed in recent years. Many MLB teams have been reticent to add salary, treating the luxury tax as a de facto salary cap, and many teams simply don't appear interested in spending to win. This presents an opportunity for the Yankees that they should not squander.
Not only do the Yankees have a roster that is as well-positioned for success over the next five years as any in baseball, but they are an exceptionally wealthy franchise. If most other teams are unwilling to spend – and we'll have to see if this offseason is a repeat of last year's, but I don't expect many surprises – then the Yankees simply have no excuse to waste their biggest competitive advantage.
The Red Sox are a perfect illustration of why this is the case. Boston had a frustrating 2017, with a regular season that felt underwhelming — despite the team's success on paper — and a disappointing first-round exit at the hands of the eventual champion Houston Astros. A big reason it felt like the team was underwhelming was its offense, so the Red Sox aggressively pursued J.D. Martinez. They eventually signed him to a five-year, $110 million contract and he hit .330 with a wRC+ of 170 in 2018 alongside Boston's formidable young core. Thanks in large part to JD's exceptional season and Mookie Betts' even better one, the Red Sox are poised to win the World Series after a regular season campaign netted them 108 wins. (For what it is worth, they have the league's largest payroll by a wide margin.)
Boston was not the only team to follow this strategy to considerable success. The Milwaukee Brewers finished at 86-76 in 2017 and clearly saw an opportunity to improve, signing Lorenzo Cain to a 5 year, $80 million contract. The Brewers added $30 million in salary, and Cain hit .308 with a 124 wRC+ in 2018. Along with likely NL MVP Christian Yelich, Cain helped guide the Brewers to a 96 win season that ended in Game Seven of the NLCS. Much like the Red Sox, the Brewers aggressively added to their payroll and it paid dividends.
Mike estimates that the Yankees will have $50 million to spend after arbitration before surpassing the $206 million cap. That is a significant amount, but it will go fast – especially if the team pursues top talent like Bryce Harper, who is reportedly asking for a 10 year, $350 contract or Manny Machado, who will have similar demands. That is without the additional salary of a potential arm like Patrick Corbin or a lefty bat like Michael Brantley, let alone supporting depth pieces. It does not even consider the fact that key pieces like Aaron Judge, Gary Sanchez and Luis Severino will get significant pay raises through arbitration over the next few years.
We've heard a lot about the need to cut salary in recent years, and the team has achieved that goal. Now, the Yankees are a very good team that is on the verge of being a great team — and spending on elite talent in the next few weeks might be the difference. But if they let this moment pass them by, they will have nobody to blame but themselves if they are sitting at home late in October again, watching their bitter rivals beating them at what was supposed to be their own game.