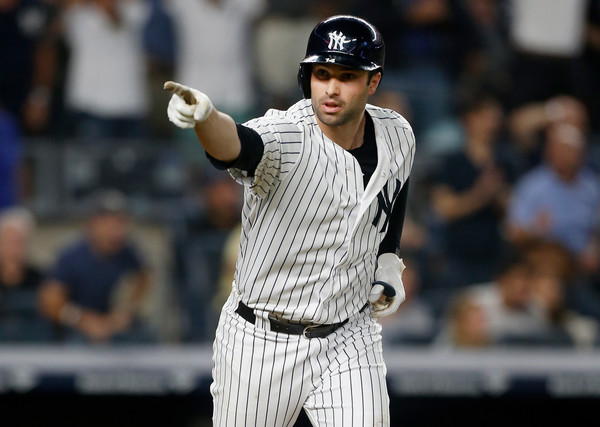 On July 31, 2017, the Yankees and Mets allegedly had a deal in-place for Neil Walker, but the Yankees backed out due to some disconcerting medicals. On December 13, 2017, I wrote about Walker as a potential target to fill either of the big club's holes at second and third. A couple of months later, on February 27, 2018, it was reported that the Yankees were in talks with Walker prior to acquiring Brandon Drury. And just two weeks later, Walker was in pinstripes – and we were excited about it.
It's not hard to see why Walker had been on the radar for such a long time, either. He's a switch-hitting middle infielder with the better part of a decade's worth of success, with (generally) above-average walk and strikeout rates, and a good amount of pop. Walker slashed .265/.362/.439 in 2017, which was right in-line with his career norm of .272/.341/.437, and had shown no real signs of slowing down.
And so, at the cost of around $4 MM for the 2018 season, it was a low-risk, high-reward proposition. It didn't quite play out that way, though.
The Late Signing and Early Struggles
The Yankees officially signed Walker on March 12, over three weeks after position players reported to Spring Training, and more than half of the exhibition games already wrapped-up. He opened the season at a deficit that cannot really be accounted for, as it seems improbable that any amount of training can make up for missing that amount of work with the team. And it showed early on, as Walker limped out to a .165/.212/.190 slash line (3 wRC+) in 85 March/April plate appearances.
Now, to be completely fair, it was difficult to be too concerned about that level of production. After all, this was effectively his Spring Training, and it was also the first time in his career that he wasn't the straight-up starter – he played in just 20 of the Yankees 28 games in this span, and started at two different positions (first and second) to boot. That sort of inconsistent usage pattern was not something that Walker was accustomed to, and it makes sense that combining that with a lack of Spring Training could lead to struggles. I'm sure that everyone's noticing a theme here, and some might even call it a desperate search for an excuse for poor performance – but it's difficult to not give some credence to such a drastic change for any player.
Signs of Life in May
Walker's inconsistent playing time continued in May (he started just 13 of 25 team games), but his bat awakened in a big way. He slashed .294/.400/.490 (146 wRC+) in 60 PA, with nearly as many walks (8) as strikeouts (9). And, in his first big moment with the team, walked it off against the A's on May 12:
It took a month of poor performance to get here, but it looked like the Walker that the Yankees thought they were getting had finally come forth. And the timing worked out well, too, as the Yankees had been struggling to get anything out of first base with Greg Bird on the shelf. His fate was a bit up in the air, though, with Gleyber Torres entrenched at second, Miguel Andujar at third, and Bird set to return at the end of May – but it was a good problem to have. Right?
An Embarrassing June
.063/.143/.063
That's what Walker hit in June. It was only 35 plate appearances staggered around twelve games (only nine of which were starts) – but he was awful. He struck out in over a third of his PA, and put the ball on the ground 55% of the time. That's not a good formula for success for any player, and it certainly wasn't for Walker.
The question at this point became just how much of the blame for his performance could continue to be placed on Spring Training and/or the inconsistent playing time. Neither should be discounted, in my mind, but it's tough to explain away a .185/.261/.259 slash line through three months (in only 180 PA); and that's especially true when a player looks as bad as Walker did at times.
And, while he hadn't shown signs of regression previously, he was still a 32-year-old player that had missed time with injuries in 2016 and 2017. Things change fast in baseball, so maybe this was the beginning of the end.
A Summer Turnaround
Just when we thought that Walker was toast, he started hitting again. He hit .345/.429/.466 in 70 July plate appearances, reaching base safely in 17 of his 18 starts. A .432 BABIP helped matters, but it wasn't entirely fluky. Walker had a 44.4 hard-hit percentage in July, as well as a ridiculous 43.2% line drive rate. He looked just about as good in July as he did and June, and it was a welcome sight.
And then, for the first time this season, he didn't completely reverse course the next month. Walker slashed .214/.309/.440 in August, which is a perfectly average 100 wRC+. It was a step down from July, to be sure – but it was progress. Walker hit 6 home runs in just 97 PA, including this epic pinch-hit, walk-off dinger against the White Sox:
Now is as good a time as any to point out Walker's penchant for the dramatic this year. He hit .323/.385/.581 (144 wRC+) in high leverage situations, and .273/.385/.636 (172 wRC+) in 13 pinch hitting opportunities. And that's why he finished fourth on the team in WPA despite placing 14th in wRC+.
Walker closed out the season by hitting .186/.314/.395 in September. That may not look good, but it was still a 95 wRC+, which isn't all that bad.
All told, Walker hit .219/.309/.354 (81 wRC+) in 398 PA, in what amounted to his worst season across the board.
The Playoffs
Walker was basically a bystander in the playoffs. He amassed just 5 PA between the Wild Card game and the ALDS, going 1-for-4 with an RBI and a HBP. His only start came in Game 4 of the division series, where he was a part of the team's failed rally in the ninth inning. So it goes.
What's Next?
Prior to the Didi Gregorius news, I was certain that Walker was finished with the Yankees; or, maybe more accurately, the Yankees were finished with him. However, a return engagement seems possible given that the team's middle infield depth took a staggering blow, and they're at least familiar with Walker's personality, routine, and general fit with the team. Whether he would accept another bench/utility role is up in the air, though.
Generally speaking, a 33-year-old with Walker's track record would be looking to cash in on his last big(ish) contract. It's difficult to see that happening now, though, given that he's coming off of the worst year of his career. A one-year pillow contract seems the likeliest outcome, and I suspect that he'll look for (and land) a starting gig somewhere.